British Foreign Secretary Dominic Raab has criticised the Chinese regime's "substantive breaches" of the Sino-British Joint Declaration on Hong Kong, and has vowed never to waver from the UK's commitment to the former British colony.
In his foreword to the Foreign Office's latest six-monthly report (pdf) on Hong Kong, Raab said the past few months have been "the most concerning period in Hong Kong's post-handover history," as the authorities had been focusing on "retribution against political opposition and silencing of dissent."
We have just published the latest 6-monthly report on Hong Kong covering the period where Beijing imposed its new National Security Law on #HongKong and its chilling effects. The people of Hong Kong must be able to exercise fundamental rights & freedoms. https://t.co/b83mqhyEPD

— Dominic Raab (@DominicRaab) November 23, 2020
His comments came as prominent Hong Kong activists Joshua Wong and Agnes Chow were remanded in custody after pleading guilty to charges of organising and inciting an unauthorised assembly near the police headquarters during last year's anti-government protests.
The new national security law, which was imposed on Hong Kong by Beijing on June 30, "violates the high degree of autonomy of executive and legislative powers and independent judicial authority" and was "in clear breach of the Joint Declaration," Raab said.

The foreign secretary said he has now begun consultations with Lord Reed, president of the UK Supreme Court, concerning when to review whether it continues to be appropriate for British judges to sit as non-permanent judges on the Hong Kong Court of Final Appeal.
Raab also expressed concerns at the Chinese regime's undermining of the Hong Kong legislature. In July, the authorities disqualified 12 pro-democracy candidates from running in the Legislative Council elections, and subsequently postponed the elections for a year.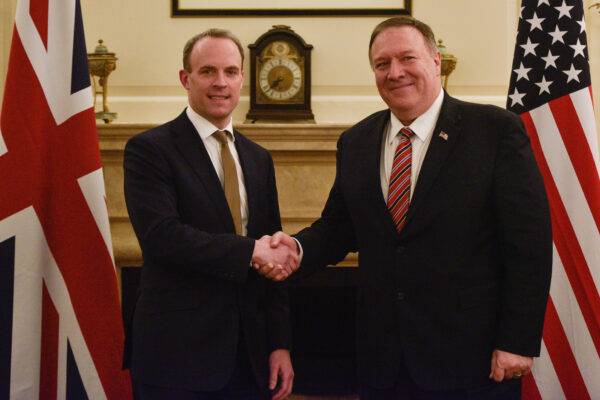 Earlier this month, seven pro-democracy politicians were arrested. After the government disqualified four more opposition lawmakers, all 19 pro-democracy lawmakers resigned from the Legislative Council.
Raab issued a statement on Nov. 12, saying that Beijing had breached the Sino-British Joint Declaration by giving Hong Kong powers to disqualify pro-democracy lawmakers.
Since Beijing'a enactment of the Hong Kong national security law, Britain has taken a series of measures to honour its commitment to the territory.
On July 1, Prime Minister Boris Johnson announced an offer to extend immigration rights for an estimated 3 million Hong Kong residents who hold British National (Overseas) status.
On July 20, Raab said the UK had suspended its extradition treaty with Hong Kong and had extended its arms embargo on China to include Hong Kong.
Yinyin Liao, Frank Fang, and Lily Zhou contributed to this report.