WASHINGTON—President Donald Trump's decision to walk away from the summit with North Korean leader Kim Jong Un without a deal sent a clear message to Beijing that he has a strong card to play in trade talks.
Trump met the North Korean leader for a second summit last week, in Vietnam's capital, Hanoi, where both sides failed to reach a deal on denuclearization because of a dispute over lifting economic sanctions in exchange for partial steps toward denuclearization.
"I am always prepared to walk," Trump said on Feb. 28 at a press conference in Hanoi. "I'm never afraid to walk from a deal. And I would do that with China, too, if it didn't work out."
Gordon Chang, an expert on China and North Korea, told Fox News that when Trump walked away in Hanoi, he showed Beijing he wasn't afraid to leave a bad deal. "I think China has to reassess their approach to trade talks," Chang said.
Trump announced in February that he would meet with Chinese leader Xi Jinping at Mar-a-Lago in hopes of finalizing a trade deal. Washington and Beijing are now discussing a late March meeting.
On Feb. 24, Trump announced in a tweet that he held off implementing a planned tariff increase on hundreds of billions of dollars in Chinese imports, due to the progress made in the last round of trade talks in Washington.
I have asked China to immediately remove all Tariffs on our agricultural products (including beef, pork, etc.) based on the fact that we are moving along nicely with Trade discussions….

— Donald J. Trump (@realDonaldTrump) March 1, 2019
He said that the United States had made "substantial progress" in negotiations with China on important structural issues, including protection of intellectual property and an end to forced technology transfers.
Tariffs had been planned to increase to 25 percent from 10 percent on March 1. But Trump agreed to postpone that increase in hopes of finalizing a deal during a summit with Xi at his Florida resort.
In a recent tweet, Trump also asked China to "immediately remove" all tariffs on U.S. agricultural goods, including beef and pork, since both sides were "moving along nicely" with trade talks.
"This is very important for our great farmers and me," he wrote.
The Trump administration believes Beijing has reasons to compromise as economic woes continue to put pressure on the Chinese regime. Economists predict that Beijing could soon implement more extensive stimulus measures to counter the weak economy.
"Our stock market is almost at its all-time high.  Our economy is incredible," Trump said at the press conference. "And with China, they're having some difficulty, as you know.  But I think that a lot of the difficulty is because of the tariffs that they're having."
Under the weight of U.S. tariffs, the Chinese economy weakened further last year. The growth of the world's second-largest economy slowed to its weakest pace in nearly three decades. If both sides fail to reach a deal at Mar-a-Lago and trade tensions resume, China's troubles will deepen, according to analysts.
The Wall Street Journal reported on Mar. 3 that Washington and Beijing are close to a trade deal and a formal agreement could be reached at the Trump–Xi summit around March 27, according to people familiar with the discussions.

China's North Korea Card
It isn't clear whether China will make concessions to the United States, but one wild card in the trade talks is the leverage Beijing has on North Korean leader Kim.
"China is always the X-factor when it comes to the North Korea challenge," said Harry Kazianis, director of Korea Studies at the Center for the National Interest, a foreign policy think tank. "Beijing could clearly use North Korea as the ultimate weapon against Washington, specifically if trade talks collapse."
The Trump administration launched in 2017 a maximum pressure campaign through economic sanctions to end Pyongyang's illicit missile and nuclear activity. The sanctions were almost entirely enforced with the help of Beijing.
Trump has frequently praised China and Chinese leader Xi for playing a crucial role in containing the North Korean regime. At the press conference in Hanoi, Trump touted China again.
"China has been a big help—bigger than most people know," he said. "On the border, as you know, 93 percent of the goods coming into North Korea come through China. So, there's a great power there."
China is North Korea's biggest trading partner and the main source of food and energy; hence, Beijing has the most leverage on Kim's regime. Before the summit, North Korea warned that it was facing a food crisis, blaming a bad harvest and economic sanctions.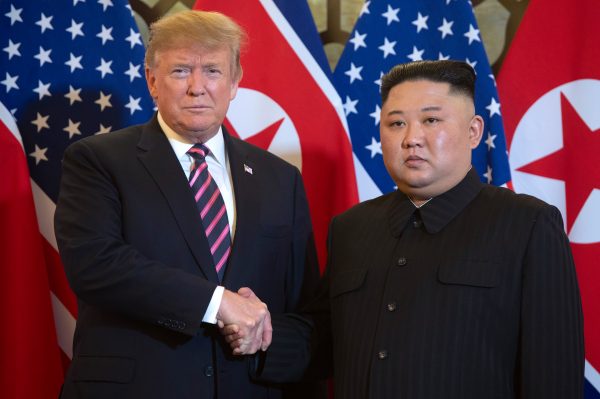 China's trade with North Korea fell almost 53 percent year-on-year in the period from January to November last year, according to Reuters. Imports from North Korea fell about 89 percent in the same period, while exports to North Korea fell 33 percent.
As a result of economic sanctions, Pyongyang stopped testing nuclear weapons and ballistic missiles and was forced to the negotiating table last year.
Trump now faces a challenge, according to Kazianis, as the maximum pressure strategy is "entirely dependent on Beijing's goodwill."
"Imagine a situation where President Xi can't secure a trade deal it feels is fair and wants to push back against the United States," he said. "The easiest way to do that is to weaken the sanctions regime to such an extent that Kim feels no need to negotiate with Trump anymore."
Trump repeatedly said that he was in "no rush" for a deal with Kim. The United States and North Korea will continue to work together, but didn't set any date for the next summit.