TIFF Review: 'Cristo Rey' Aims to Be Caribbean 'Romeo and Juliet'
September 22, 2013 Last Updated: September 26, 2014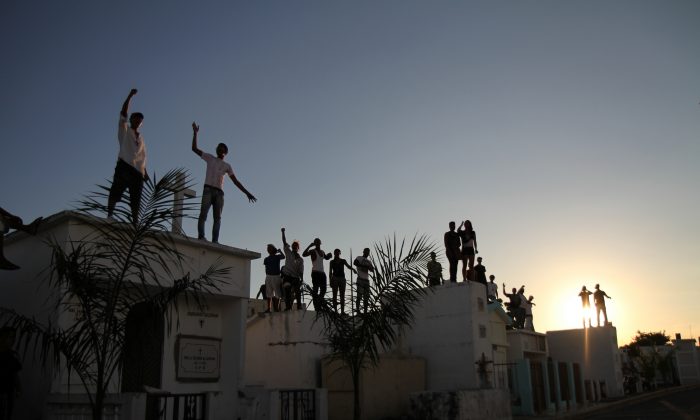 TORONTO—"Cristo Rey" brings out the shades of prejudice common on many Caribbean Islands with a look at the tensions plaguing Haitians that immigrate illegally to the richer side of the island they share with the Dominican Republic.
Making its world premier at the Toronto International Film Festival in a press and industry screening Monday, "Cristo Rey" puts two star-crossed lovers on opposite sides of this divide. Janvier (James Saintil) is a kind and fit Haitian struggling to get by, while Jocelyn (Akari Endo), a beautiful Dominican with a talent for singing, has been told since she was young that a Haitian would kidnap her.
Director Leticia Tonos Paniagua brings a familiar story of love and prejudice but places it in a unique and compelling setting. In Cristo Rey, a shantytown in Santo Domingo that the movie is named for, drug lord El Bacá (Leonardo Vasquez) and Colonel Montilla (Jalsen Santana), a corrupt police chief, reign supreme from opposite sides of the law. They contend with each other while squeezing the impoverished inhabitants of Cristo Rey. Montilla's hunt for El Bacá plays an important role in the plot.
A racial divide plays out in the movie, with lighter-skinned Dominicans castigating the darker Haitians. 
It's within this fray that Janvier and Jocelyn, who is El Bacá's younger sister, spark an unlikely romance. Pressured into El Bacá's service after his mother is deported to a post-apocalyptic-looking Port-au-Prince in Haiti, Janvier looks for a way to solve his problems and preserve his newfound love. 
"Cristo Rey" moves along with a developed plot and passable performances by its leads, with a strong supporting cast, but falls short in some regards. Important tensions between the characters, including a rivalry between Janvier and his brother, as well as the love between Janvier and Jocelyn, aren't given the space and attention they need to carry the emotions they try to convey. 
There are also points where the action of the film comes across as contrived, including an impromptu musical jam on the streets of Cristo Rey that opens the movie, and a showdown between Janvier's machete-wielding mother and the colonel.
While "Cristo Rey" could stand next to many Hollywood stories, and it brings out important ideas about the gradations of prejudice, it needs more space and commitment from some of its characters to give it the weight it strives to carry.