It's been more than two years since the novel coronavirus—the pathogen that causes COVID-19—broke out in China and went on to leave a sick and deadly trail around the world. Even as people continue to be infected by emerging variants, scientists from multiple countries have begun investigating post-COVID conditions and possible remedies. While South Korea intends to conduct a large-scale investigation of the disease, traditional Korean medicine is attracting attention as a treatment.
Since COVID-19 first appeared in late 2019, the world has suffered through the aggressive Delta variant to the more infectious but less severe and deadly strain of Omicron. Now scientists are paying more attention to the long-term effects of these variants which are being referred to by a number of names including long COVID, post-COVID conditions (PCC), and chronic COVID-19.
South Korea's prime minister, Han Duck-soo, recently announced that during the second half of this year his government will conduct a large-scale survey on the post-COVID conditions of over 10,000 previously infected people of all ages. The results will be used as the basis for formulating treatment guidelines starting in the first half of 2023. South Korea is the first country to conduct such a survey.
Scientists acknowledge their understanding of post-COVID conditions and treatment methods is limited. Getting a firm grip on these details is essential and South Korea's survey could be very enlightening.
Number One Challenge
In August of 2021, the world's leading medical journal, The Lancet, included an article that said dealing with the long-term symptoms of COVID-19 is modern medicine's number one challenge. The virus and its variants have the potential to debilitate millions of people. It not only impairs their daily lives but also jeopardizes their work and financial wellbeing when faced with rising medical and insurance costs.
A standardized description of post-COVID symptoms has not yet been finalized. According to the U.S. Center for Disease Control (CDC), "at least four weeks after the infection is the start of when post-COVID conditions can be identified." The World Health Organization (WHO) defines long COVID as when at least one symptom occurs within three months of diagnosis and lasts at least two months, and cannot be explained by other medical diagnoses.
Symptoms include fatigue, difficulty breathing, decreased memory and concentration or "brain fog," changes in taste and smell, depression, headaches, and diarrhoea. The most common symptom by far is extreme fatigue.
According to the Korea Disease Control and Prevention Agency, the results of multiple post-COVID surveys found that 20-79 percent of the subjects reported experiencing after-effects. These surveys were conducted by the National Institute of Health, National Central Medical Center, Kyungpook University Hospital, and Yonsei University Hospital.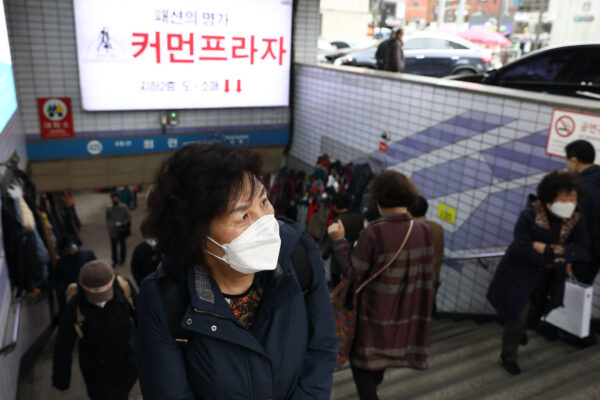 Modern medicine has yet to identify an effective treatment for the virus's multiple after-effects. Meanwhile, many scientists are saying traditional Chinese and Korean medicines are worthy of investigation as a remedy.
Practitioners of Chinese medicine believe that while their treatment methods are unique, they have proven effective in easing the symptoms of post-COVID conditions. The Korean medical community agrees with this finding since much of Korean medicine is based in part on Chinese medicine which is rooted in traditional Taoist culture.  But as this article explains, some aspects of Korean medicine are also unique and could be beneficial in treating post-COVID conditions.
Treating Patients
As the Korean government prepares to launch its post-COVID survey, the medical community there is also leaping into action. In speaking with The Epoch Times, a spokesperson for The Association of Korean Medicine said they are collecting effective treatment cases and analyzing relevant data for treatment of the post-COVID conditions.
Go Seong-bae, the director of Korea's Uekkaedongmou Oriental Medical Clinic, told The Epoch Times his clinic has been accepting patients with post-COVID conditions since April. Among the 10 patients he treated, they mostly complained about fatigue, breathing difficulties, coughing spells, indigestion, loss of appetite, and some experienced depression and memory loss. But after using traditional Korean medicine treatment, all 10 of these patients had recovered and were back to normal.
Go refers to the successful treatment he uses as a "four-phase typology" which is a theory unique to Korean medicine. It allows the diagnosis and treatment to be customized to the physique of each patient, rather than on symptoms alone. It focuses on improving the immunity of the body and restoring the body to normal.
Go gave an example of the treatment of a patient, named Wen, with serious symptoms of post-COVID conditions. Wen is a 70-year-old patient from Seoul. Prior to being infected by the epidemic in February this year, he had been in good health and was living a normal life. The severity of his infection necessitated him being hospitalized in a critical care unit.
One month after being released from the hospital, Wen was still physically weak. "He had difficulty even walking and breathing with the slightest movement," said Go.
Wen's treatment was customized with weekly acupuncture sessions and a month of oral herbal medicine.
According to Go, "After two weeks, the patient reported relief of the symptoms, and after one month, the patient's condition had improved significantly and his daily life had returned to normal, allowing him to discontinue treatment."
He said even without acupuncture, "oral herbal medicine alone is very effective."