This week, South Korea will fly a military plane to Australia to airlift 27,000 litres of urea solution, also known as diesel exhaust fluid (DEF), as the country experiences a shortage crisis of the liquid after China dramatically cut its urea exports.
Diesel vehicle drivers, particularly truck drivers, have been waiting in long queues to refill fuel, concerned about the supply crisis.
Urea is the main component of DEF, an additive used in diesel vehicles to reduce emissions. In South Korea, DEF is not only mandatory for air quality control purposes and essential for the proper operation of diesel vehicles sold after January 2015.
About 4 million diesel vehicles in South Korea need urea to operate. Among them, two million are trucks, which means that the shortage of automotive urea has sent the country's transport industry into chaos.
"I drove about 70 kilometres to a gas station to just get urea solution for my truck, and there were long lines of vehicles and my turn didn't come, so I just left empty-handed," truck driver Lee Byung-ki told Reuters, adding he would not be able to continue working from Wednesday unless he found some urea.
China introduced new export rules on Oct. 11 that stopped its urea exports after it experienced an intense coal supply shortage. DEF is extracted from coal or natural gas.
According to the Ministry of Trade, 97 percent of South Korean urea imports during the first nine months of this year came from China.
The South Korean government has been in talks with other nations for urea supply and has so far secured 27,000 litres of DEF from Australia and 200 tonnes of raw urea from Vietnam. The tariffs on urea imports have also been abolished.
China agreed to export 18,700 tonnes of urea to South Korea under the agreement of existing contracts with local firms.
The government has also been cracking down on local hoarding of urea or DEF.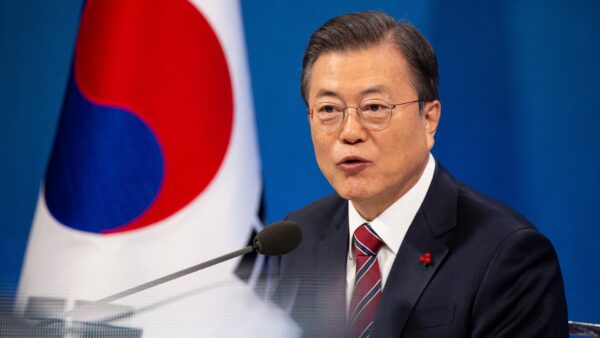 President Moon Jae-in said the government was mobilising all diplomatic channels to secure overseas sources of urea.
"I ask that the public not feel too anxious about the current developments," Moon said during a cabinet meeting, as reported by The Korea Times. "The issue of supply disruption in urea water has become the most pressing issue."
"We will spare no efforts to stabilise supply and demand, first by utilising the amount available in the public sector, followed by emergency measures."
He added that the government would be making efforts to establish a system to better prepare against shortages of import reliant materials in the future.
"A variety of measures will follow to strengthen diversification of exports, technology independence, and domestic production of key components to reduce risks of this sort," Moon said.
South Korea stopped domestic production of raw urea in 2011 and imported a total of 835,000 tonnes of the material in 2020.
Lisa Bian contributed to this article.