Senators in the upper house's human rights standing committee heard on May 23 about why Canada should have its own legislation to combat organ trafficking, especially when it involves a country such as China where the state is behind forced organ removal.
"Trafficking in human organs has become a global problem," said Sen. Salma Ataullahjan during the committee hearing on Bill S-240, the bill she has sponsored.
The bill seeks to amend the Criminal Code to create new offences related to the trafficking of human organs and tissue. It also seeks to amend the Immigration and Refugee Protection Act to ban entry to Canada to any permanent resident or foreign national engaged in trafficking human organs or tissue.
According to Ataullahjan, no legislation currently exists in Canada that prohibits transplant tourism—the practice of travelling abroad to purchase organs for transplantation and then returning to Canada.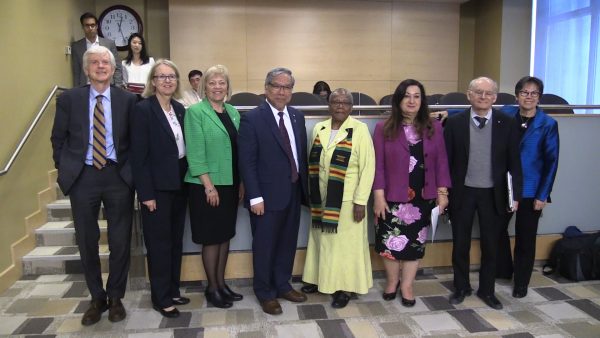 "Organ trafficking is a practice that targets the impoverished and otherwise vulnerable people, and is a violation of the principles of equity, justice, and respect for human dignity," Ataullahjan said.
Former MP and secretary of state for Asia-Pacific David Kilgour, who also appeared before the committee, highlighted the gravity of the situation in China.
"One of the points that gets me all the time is the tragedy of a mother who sells her kidney so that her child can go to college. But there's only one country in the world, out of I believe 196 now, where the government runs this trafficking, and there are no survivors in China," Kilgour said.
"It's important to differentiate between what happens in back alleys in some city and what happens in the People's Republic of China," he noted.
According to investigations by Kilgour and Winnipeg human rights lawyer David Matas, China has been harvesting organs from prisoners of conscience on a mass scale—mainly Falun Dafa adherents—fuelling a multi-billion-dollar business that benefits Chinese Communist Party (CCP) officials. Falun Dafa, or Falun Gong, is a traditional spiritual meditation practice that is heavily persecuted in China.
Matas, who also spoke at the hearing, said transplant numbers in China shot up shortly after the CCP launched its campaign of persecution against Falun Dafa adherents in 1999.
An updated investigation by Kilgour, Matas, and American investigative journalist and author Ethan Gutmann in 2016 shows that at least 60,000 transplants take place in China each year—far more than the official figure of 10,000 cited by the Chinese regime.
"If you do the arithmetic, that means that about 150 people daily in China are being killed for their organs. And there are no survivors in these operations," Kilgour said.
'Very Jarring'
The Senate bill is similar to Bill C-350, a private member's bill introduced by Conservative MP Garnett Genuis that is making its way through Parliament. Private member's bills rarely become legislation, but Genuis and Ataullahjan hope that the existence of a Senate bill will help ensure its passage.
Similar bills have been introduced by MPs from both the Liberal and Conservative caucuses in the past, including twice by Liberal MP Borys Wrzesnewskyj and once by former Liberal MP and justice minister Irwin Cotler.
"When I look at the number of times that it's been brought to the House of Commons, by the Liberals and the Conservatives, and yet it's always come to nothing, you have to ask yourself: 'When are we going to actually take a stand and do something,'" said Sen. Jane Cordy.
"It's a global problem and a global issue, and I think sometimes we sit back in Canada and think it doesn't affect us, but when I look at 50 patients from one doctor in Toronto who have gone to China for transplants, that to me is very jarring," she added.
Cordy was referring to an example cited by Matas about a doctor in Toronto's St. Michael's Hospital who reported that 50 of his patients had gone to China to get organ transplants.
A number of countries, including Taiwan, Israel, Spain, Italy, and Norway have passed legislation limiting the ability of their citizens to receive organ transplants abroad.
Deterrent
Sen. Ataullahjan thinks that if the bill passes, would-be transplant tourists to China would be more conscious of the source of organs.
"They will look at what they're getting into … there's a lot of murky water right now and there's no clear, defined laws."
Matas said the legislation would also act as a deterrent to the medical professionals in China who participate in forced organ removal.
"The Communist Party basically doesn't care. Their primary concern is having control, not respecting human rights. But the transplant profession is not as focused on the Communist Party control as the government is," he said.
"So to say that you cannot enter [Canada], or even worse, that you'll be prosecuted if you're allowed entry, it means something to them. So … even if the number of people that are going to be prosecuted is small, it sends a message."
Sen. Thanh Hai Ngo brought up the idea of whether those responsible for forced organ harvesting can be sanctioned under Canada's newly passed Magnitsky Act, which targets foreign individuals responsible for gross human rights violations.
"Legally, they're within the scope of that legislation, they can be added to the list," Matas replied.
Bill S-240, an Act to amend the Criminal Code and the Immigration and Refugee Protection Act, is currently being studied by the Senate Human Rights Standing Committee before going for third reading in the Senate.