A bill almost identical to a private member's bill to combat organ trafficking that was first introduced by an MP earlier this year has been crafted by a senator in the hopes of fast-tracking its passage.
On Dec. 7, Sen. Salma Ataullahjan gave her second reading speech on Bill S-240, an Act to amend the Criminal Code and the Immigration and Refugee Protection Act (trafficking in human organs).
"According to the World Health Organization in 2007, trafficked organs accounted for an estimated 10 percent of the organ transplants performed around the world—and that was 10 years ago," Ataullahjan said at a press conference on Parliament Hill on Dec. 12.
"The trafficking of organs is a human rights issue, and as such, I hope that the bill will receive widespread support both in the Senate and in the House of Commons without delay."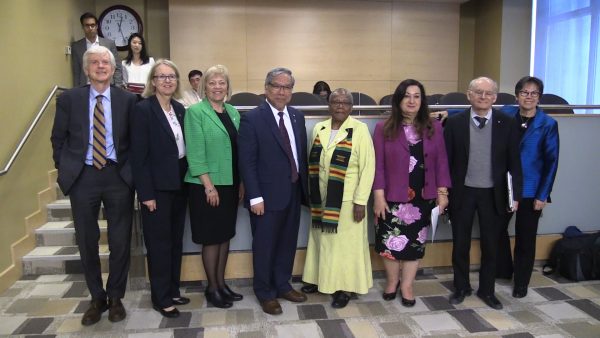 The bill would amend the Criminal Code to create new offences in relation to trafficking in human organs and tissue. It would also amend the Immigration and Refugee Protection Act to render inadmissible to Canada any permanent resident or foreign national who engaged in activities related to trafficking in human organs or tissue.
Under the legislation, anyone who receives an organ or tissue knowing that the person from whom it was taken did not give informed consent would be committing a crime.
Conservative MP Garnett Genuis said Ataullahjan's bill is very similar to Bill C-350, which he introduced in the House in April, but which he said has little chance of getting anywhere fast—like most private member's bills.
"I'm very pleased that Sen. Ataullahjan has proposed Bill S-240," he said.
"The process is that private member's bills in the Senate, if there's support for them, can go forward much more quickly. So I'm hopeful that the process that we're undertaking now to see this bill through the Senate and then come to the House of Commons will give us an opportunity to get this passed before the next election—an opportunity that we might not have had had we not gone through the Senate first."
Genuis explained that while his bill "involves a fairly complex reporting mechanism aimed at identifying a case where a person might have an organ that had been taken illicitly," the Senate bill omits that and is therefore "clearer and simpler" and "gives nobody any excuse to oppose it."
"At the end of the day it is urgent that we get a bill passed that criminalizes going overseas to get an organ for which there hasn't been consent," he said.
Genuis noted that although the proposed legislation doesn't target any country in particular, China is a concern given reports of forced organ harvesting on a mass scale from prisoners of conscience. Investigative reports have accused China of engaging in murder for organs.
"There's obviously substantial concerns about organ harvesting in China, in particular the taking of organs without consent, often without anesthetic, from prisoners of conscience, from Falun Gong and others—this is a major concern," he said.
"A lot of the genesis of the discussion around this bill certainly has come from concerns about what has happened and is happening in China with respect to organ harvesting."
The news that Falun Gong prisoners of conscience in China were being killed for their organs was first broken by The Epoch Times in 2006. The same year, Canadian lawyers Davd Matas and David Kilgour conducted an investigation and released a report confirming that this gruesome practice was in fact taking place. The issue has since been widely reported worldwide and investigated by many organizations.
Last June, Kilgour and Matas, along with U.S. investigative journalist Ethan Gutmann, released an updated report which found that, besides Falun Gong adherents, other religious minorities being killed to supply China's highly lucrative organ transplant industry are Uyghur Muslims, House Christians, and Tibetans.
The report estimated that between 60,000 and 100,000 organs are being transplanted in Chinese hospitals every year, with the source of most of those organs being prisoners of conscience, primarily Falun Gong adherents.
Falun Gong, also called Falun Dafa, is a traditional Chinese spiritual discipline handed down from ancient China based on the principles of truthfulness, compassion, and tolerance.
Genuis said provisions in Bill S-240 will "create a real disincentive for people who might otherwise be involved in this terrible practice [of forced organ harvesting]."
"I'm hoping that we'll see active engagement by members of other parties, by independent senators, and others to ensure that we can start saving lives by making this law as soon as possible," he said.
"I'm hoping for a quick passage," said Ataullahjan, noting that some senators have already expressed their support. "It's a very important piece of legislation."
Israel, Spain, Italy, and Taiwan have passed laws restricting their citizens from travelling to China to receive organ transplants from illicit sources.
Additional reporting by Limin Zhou in Ottawa.