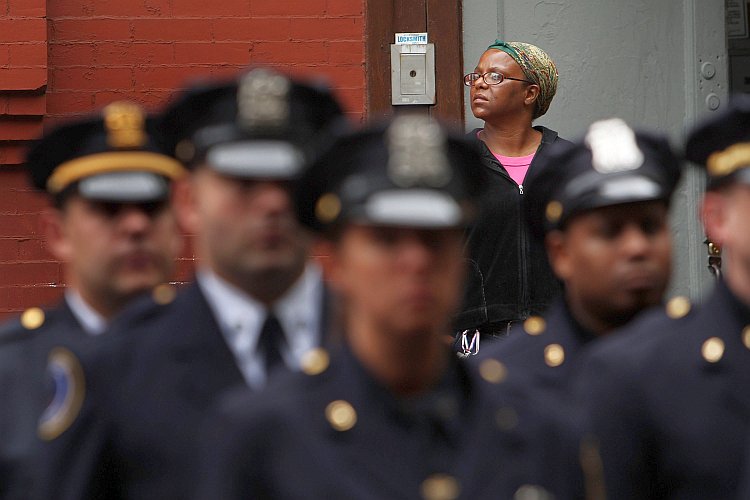 In 2001, President George W. Bush declared that racial profiling is "wrong and we will end it in America." Eleven years later, in what has been called the nation's "post-racial" era, some say the recent killing of Trayvon Martin suggests we may still have a long way to go.
"The senseless death of this innocent young man should be a wake-up call," said Sen. Dick Durbin (D-Ill.)
This week Durbin, head of the Senate Judiciary Subcommittee on the Constitution, Civil Rights and Human Rights, chaired the first Senate hearing on racial profiling in over a decade.
The hearing reviewed the nation's progress on profiling, and explored new measures designed to stop it.
"Racial profiling undermines the rule of law and strikes at the core of our nation's commitment to equal protection for all," said Durbin in his opening remarks. "And, as you'll hear from the experts on our panel today, the evidence clearly demonstrates that racial profiling simply does not work."
According to David Harris, associate dean for research at the Pittsburg School of Law, the flawed hypothesis behind many profiling campaigns is that racial, ethnic, or religious appearance will provide law enforcement with better results on a per-stop basis.
But experts say that these assumptions rarely add up. For example, a 2001 Department of Justice report found that, although blacks and Latinos were far more likely to be stopped by police, they were also less likely to possess contraband items.
In his testimony, Harris traced the history of various policing strategies justifying the use of racial bias as a predictor for crime. But from the War on Drugs to recent measures designed to stop illegal immigration, Harris said profiling only served to make policing less accurate—wasting resources, and actually endangering public safety.
Ronald Davis, chief of police for the city of East Palo Alto, Calif., added that when young men of color are profiled and unfairly incarcerated, their communities lose faith in the criminal justice system, and are less likely to "partner with the police to fight crime."
Panelists came ready with a solution to the profiling problem. The testimonies of Davis, Harris, and others promoted the End Racial Profiling Act (ERPA) as a necessary method to curtail the practice.
"Without this legislation and updated Department of Justice guidance we will continue business as usual and only respond to this issue when it surfaces through high-profile tragedies," said Davis.
The proposed legislation offers a standard definition for racial profiling, and requires training to discourage law enforcement from using biased policing methods. But not everyone agreed that ERPA presents the best approach.
"The very title of the bill presumes that unlawful racial profiling is the norm in policing," said Frank Gale, national second vice president of the Fraternal Order of Police. "The so-called practice of 'racial profiling,' hyped by activists, the media, and others with political agendas, is one of the greatest sources of stress between law enforcement and the minority community in our nation today."
According to Gale, the "so-called" practice of racial profiling is actually "a mistaken perception on the part of some that the ugliness of racism is part of the culture of law enforcement."
While all panelists agreed that the vast majority of law enforcement officers performed their jobs with appropriate discretion, Durbin cautioned against "the inappropriate actions of the few who … create mistrust and suspicion that hurt all police officers."
Despite ERPA critics, there is significant pressure to pass the law.
Multiple international human rights groups, including the United Nations Committee on the Elimination of Racial Discrimination, have raised concerns about the persistence of racial and ethnic profiling observed in U.S. law enforcement. Since 2008, the committee has called on the U.S. government to "make all efforts to pass" the legislation.
In 2011, the United States made a formal commitment to the U.N. Human Rights Council to "[p]rohibit and punish the use of racial profiling in all programs that enable local authorities with the enforcement of immigration legislation and provide effective and accessible recourse to remedy human rights violations occurred under these programs."
But Gale isn't convinced. He calls the bill's constitutionality "dubious" because "it explicitly accepts law-enforcement activities that have a disparate impact on some racial, ethnic, and religious groups, but not those that have a disparate impact on others."
In other words, Gale says ERPA denies the equal protection of the laws and in doing so, actually uses racial profiling.
"We can and must restore the bonds of trust between law enforcement and minorities; to do so requires substantial effort to find real solutions," said Gale, speaking on behalf of the Fraternal Order of Police. "It requires that we resist our inclination to engage in meaningless 'feel good' measures that fail to address the substance of our problem. It requires that we resist using hyperbole and rhetorical excess to place blame. This legislation does both of these things and we strongly oppose it."