Sen. Rand Paul (R-Ky.) said the recent elections in his home state were a "red wave" as he dismissed the apparent loss of sitting Gov. Matt Bevin, a Republican.
"When you look at all the races—there were six statewide races—we won five out of six; Republicans won five out of six," Paul said during a Nov. 10 appearance on NBC's "Meet the Press."
"We did lose the governor's race, we were disappointed in it. But the interesting thing is we beat a lot of other candidates that no one expected us to. So actually, in many ways, there was sort of a red wave in Kentucky."
The five wins included the election of Daniel Cameron, the first African-American attorney general in Kentucky history.
Bevin was said to have lost to Andy Beshear, the son of former Kentucky Gov. Steve Beshear, though the governor has declined to concede and called for a recanvass.
According to the unofficial election results, Bevin lost to Beshear by 5,189 votes.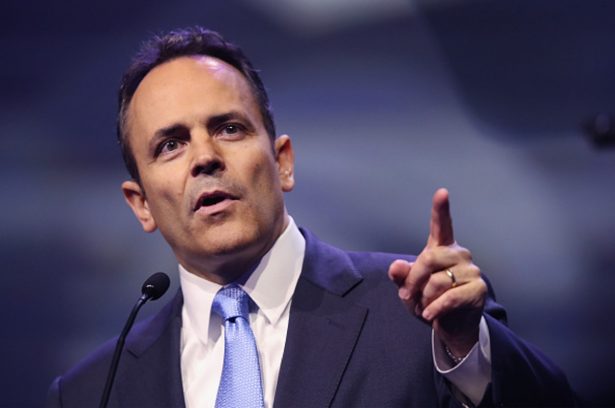 Paul said Bevin's loss stemmed in part from his attempts to have teachers pay more for their pensions, prompting "teachers' anger" to come out.
"I think he was trying to do the right thing, which is save the pension for the teachers. But it's tough. When you ask people to pay more to keep their pension in place, people get unhappy," Paul said.
Host Chuck Todd wondered whether Bevin's efforts to tie himself to President Donald Trump and Beshear to the national Democratic Party hurt Bevin.
"A lot of candidates do that. Because you know, we have conservative voters in Kentucky who elect federal representatives, overwhelmingly because they are socially conservative, and they do support President Trump. So I don't think it's a bad strategy, necessarily. But I think that he had some other things to overcome," Paul said.
"One thing was the anger of the teachers. But another was some problems within the Republican base. He lost some Republican counties that other Republicans got over 60 percent. So there was also a problem within his base. And that's a complicated matter. But there are a lot of specific reasons and fights, within the Republican Party, that may have hurt him."
While the GOP, including Trump, has sought to minimize Bevin's apparent loss, Democrats say it portends bad news for Republicans in the 2020 elections.
"Any Republican that tries to downplay Andy Beshear's win, and it looks like he will win, they are whistling past the graveyard," Sen. Tim Kaine (D-Va.) said shortly before the final vote count was revealed. "Kentucky is one of the most Republican states in the country. President Trump put it all in by going down there last night to try to get Kentucky to do what they always do, which is go red."