Republicans need six more senators to decide to dismiss the articles of impeachment against President Donald Trump, Sen. Rand Paul (R-Ky.) said on Jan. 22.
Republicans hold a 53–47 majority in the Senate, which is hearing arguments for removing Trump from office from House Democrats this week before Trump's lawyers present their case against conviction.
"There are 45, with about five to eight wanting to hear a little more," Paul told The Washington Post. "I still would like to dismiss it, but there aren't the votes to do it just yet."
Convicting Trump, or removing him from office, requires a 67-vote supermajority for one of the articles. Dismissing the impeachment articles requires a simple majority.
Paul didn't name any names. Republicans who are among those still wanting to hear more likely include Sens. Susan Collins (R-Maine), Lisa Murkowski (R-Alaska), and Mitt Romney (R-Utah).
Arguments from House impeachment managers, including lead manager House Intelligence chairman Adam Schiff (D-Calif.), are only serving to unify the GOP, Paul said. He plans to push for dismissing the articles later in the trial.
"I will push it at some point," Paul said. "The more Adam Schiff speaks, the more we become unified."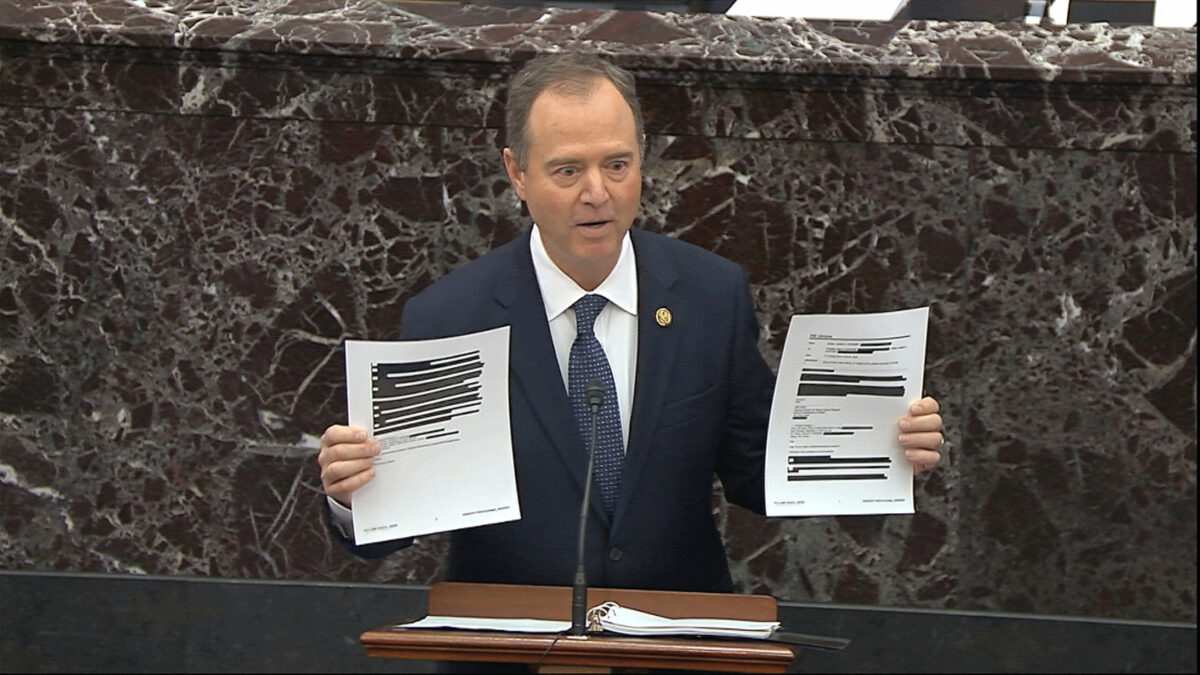 Republicans and Democrats differ over when to call witnesses in the trial, whether any witnesses are necessary, and which witnesses should be called if any are subpoenaed. Republicans won out this week, voting to approve initial guidelines that would delay the question until later in the trial.
Both sides will present their arguments to lawmakers, who will then submit written questions. After receiving answers, the Senate will vote on whether to call witnesses. Democrats want four former or current White House officials, including former national security adviser John Bolton, to testify.
Some Republicans appear to want no witnesses, while others have said they want to hear from former Vice President Joe Biden, Biden's son Hunter Biden, or Schiff.
Trump was impeached on Dec. 18, 2019, by House Democrats, who then held the impeachment articles for about three weeks before sending them to the Senate, triggering the start of the current impeachment trial.
Democrats argue that Trump abused his office by asking Ukrainian President Volodymyr Zelensky in a July 2019 phone call to "look into" allegations of corruption surrounding the Bidens. He noted in the call that Joe Biden in 2018 mentioned that in 2016 he pressured Ukraine to oust Viktor Shokin, a prosecutor who was probing Hunter Biden's employer, Burisma Holdings.
Because Joe Biden is running for the Democratic presidential nomination, Democrats say Trump was asking a foreign country to interfere in the 2020 election.
They have also tried to link a hold on congressionally approved aid to Ukraine to the request for the probe, though they've failed to produce evidence to connect the two.
Trump said he has a responsibility to target corruption in both the Biden case and for the aid and did nothing wrong.