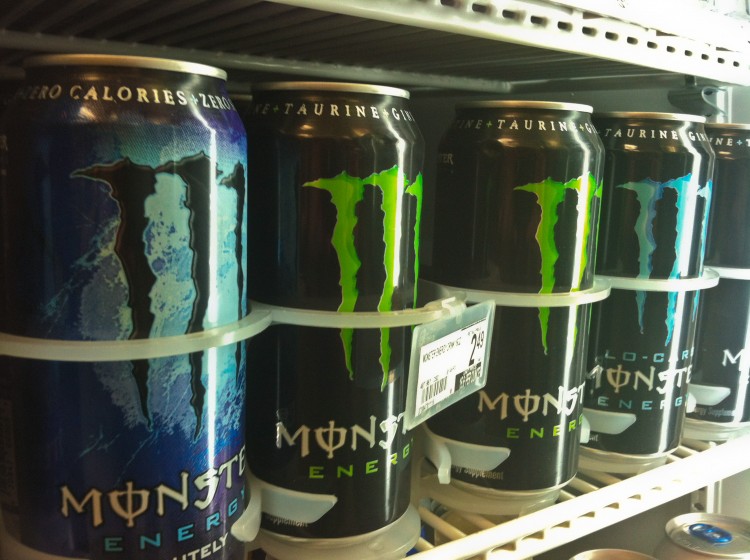 As America's most popular mood-altering drug, caffeine reigns supreme. But many fear that the nation's fastest growing caffeinated beverages may also be deadly. 
Over the past few years, the U.S. Food and Drug Administration (FDA) has received thousands of reports that could link emergency room visits to energy drinks. Dozens of the most serious cases suggest severe caffeine overload—heart attacks, arrhythmias, and convulsions. Thirteen cases have been fatal.
Energy drink manufacturers assert that their products are safe, saying that caffeine levels are not that much different than strong coffee. But critics say that it is still too much for the industry's target audience.
With a sweet taste and names like Rockstar, Full Throttle, and No Fear, energy drinks are unmistakably designed to appeal to young people, either to stay awake for study or to sustain energy for staying out late. 
The multibillion dollar energy drink industry has seen a meteoric rise in sales, thanks in part to an unconventional marketing strategy that focuses on events, social media, and video-game advertising. 
One of the industry's most popular brands, Monster Energy, is currently facing a wrongful death lawsuit of a 14-year-old girl. After consuming two of Monster's 24-oz. beverages in December 2011, Anais Fournier went into cardiac arrest and died one week later. According to the lawsuit, her death resulted from "cardiac arrhythmia due to caffeine toxicity."
"Our kids are consuming caffeine like they haven't done in the past. Part of it has to do with the marketing of these energy drinks," said Scott Shapiro, M.D., Ph.D. "These companies are really targeting our children."
Shapiro, director of cardiac arrhythmia services at the George Washington University Hospital, said that while many coffee-addicted adults can comfortably manage a high jolt of caffeine to the system, the effect can be much different for adolescents.
"Sometimes you have kids who are not drinking caffeine on a regular basis, but then all of a sudden they'll take a huge bullet of caffeine-containing products—maybe 2 to 3 energy drinks, which may contain up to 500 mg or more of caffeine," said Shapiro. "I think that's where you get into issues."
While regulators cap 12-ounce sodas at 0.0025 ounces (71 mg) of caffeine, an energy drink of a similar size can contain up to 250 mg or more. These high-octane cocktails are often categorized as dietary supplements, which exclude them from restrictions placed on more conventional beverages. 
At the extreme high end of the spectrum is Monster's provocatively named Hitman Sniper, which is said to contain as much as 0.0085 ounces (240 mg) of caffeine in one 3-ounce shot. The actual caffeine level is not known since many of these dietary supplements are not required to list total content.
"You have these drinks that are neither fish nor fowl," said Shapiro. "They're not treated equally."
Due to the growing number of adverse health reports, combined with possible abuse of labeling loopholes, lawmakers are looking to regulators for answers.
On Nov. 15, U.S. Sens. Dick Durbin (D-Ill.) and Richard Blumenthal (D-Conn.) called for a meeting with the FDA commissioner to discuss how the agency plans to ensure product safety. This is the third request the senators have made this year.
The FDA has previously stated that they have determined no causal link between health reports and the drinks blamed for triggering them. Recently, however, the U.S. Department of Health and Human Services told lawmakers that they will examine the issue more closely. 
Because of FDA limitations, regulators are requesting outside help from the Institute of Medicine and an advisory committee to address the senators' concerns.
"In general, FDA does not have the authority to require the production of medical records by families or health care providers, but we are requesting that such records be provided on a voluntary basis, even as we remain sensitive to the wishes of families and the constraints under which health care providers operate in light of state and local laws governing disclosure," states a Nov. 21 letter from the FDA to Durbin.
Shapiro said that while caffeine sensitivity can vary from person to person, the kinds of safety standards that parents and lawmakers are looking for would provide more transparency in what is now a largely unregulated category of beverages. 
"Yes, there will always be an outlier where a cup of coffee triggers something serious," Shapiro said. "They can't protect everyone all the time, but you can put some sort of safety standards that can protect a significant amount of people."
The Epoch Times publishes in 35 countries and in 19 languages. Subscribe to our e-newsletter.