As cleanup continues more than a month after one of its freight trains derailed in East Palestine, Norfolk Southern Railway said it will pay for residents who live within a mile of the accident site to temporarily relocate.
"As soil work continues at Norfolk Southern's derailment site, some residents close to the derailment site may notice additional odors," the EPA said in a March 5 news release.
"At EPA's request, Norfolk Southern has agreed to provide additional financial assistance to residents of the East Palestine area, including the portions of Pennsylvania within a mile of the derailment site. This assistance may include temporary lodging, travel, food, clothing, and other necessities."
A Norfolk Southern spokesperson said that the company is removing tracks and excavating the soil underneath, and using "additional air monitors" while continuing to monitor the community's water.
River Valley Organizing, a local advocacy group, believes that the boundaries covered by Norfolk Southern's plans are not wide enough.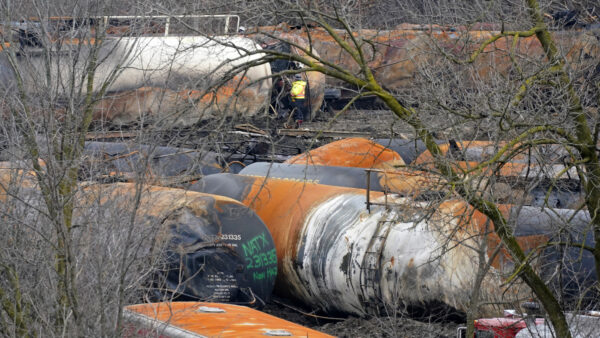 "A one-mile radius for relocation doesn't reflect the facts on the ground that this chemical disaster has had a far-reaching impact," said Jami Cozza, an East Palestine resident and River Valley Organizing volunteer. "We need to stop letting Norfolk Southern put their profits ahead of the people of our community."
On Feb. 3, a Norfolk Southern train carrying 151 cars derailed in the village of 4,761 in eastern Ohio near the Pennsylvania border.
Fifty cars veered off the tracks, including 11 that contained hazardous chemicals, sparking a fire.
On Feb. 6, Ohio Gov. Mike DeWine joined state and local officials, and the railroad, is deciding to release and burn toxic vinyl chloride from five rail cars, believing it would prevent an violent explosion.
The burn sent flames and thick black smoke billowing into the sky.
A day before the vinyl chloride was released and burned, DeWine urged residents to evacuate, calling it a matter of "life and death."
On Feb. 8, he held a press conference announcing that the evacuation order had been lifted and that it was safe for residents to return to their homes.
Since then, though state and federal officials have repeatedly said that testing shows the air and water are safe, people in East Palestine and surrounding communities have reported experiencing headaches, burning eyes, skin rashes, nausea, and other ailments.
Norfolk Southern provided $1,000 "inconvenience" checks to residents with an East Palestine zip code to help with lodging costs in the immediate aftermath. Some people have permanently moved, while others have reluctantly remained because of financial constraints.
Gregory Mascher and his wife, Traci Mascher, are longtime East Palestine residents who live a half-mile from the derailment site with their grandchildren. Like many people who call the village home, they love the "close-knit community where everyone knows everyone and people look out for each other." But they are afraid of what will happen with their health if they stay.
"A lot of people here are like me. They are worried about the kids," Gregory Mascher said. "I'm 61, and you know, I don't have forever ahead of me, but I'm terrified for my granddaughters because you don't know what the long-term effects will be."
Many East Palestine citizens believe that the railroad's March 6 announcement is a start, but compensation should be expanded to permanent relocation if that is what residents want. The Maschers lived at a hotel and then a family member's home in West Virginia for the first few weeks after the derailment and burn. They then returned but experienced health issues and decided to leave again to a relative's West Virginia residence for the foreseeable future.
"I think that Norfolk Southern should offer people who want to move a relocation package where they buy the properties at a price of the actual market value before the derailment," Mascher added. "I don't think people should have been told they could return right away to begin with. And it was a big slap in the face, that 15 minutes after the evacuation order was lifted, another Norfolk Southern train came through town."
Lack of Trust Continues
On March 6, Cozza said many people are displeased about the timing of the decision to offer relocation support.
"They started digging up that soil on Saturday, and they're just now doing this today?" Cozza said.
Cozza believes that the decision will create further division in the usually cohesive community.
Some residents are concerned about their safety if they remain. Some business owners are worried about fueling a negative perception, warranted or not, of East Palestine and want people to stay.
"The business owners are of the mindset: The derailment happened. Let's move on," Cozza said.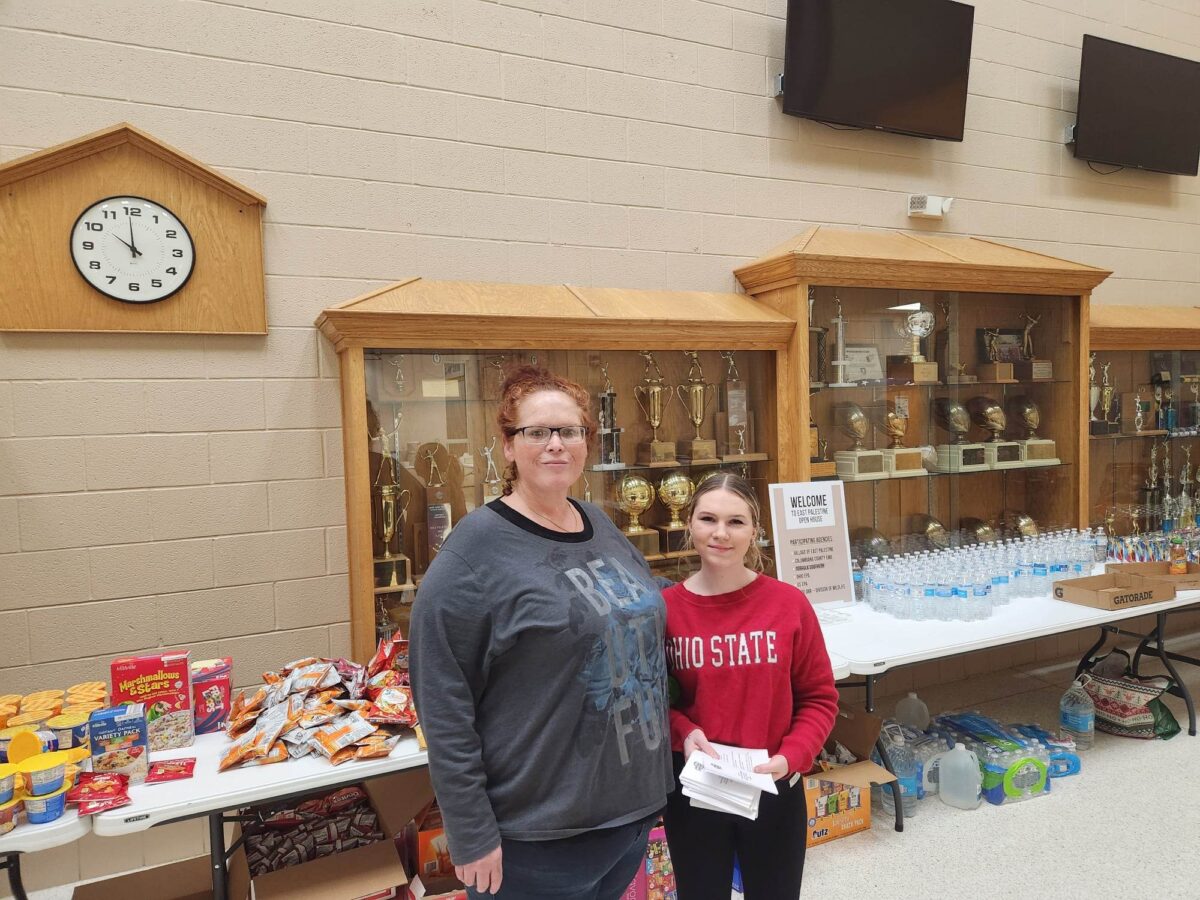 Cozza's family has lived in East Palestine for several generations near a creek that is now contaminated by toxic chemicals from the crash.
She told The Epoch Times that, initially, Norfolk Southern conducted air testing and told her it was safe to return home.
"I asked for additional water and soil testing, and they [Norfolk Southern] agreed and sent a senior toxicologist," Cozza explained. "He told me that my house was not safe and that I shouldn't return.
"I'm vocal and had I not used my voice and thrown a fit, I would be sitting in that house with my 3-year-old daughter breathing the toxic chemicals," Cozza said. "How many children—how many people—are inside their homes and are in danger? How can any of us trust the railroad? I don't trust them."
Cozza believes that the railroad should compensate residents and ensure that their homes and the air, water, and soil are safe.
"It's not about the money. It's about our house. It's about our town," Cozza said. "This is our home. This is our life, and we are not getting the help that we need. Everyone deserves to live and sleep in a home that is safe from toxic chemicals."
Relocation is voluntary. Norfolk Southern will keep paying expenses "while the soil removal and transportation work is ongoing," according to the EPA.
Residents do not have to sign a waiver or release of liability to get the support, the EPA added. One payment option is a weekly prepaid debit card.
Remediation efforts are expected to last one to two months, the EPA explained, depending on weather conditions and unexpected delays.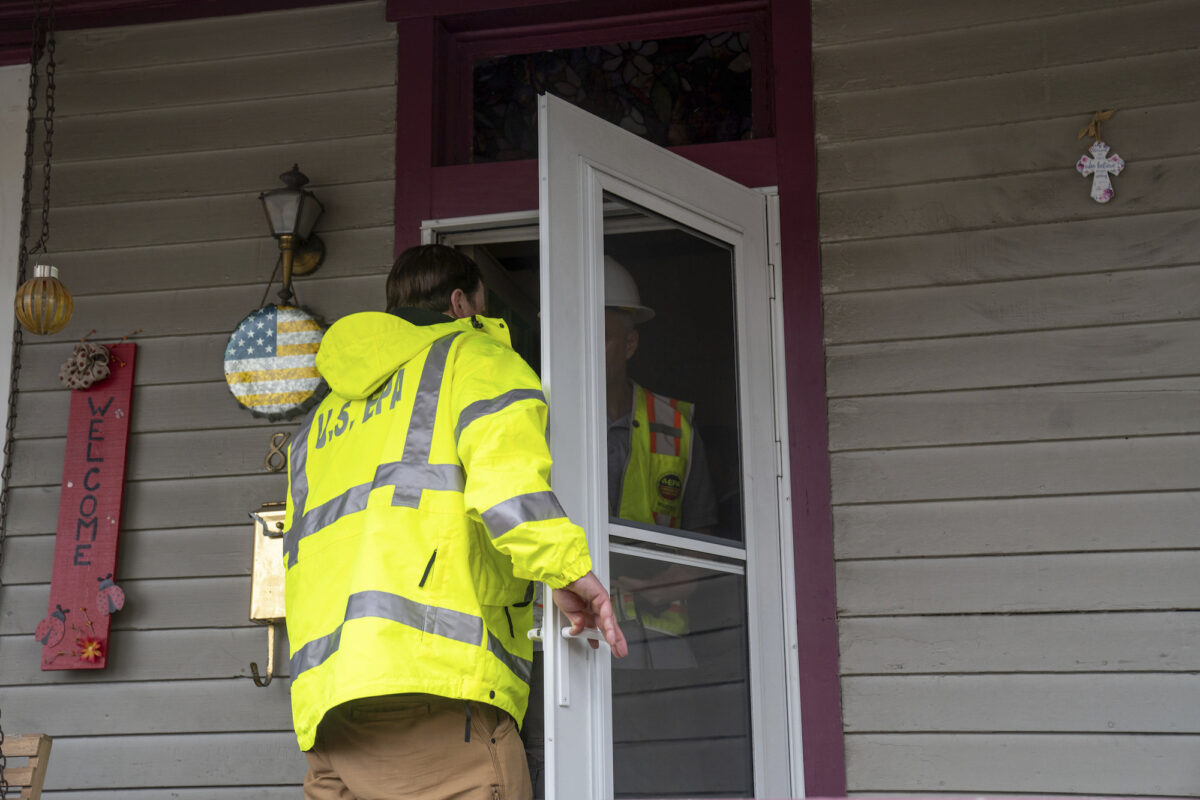 In its March 5 statement, the EPA also provided information detailing how people can ask to have the interior and exterior of their homes cleaned by a Norfolk Southern contractor.
"Since soil removal got underway on Saturday, March 4, EPA has been monitoring and conducting real-time sampling near the worksite. To date, no off-site releases of vapor at levels of concern have been detected. EPA does not anticipate exceedances of levels of health concern because of this work," the EPA statement noted.
"We are carefully overseeing this work to ensure residents' safety. Protective measures include continued round-the-clock air monitoring at the site and throughout the community, as well as the use of EPA's TAGA mobile laboratory which is conducting a real-time air sampling route near the soil excavation area," the statement continued, before announcing the railroad's financial assistance was provided at the agency's request.
"This program is completely voluntary and is being provided as an option and a resource to interested residents to ensure they feel comfortable throughout the track excavation work," the EPA said.
Fighting for Their Future
Based on a village meeting last week that attracted more than 200 residents, River Valley Organizing wrote a list of five community demands addressed to Norfolk Southern and the federal government.
The demands include "relocation for anyone who wants it," independent environmental testing funded by Norfolk Southern, ongoing medical testing and monitoring paid for by the railroad, and safe disposal of the toxic waste from the derailment site.
The group also believes that Norfolk Southern should pay "100 percent of the costs."
"Taxpayers shouldn't foot this bill. Norfolk Southern made this mess, they should clean it up," a River Valley Organizing statement said. "The company must commit to paying 100 percent of the costs for testing, relocation, cleanup, medical monitoring and costs, and an independent science advisor."
Cozza added that what "the people of East Palestine" want is "safe homes and independent testing."
"It is only through coming together and demanding action that we will hold Norfolk Southern accountable and get families and businesses in our community the help they are owed," Cozza said.