DANA POINT, Calif.—JT Estrela's job is to play in the sand. He's a professional sand sculptor, and his latest gig was to sculpt the logo for Dana Point's 49th Annual Festival of Whales, which kicked off on March 7th.
The festival started with the Whale of a Sand sculpting competition, drawing entrants from all over Southern California. Dana Point's Baby Beach has special fine powder sand.
Estrela knows how to work with all kinds of sand. He's been giving lessons in building sand-castles since 2013, charging about $140 per lesson. He works with children, but also with adults as a unique team-building exercise.
The key to sand sculpting is "lots of water, lots of sand," Estrela told The Epoch Times.
But the real secret lies in using "way more water than sand," he said. "That's really the whole secret. You have to saturate the sand. I probably carried 20 buckets of water. Eight pounds a trip is a lot of water, but that's the secret."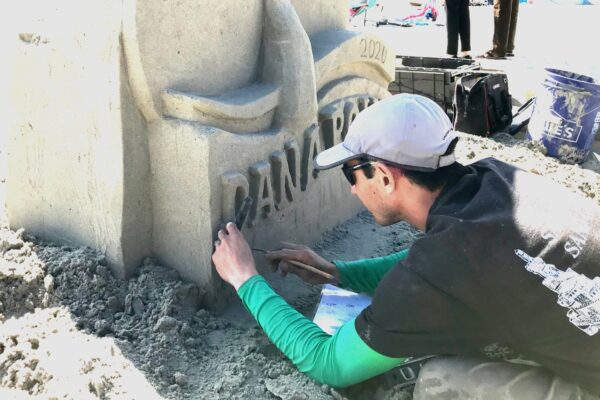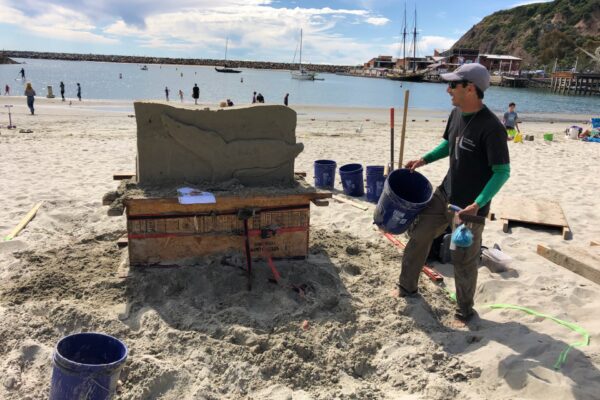 Dana Point's sand sculpting competition will be followed by a week of festivities, including street fairs, barbecues, a clam chowder cook-off, art lessons, scenic tours, and a parade. The festival, which ends March 15, celebrates the harbor's renown as a prime whale-watching destination and attracts over 50,000 visitors each year.
Andrea Swayne, event coordinator for the nonprofit Festival of Whales Foundation, said the Whale of a Sand competition is not so much a contest as a laid-back event that knits together people in the community.
"It's all in good fun," she told The Epoch Times. "It's more about bragging rights. The people that are having the most fun always stand out to me."
This is Swayne's fourth year judging the competition. She looks for "individuality, creativity, and the teams that are having the most fun."
Her past favorites include life-sized sandcastles and a realistic gray whale, equipped with piping that allowed water to shoot through the blowhole.
The Challenges of Sand Sculpting
This year's competitors included four-time defending champion Chris Crosson, 61, a professional sand sculptor and entrepreneur from Irvine, who has created thousands of sculptures over the past three decades.
"Gravity's always a challenge," he told The Epoch Times, adding that he prefers vertical sand sculptures that reach ten-feet tall—but they often collapse unexpectedly.
For example, he said, he might be commissioned to build a sand castle that says "Happy Birthday Mom" and fifteen minutes before the birthday lady arrives, it falls.
Time limits, rain, and bad sand can also make things difficult. "A painting isn't going to get rained on," he said. But bad weather can quickly destroy hours of work on a sand sculpture.
And he said sometimes the sand in a location can be so bad that "you have to bring your own sand."
Some sand feels like it's "been rolled [through] a rock tumbler. The edges are gone, all the minerals and clay have been washed out and it's the worst sand ever … You [build it] up about a foot and it just rolls away," Crosson said.
"That's the pressure right there," he said, slicing away at his nearly eight-foot-tall, upright depiction of a narwhal, the Arctic whale known for its unicorn-like horn. "So I think, why doesn't everybody do this?" he asked. "Because the pressure."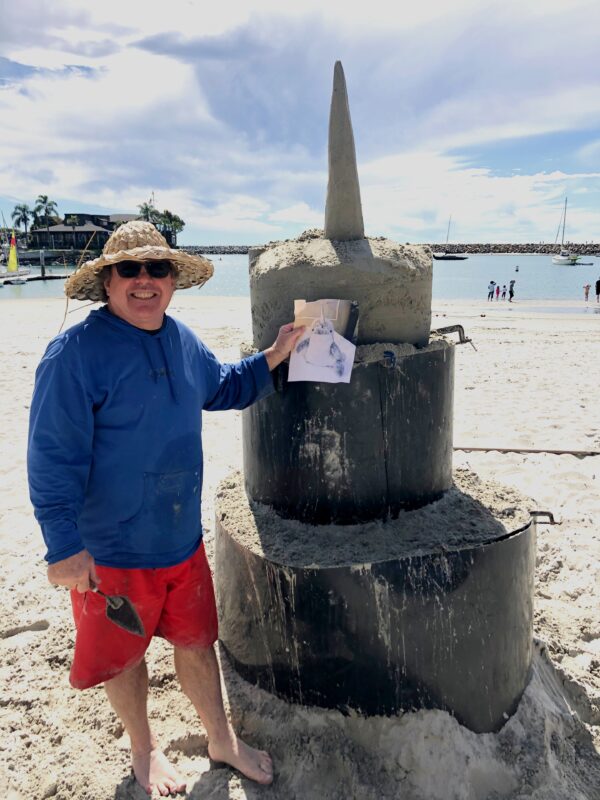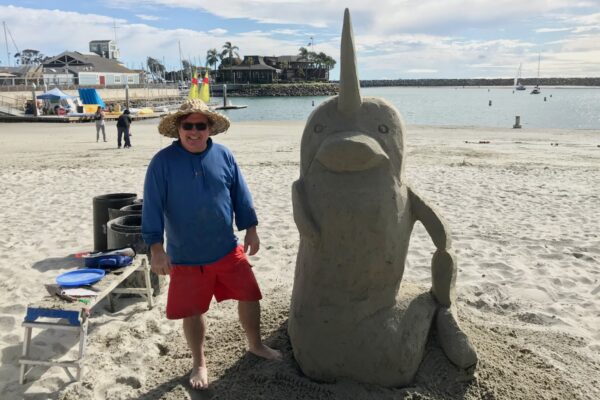 Crosson has an agent who helps him book gigs in Southern California. He often guides team-building exercises for corporate events. Recently, he coached 12 executives from LegalZoom who "wanted to use the left and right side of their brains."
"So there's a little bit of planning and then there's a little bit of creativity," he added, before offering guidance to a nearby group.
Jill Richardson and Philip Krajeski have participated in this event for the past five years. Their previous sculptures included mermaids, crabs, turtles, and a full shark. But this year, their sculpture—an enormous shark head jutting from the sand and baring its teeth—is an homage to a friend with cancer who owns the Shark Bite Lounge in nearby Laguna Beach.
"My wife and I decided we'd join in and help," Ray Olaes, from Mission Viejo, told The Epoch Times. "They came up with their idea, so we were just the apprentices."
Whale Migration
Every March, gray whales pass by Dana Point on their migration from Mexico up to Alaska. Some people believe the whales use the Dana Point headland as a landmark for travel—making it a prime whale-watching harbor and the perfect site for a whale-themed festival.
A board displayed at the festival showed 91 gray-whale sightings in the past week as of March 7. Humpback whales had also been sighted, 53 times. Dolphins had been spotted in the thousands.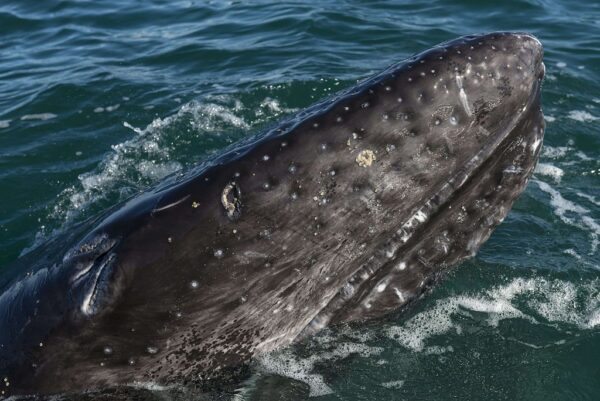 "Dana Point harbor is very unusual," Swayne said. "A lot of places where you go whale watching, it takes a long time from getting on a boat to getting out to where you can actually see whales. Here, it's like 10 minutes.
"We're so close. You're out and you're right in a migration path," she added.
Ralph Butler, 71, a certified naturalist and Navy veteran, works as a tour guide for whale-watching boats that launch from Dana Wharf. Butler has conducted about 30 tours since January.
"A couple weeks ago, the humpbacks started showing up," he told The Epoch Times. Bottlenose dolphin, common dolphin, white-sided dolphin, and Risso's dolphin are also often spotted—along with occasional orcas, better known as killer whales.
"I love being on the ocean," Butler said. "I get out there and talk to people about these great marine mammals, have a day on the ocean. For a sailor, it doesn't get any better."
Dana Point is named after seaman Richard Henry Dana, author of "Two Years Before the Mast," who described the cliffed cove as "the only romantic spot in California."