Nearly half of Australians believe the Chinese Communist Party (CCP) will launch a military attack on Australia, according to new research by the Australian Institute's International & Security Affairs.
The data, which was released on Aug. 22 as part of the "Polling – Australian and Taiwanese attitudes to China" research paper (pdf), came from a survey of 1002 adults living in Australia and 1,002 adults living in Taiwan between Aug. 13-16, 2022. The research focused on their attitudes towards China in Australia and Taiwan, respectively.
The researchers found Australians appear to be more watchful of the threat China poses to the region than the Taiwanese, with Australians registering a large and growing degree of fear of China and the prospect of war.
One in 10 Aussies Believe China will Attack Australia Soon
Nearly one in 10 Australians think China will attack Australia soon, while just one in 20 Taiwanese think that China will attack Taiwan soon.
Allan Behm, Director of the Australia Institute's International & Security Affairs program, said he was astonished by the results showing "Australians are more afraid of an attack from China than the Taiwanese are."
"The results show popular opinion is detached from geopolitical and geostrategic reality," Behm said.
Additionally, the research found that 48 percent of Australian respondents believe that the CCP will attack Australia "soon or sometime," and nine percent believe the CCP will invade Australia "soon."
Younger Australians are more likely to think that China will attack Australia, with 60 percent of Australians aged 18 to 29 thinking China will attack soon or sometime compared to 41 percent of those aged 60 or older.
Respondents from Western Australia and Queensland were more likely to believe that the CCP would attack Australia soon, while more respondents from NSW (37 percent) and Victoria (41 percent) believed that the CCP would attack Australia "some time" in the future.
However, among all three groups of respondents aged 18-29, 30-39, and 40-49, more than 40 percent said the CCP would attack Australia "sometime."
The survey also found that Labor and independent voters were least likely to believe that the CCP would attack Australia (40 percent and 46 percent), while most Greens and Coalition voters believe so (52 percent and 53 percent), as do two third of One Nation voters also believed that the CCP would attack Australia (65 percent).
57 percent of Australians think the United States would commit military forces to help defend Australia, 11 percent do not think so, and the rest said they did not know or it depended on the situation.
However, four in five Australians said that it would be in Australia's interest if the United States and China could work together towards world peace, although only 35 percent of Australians think such cooperation is possible between the two powers.
Sino-Australian Relations at a Low
The research comes at a time when relations between China and Australia are at a low point, with the CCP utilising greyzone tactics and economic coercion against Australia in the wake of the former government's call for an inquiry into the origins of COVID-19.
Recently, there has also been an escalation in tensions between the two countries after Chinese military forces bullied an Australian military aircraft conducting routine surveillance in the South China Sea.
Additionally, the federal government has condemned the CCP's military exercises around Taiwan for causing renewed tension between the two sides.
Australian Foreign Minister Penny Wong on Aug. 5 called out China for its "destabilizing" live-fire drills near Taiwan, noting that Australia will monitor the situation closely.
On Aug. 4, China launched live-fire military drills in the seas surrounding Taiwan, which was seen as a campaign of military coercion against the island in apparent retaliation for U.S. House Speaker Nancy Pelosi's (D-Calif.) visit.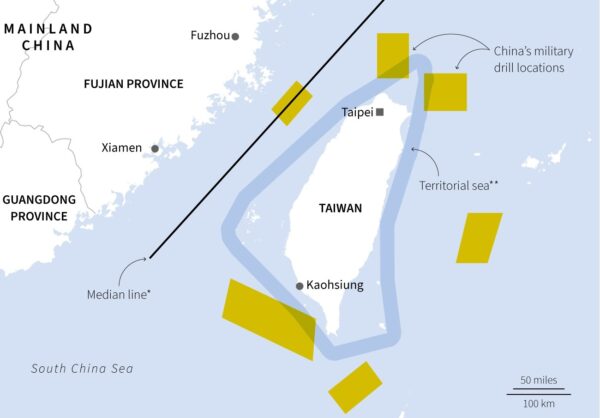 Shadow Defence Minister: Championing Values In The Indo-Pacific
Behm argued that the results indicated that Australians were being exposed to more rhetoric on China and the fearmongering around a risk of war.
However, Australia's shadow defence minister Andrew Hastie believes that Australians' concerns about the risk posed by China are well-founded.
In his speech titled "Championing Values In The Indo-Pacific" to the Henry Jackson Society conference in the UK in July, Hastie called for democratic nations to stand together against coercion.
"We know this from Down Under," he said.  "The [People's Republic of China] has used economic coercion to compel our political leadership to lift the ban on Huawei and ZTE participation in our 5G network."
The shadow defence minister noted that despite the Chinese Embassy leaking a "laundry list of strategic demands" to Australian media calling for the then-federal government to abide by 14 conditions before diplomatic relations could resume, Australia had not conceded on any point.
"More than ever, free peoples must deepen their association with one another—through formal and informal means," he said.
"We have only been able to stand firm because of the strength of our relationships across the Indo-Pacific region and beyond."
"Our values, shared with our friends, have been a force multiplier, and our best strategy is to stand together."
Victoria Kelly Clark contributed to this article.