In recent weeks, both former President Donald Trump and Florida Gov. Ron DeSantis have touted their own handling of the COVID pandemic while criticizing each other's response to the crisis.
It's only natural in the slow run-up to 2024. Everyone wants to be able to say they got COVID right—and hindsight is always 20/20.
On March 29, the "Trump War Room" Twitter account, associated with the former president's campaign team, posted a video denouncing DeSantis.
They sought to define the governor's response in dire terms with the caption: "Lockdowns. Armed checkpoints. School shutdowns. Beach and business closures."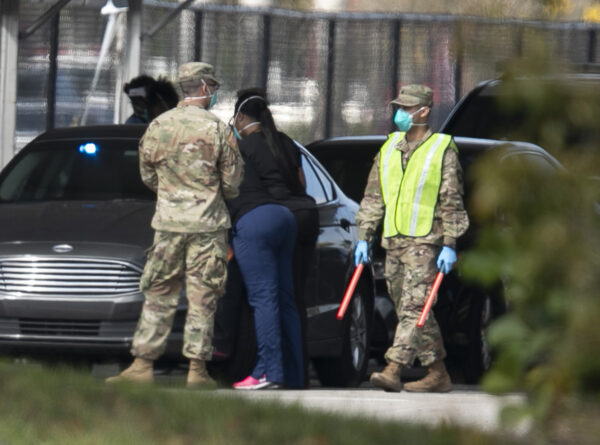 But that tweet fell flat with many readers, who "added context" that "the governor quickly dropped that approach" and has "been hailed as an anti-restriction hero on the right." In addition, they defended DeSantis for following guidance from the Trump administration.
Still, some agreed with the criticism of DeSantis.
"DeSantis's entire popularity is based on rewriting the history of his COVID response… He labeled FL as the 'freest' state, when that's far from true," one anonymous Trump supporter wrote on Twitter.
Some pundits assert that discontent over Trump's handling of the pandemic hurt his reelection bid in November 2020.
On Jan. 31, 2020, the Department of Health and Human Services declared a public health emergency. As the virus took hold in the succeeding weeks, Trump went on to declare a national emergency. He also recommended that businesses and schools close and that Americans stay at home.
In Retrospect, Trump Often Correct
But since then, even publications such as Newsweek have acknowledged that Trump was right about a number of key assertions about the virus.
Toward the beginning of the pandemic, Trump blamed China for unleashing COVID on the world.
He said it probably originated in the Wuhan Institute of Virology (WIV). At the time, the New York Times and other legacy media outlets worked to discredit that theory, asserting that supporters of the lab leak theory were "conspiracy theorists," and trying to link the virus to a wet market in Wuhan.
In April 2020, The Epoch Times explored the Wuhan lab-leak theory in a documentary on the origin of the virus.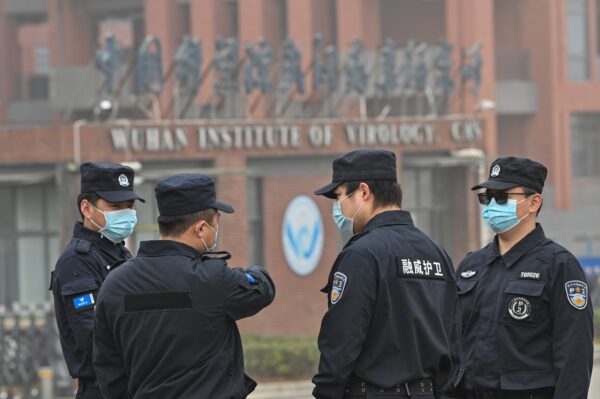 The publication's early willingness to broach the lab-leak theory helped trigger a burst of hostile coverage from legacy media outlets.
In recent weeks, however, the U.S. Department of Energy finally acknowledged that it was most likely true.
Prior to that, on Jan. 28, 2020, Trump had actually praised China's handling of the virus.
"China has been working very hard to contain the Coronavirus. The United States greatly appreciates their efforts and transparency. It will all work out well. In particular, on behalf of the American People, I want to thank President Xi!" he said in a tweet.
Yet, just three days later, he issued an executive order banning entry to non-citizens "who pose a risk of transmitting" COVID, with a focus on China.
He faced a strong backlash at the time.
The day after the executive order was issued, then-candidate Joe Biden accused Trump of "xenophobia" on Twitter, while House Speaker Nancy Pelosi called the action "discrimination disguised as policy."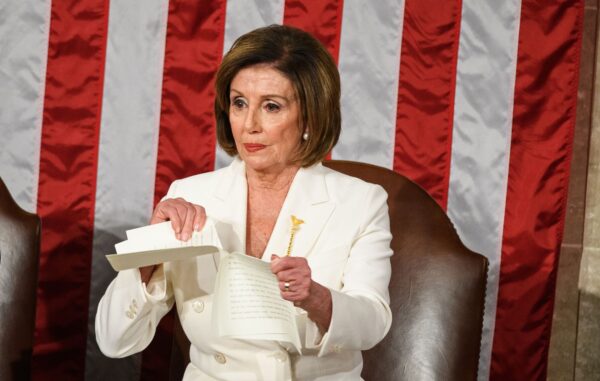 The New York Times, meanwhile, asserted there was "racism at the heart of Trump's 'travel ban.'"
Trump also stated that states, rather than the federal government, were mostly in charge of their COVID response. His successor, Joe Biden, has echoed that position.
Shortly after taking office in January 2021, Biden issued a flurry of COVID-related executive orders. Yet, an Epoch Times analysis showed those actions largely duplicated work that Trump's team had already started while also incorporating new layers of bureaucracy.
Controversy Over 'The Vax'
Initially, the media went wild over Trump's assertion that his "Operation Warp Speed" initiative would lead to a vaccine being ready by the end of 2020. Some scoffed at his claim. Yet, that is in fact what happened.
In December 2020, about a month after Biden was declared the winner of the general election, the U.S. Food and Drug Administration gave "emergency use" approvals for people to receive Pfizer or Moderna COVID vaccination injections. Both Trump and Biden have heralded the speedy development of the shots as a significant achievement.
Now, as side effects from the vaccines become more widely publicized, Trump faces criticism for pushing the shots and for following the advice of experts who recommended pursuit of the vaccine.

DeSantis too was an early advocate for vaccines. Yet, over the summer of 2020, his views changed. He went on to raise issues with the vaccines' safety and efficacy.
"Right from the beginning, they said the mRNA shots would prevent you from getting the virus," DeSantis said on March 16, 2023, marking the third year since "15 Days to Slow the Spread."
"We know that is not true and especially not true with the booster jabs. It's just not true. It's not about public safety. They are pursuing an agenda."
In social media posts, some blame Trump's vice president, Mike Pence, for COVID policy mistakes. Pence led a national COVID task force at Trump's direction.
During the COVID crisis, both Pence and Trump relied heavily on guidance from two top U.S. health leaders, White House Coronavirus Response Coordinator Dr. Deborah Birx and Dr. Anthony Fauci of the National Institute of Allergy and Infectious Diseases (NIAID).
Both Birx and Fauci advocated lockdowns "to slow the spread" of the virus. They also touted vaccines as an effective weapon against the CCP virus.
Notably, both remained in their positions through the end of Trump's presidency.
Jared Kushner's 2022 memoir suggests Trump was pushing to relax pandemic restrictions behind the scenes.
"On April 15, Trump called me to the Oval Office and said that he wanted to end the COVID-19 lockdown and reopen the economy the following day," Kushner wrote, later adding that Fauci "strongly advised against a full reopening" in an April 16 meeting with the commander-in-chief.
Earlier this month, DeSantis declared to Piers Morgan, "I would have fired somebody like Fauci."

He said Fauci "did a lot of damage" by insisting upon mask mandates, lockdowns, and business closures with insufficient evidence that the measures would prove effective.
Crucially, it was Fauci's NIAID that supported EcoHealth Alliance, the non-governmental organization that funded bat coronavirus research at the WIV as well as gain-of-function researcher and WIV collaborator Ralph Baric.
Both Trump and DeSantis reported that they were COVID-inoculated, and both also made it clear they opposed any vaccine mandates from Biden.
DeSantis' Early Response
The first Florida official to address the issue in an actionable setting was then-State Surgeon General Scott Rivkees, who told the Florida Senate Health Committee on Feb. 18, 2020, that the state had established protocols and procedures to contain the coronavirus, should there be an outbreak.
At that point, there were no reported cases in the state. Worries centered on a potential influx of COVID-infected travelers from China.
DeSantis's first executive action on COVID was a March 1, 2020, directive authorizing the Florida Department of Health to issue a Public Health Emergency, and the State Surgeon General and State Health Officer to declare that "a Public Health Emergency exists in the State of Florida as a result of COVID."
The executive order came after a month of uncertainty and growing fear, not just in Florida, but across the United States and the world.
It would be followed by many more months, and even years, of uncertainty, not just about the disease, but about state, local, and federal authority in relation to COVID-related laws and guidelines–challenges that, along with deep institutional hostility, also affected Trump.
All those considerations colored the governor's actions as he pivoted from an aggressive early stance on COVID to one that distinguished him as a national leader in questioning lockdowns, vaccines, and other facets of the pandemic response.
In his Feb. 18 comments to the Florida Senate Health Committee, Rivkees indicated that if "persons of interest"—people who had recently been in China—were identified, the state wanted them to be tested, placed in home isolation, and monitored.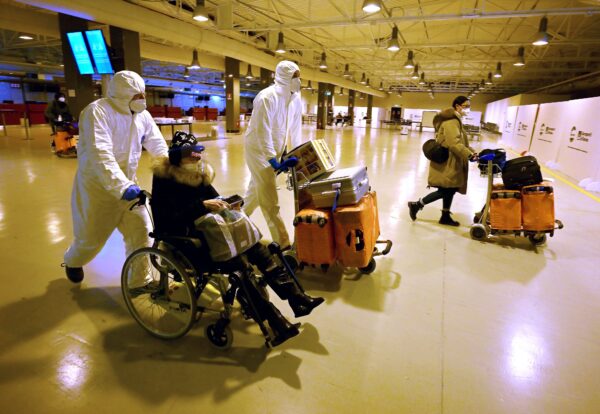 During the earliest days of the outbreak, states across the country took precautionary measures. No one knew what COVID was, and worst-case scenarios abounded.
Pandemic doomsaying was as or even more pronounced among conservatives than among liberals, particularly when Trump was an early, leading voice on the potential dangers of the novel coronavirus.
As of Feb. 18, for example, the number of Chinese nationals moving through Florida—visiting, on business or transiting airports—had declined from 20,000 a day to less than 1,000 a day. That followed Trump's aforementioned executive order on noncitizen travel.
On Feb. 21, Sen. Marco Rubio (R-Fla.) joined Sen. Bill Cassidy (R-La.) in co-sponsoring with several Democrats the "Public Health Emergency Response and Accountability Act," which aimed to ensure local public health officers—then the heroes, soon the villains—had the flexibility and funds to move quickly under emergency authority, should that become necessary.
By March 9, with eight of the state's 67 counties reporting positive cases, DeSantis issued an executive order to "activate the State Emergency Operations Center to Level 2" and give Florida's Division of Emergency Management (DEM) Director Jared Moskowitz—a former state representative from Broward County and still the only Democrat appointed to his administration—the authority to "suspend the effect of any statute, rule, or order that would in any way prevent, hinder, or delay any mitigation, response or recovery action necessary to cope with this emergency."

On March 16, President Trump issued his "15 Days to Slow the Spread" of COVID guidance. It "advised" individuals and businesses to adopt social distancing measures such as working from home and closing many retailers and restaurants.
As the federal response amped up over the following weeks, DeSantis too would go on to issue numerous COVID-related executive orders.
On April 1, DeSantis declared an emergency statewide and issued Executive Order 20-92, shutting down "non-essential" activity.
It amounted to a statewide lockdown.
The Governor Evolves
As the weeks of lockdown wore on, DeSantis positioned himself as a leading skeptic of COVID edicts.
That evolution would lead to pitched battles between DeSantis and a variety of COVID-ian foes, including federal agencies under the Biden administration. It would also launch DeSantis as a potential 2024 Republican presidential contender.
Within a month of locking down, DeSantis was citing mounting data that mask mandates were not stopping the spread.
He issued an April 29 executive order that permitted restaurants to reopen at 25 percent capacity indoors. Retail stores, museums, and liberties were also allowed to reopen at 25 percent capacity. But gyms and bars were prevented from selling alcoholic drinks "for on-premises consumption."
By May 2020, DeSantis was touting evidence the virus did not pose as great a risk to children and adolescents as missing school did. He was also citing research confirming those who had caught COVID had developed antibodies that made them more resistant to the disease.
The state was also among the first to reopen completely.

The entire summer of 2020 DeSantis was openly critical of federal public health authorities.
On March 16, 2023, as his state approached the three-year anniversary of his lockdown announcement, DeSantis said he made the controversial decision because he believed federal health agencies were following the data and science in developing policies to respond to the virus.
"We are not going to let this state descend into a 'Faucian dystopia,'" he said, adding that the experts "got it wrong" for three years.
"The CDC [Centers for Disease Control and Prevention] has whiffed on so many different things related to this. Now they put something out and you just dismiss it," DeSantis said.
The targets of that criticism include the CDC's and Food and Drug Administration's refusal to recognize data analysis by Florida's Department of Health showing that the shots increase health risks for many and wane in effectiveness over time.
Florida Deliberately Struck Contrast With New York
While partisans on all sides are seeking to contrast DeSantis with Trump on COVID, fairer comparisons would juxtapose DeSantis with other governors, particularly those at the helm of comparable states.
Notably, from the earliest days of the pandemic, DeSantis came into conflict with New York Gov. Andrew Cuomo.

On March 3, the first two positive cases were reported in Florida, and the first DeSantis versus Cuomo clash surfaced. New York officials hadn't informed Florida's Department of Health that one of the two victims—a 50-year-old attorney who has just returned to New York from Miami—had been diagnosed with COVID and was allowed to travel.
DeSantis said he spent much of that day in conference calls with nursing-home and assisted-living facility providers "issuing guidance" and ensuring that staff understood they "should not be having people entering those facilities who are exhibiting any types of symptoms."
More than 160,000 Floridians live in nursing homes and assisted-living facilities, including 71,000 seniors in more than 700 nursing homes.
"We've seen what's happened in Washington State," DeSantis said, adding that his state was "going to continue to work with" nursing home providers.
His April 1 statewide lockdown order also targeted New York and Cuomo.
"Many thousands of people fled the New York City region to Florida … thereby jeopardizing the health and safety of Floridians," it stated.
Under Cuomo, New York's Department of Health mandated that nursing homes accept patients who had tested positive for COVID. Thousands of them were admitted, leading to over 15,000 deaths.
In Florida, a May 2020 emergency rule required that hospitals test patients for the virus before releasing them into long-term care facilities.
Prior to that time, the Florida Department of Emergency Management had prohibited non-essential entry into such facilities through Emergency Order 20-006.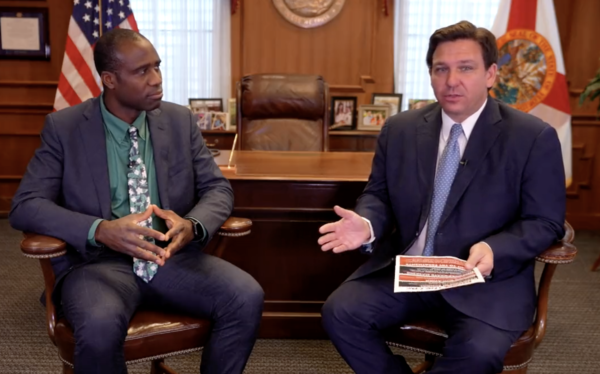 Great Barrington Declaration a Dividing Line
In September 2021, DeSantis brought on Joseph Ladapo, a vaccine signatory of the October 2020 anti-lockdown Great Barrington Declaration, as Florida's surgeon general.
The publication of that document was a watershed moment in COVID.
"We know that all populations will eventually reach herd immunity—i.e. the point at which the rate of new infections is stable—and that this can be assisted by (but is not dependent upon) a vaccine. Our goal should therefore be to minimize mortality and social harm until we reach herd immunity," the Declaration reads.
To achieve this, it advocates "Focused Protection," defined as "allow[ing] those who are at minimal risk of death to live their lives normally to build up immunity to the virus through natural infection, while better protecting those who are at highest risk."
DeSantis' decision to hire Ladapo reflected his evolution on COVID-19 over the course of 2020.
Ladapo replaced Rivkees and Deputy State Secretary for Health Dr. Shamariel Roberson, both of whom had been instrumental in his earlier, more aggressive approach during the earliest days of the pandemic.
Scott Atlas, who served on Trump's coronavirus task force, also advocated the declaration.

By contrast, just weeks after the document went live, Trump's surgeon general, Jerome Adams, posted a criticism of attempts to reach herd immunity absent a vaccine.
"Large numbers of people would need to be infected to achieve herd immunity without a vaccine; this could overwhelm health care systems and lead to many complications/deaths," Adams wrote on Twitter.
Additionally, emails unearthed in December 2021 showed that Fauci and NIH's Francis Collins worked to shut down discussion of the Great Barrington Declaration.
Atlas resigned from his position in November 2020. Adams and Collins, like Fauci and Birx, served through the end of Trump's term.
Other Open Models
Florida under DeSantis was not alone in pursuing less draconian policies on COVID.
Georgia Gov. Brian Kemp became the first state governor to ease a statewide lockdown.
And South Dakota under Gov. Kristi Noem earned a reputation for openness during COVID. Notably, unlike DeSantis, she did not issue any stay-at-home orders.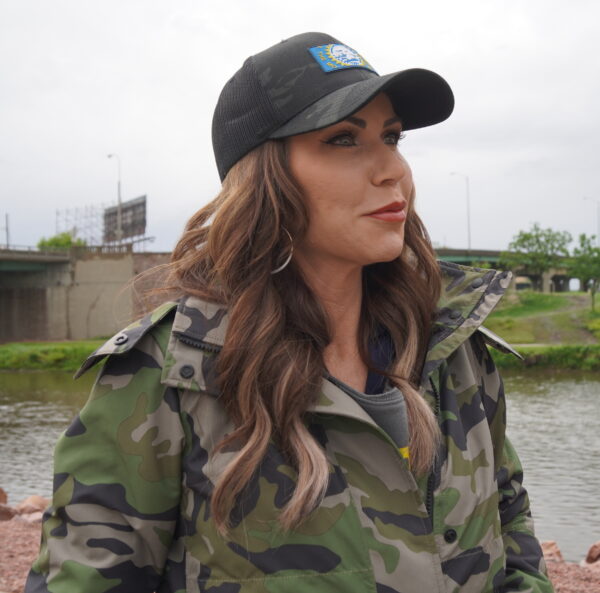 That openness extended to the issue of vaccine passports, where DeSantis and Florida led the way.
On April 21, 2021, Noem issued an executive order banning vaccine passports. It exempted nursing homes.
DeSantis had come out with his own executive order banning vaccine passports at the start of that month, just days after New York's Cuomo launched the "Excelsior Pass" digital vaccine passport.
The governors of Idaho, Arizona, Texas, Montana, Wyoming, South Carolina, Oklahoma, Georgia, and Iowa signed similar executive orders during April and May 2021.
In addition, governors from North Dakota,  Alabama, Arkansas, and Tennessee signed anti-vaccine passport bills into law during that period.
Partisan Temptation
It's possible to make a few specific comparisons between Trump and DeSantis on COVID.
Yet, the two men faced different obstacles. They also charted a similar course during the critical early days of the pandemic.
Efforts to declare one the undisputed winner and one the undisputed loser say more about the race for 2024, and the Republican electorate, than they do about the coronavirus.