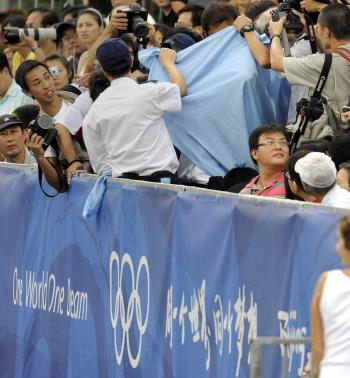 Two students tried to unveil a Tibetan flag at the dressage event in Hong Kong on the first day of the Olympics.
Ms Chan and another protester sat in the front row of the arena in the Sha Tin district when she tried to display the flag, which was hidden under a Canadian flag.
Officials at the arena were quick to restrain Ms Chan and covered her with large blue cloth to prevent the Tibetan flag from being shown and photographed.
Organizers of the Olympics moved the equestrian competition to Hong Kong from Beijing because they could not guarantee disease-free zones for the horses in mainland China.
Lam Woon Kwon, chief executive of the company that organizes the equestrian Olympics, told VOA news that Hong Kong, by contrast, meets international veterinary standards.

China bans the Tibetan flag from events under rules which prevent the display of flags of countries not competing in the Games.