A North Carolina father-of-three obtained his college degree just hours before dying of pancreatic cancer.
Camden Dillard, who worked as a nutritional supervisor for the Rockingham County School System, passed away on Sept. 13 at Wake Forest Baptist Medical Center in Winston Salem, North Carolina, his obituary states.
Dillard had earlier enrolled at the University of North Carolina at Greensboro (UNCG) and was working towards a Bachelor of Science degree, Fox 8 reported. Doctors diagnosed him with cancer in July and the aggressive nature of the disease caused him to be unable to finish the coursework he needed to receive a diploma.
According to the report, the superintendent of Rockingham County Schools, Dr. Rodney Shotwell, asked UNCG to waive Dillard's last class requirement and confer his degree.
"I wanted Cam to know that he graduated before he passed, but the big piece is I wanted his kids to be able to see what their dad was able to do," Shotwell told Fox 8.
Authorities at the university agreed, and Dillard was proudly handed the diploma in his hospital room. Later that night, he died.
'Anything He Touched—He Excelled'
His obituary noted his persistence in pursuing goals and described him as "a kind soul and a true warrior."
"He had a dedication to fitness, health, a gifted artist, a kind soul, and a true warrior. Anything he touched—he excelled."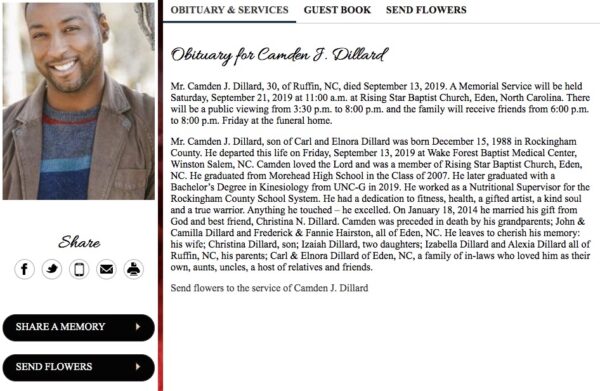 His wife Christina told Fox 8 that their son was inspired by Dillard's persistence in working toward his degree. "That's all Isiah talks about now is, you know, 'I want to go to college just like daddy did. I want to make daddy proud. I want to do it just like daddy.'"
People who knew Dillard expressed their condolences in an online guestbook.
One person wrote: "My thoughts and prayers go out to your family. I meet Cam through School Nutrition he was always humble, respectful, and supportive. He will be truly missed."
"He was a positive influence on all he came in contact with," another tribute stated. "The world has lost a good man. He will be missed. My thoughts and prayers are with his family in this difficult time."
Someone who said they were Dillard's grade five teacher wrote: "This young man shared his gifts and love for life with everyone in his path. That smile, drive and determination was incredible and like no other. Cam will be missed by many! He was a natural born leader from a very young age and never strived [sic] to be. He loved his beautiful family and always had this contagious grin on his face when he spoke about his children. My life and many others were enriched with a desire to love others unconditionally! He always made me proud as his 5th grade teacher and eventually being my colleague."