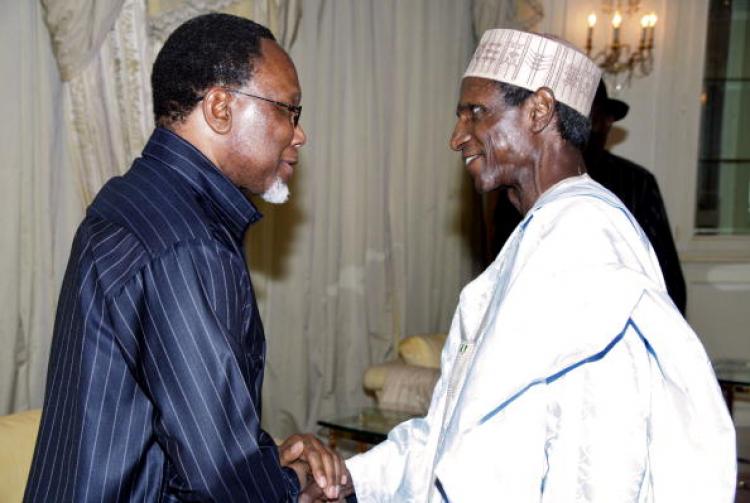 Nigerian President Umaru Yar'Adua returned to Nigeria on Wednesday, but has not been seen in public yet, fueling speculations about his health condition and motives for his sudden return.
The president left for Saudi Arabia for medical treatment three months ago, leaving a political vacuum behind. After a period of political unrest, Vice President Goodluck Johnathan was finally given full presidential powers on Feb. 9.
At 2:00 am on Wednesday morning, the president returned under tight security to Nnamdi Azikiwe International Airport in Abuja. According to local media reports, everyone, except for presidential officials, were kept out of the airport. Thirty minutes before his arrival, the power supply in the airport was suddenly switched to a generator. Nobody was able to catch a glimpse of the president and the area where the plane had landed was covered in darkness. The entire process took place outside of the knowledge of acting president Johnathan.
Later that day, a spokesperson of the president, Olusegun Adeniyi, said in a public statement that, "President Yar'Adua is grateful to Vice President Goodluck Ebele Jonathan for competently overseeing the affairs of state in his absence."
Commentators say the usage of the title "vice president" instead of "acting president" bears significance, indicative of the power struggle. Some said the president's return is an "attempt to hold on to power" since the members of the Federal Executive Council were about to remove him from office.
"There seems to be on his part, or on the part of the people around him, the consciousness that power is slipping away from them and they want it back," Sonala Olumhense, a columnist with Nigeria's Guardian newspaper was reported as saying by the BBC.
The president's attempt to conceal his physical condition has led to wild speculation. Nigerian newspaper the Sun Daily reports that the president did not come back from Saudi Arabia because he had recovered, but because he was in such a bad state that the Saudi Arabians were afraid he would die there.
The Nigerian Tribune reports that the president allegedly was in an unconscious state when he arrived.
In the president's extended absence, the Senate passed a constitutional amendment to avoid a similar crisis in the future. The amendment says that if a president is unable to fulfill his role, then after a specified time limit, members of Parliament can then elect from amongst themselves an acting president to replace him.
Despite the speculation about Yar'Adua're return, acting President Johnathan has assured the public that the political situation is still under control.
"It is at a time like that that all patriots must rise to the occasion and place the interest of the country above every other consideration," acting President Goodluck Johnathan was reported as saying by the Nigeria Tribune.
New elections will be held in 2011.