New York City is turning to emergency hotels to handle an influx of immigrants that has arrived in recent months, officials have said.
Department of Social Services Commissioner Gary Jenkins said on Aug. 9 during testimony at an emergency City Council hearing that the city has opened 11 hotels to accommodate the increased number of immigrants.
Jenkins noted that New York is a right-to-shelter city and is thus "legally and morally obligated" to provide temporary housing to individuals who need a place to stay.
"The influx of asylum-seekers definitely put a strain [on the system], and that's why we had to pivot to open up emergency hotels. To date, we've opened 11," he said. "We're legally and morally mandated to have temporary housing to those who present to us."
Meanwhile, 68 illegal aliens arrived between Aug. 5 and Aug. 7 on buses from Texas that were chartered by Texas Gov. Greg Abbott, at a time when there is currently a 1 percent vacancy rate in the city's emergency shelter system, according to the Office of Immigrant Affairs.
Another bus arrived on Aug. 9, while three more had been expected on Aug. 10, the council said.
While immigration isn't a new phenomenon for New York, officials said on Aug. 9 that the rate at which illegal aliens are entering the city has now reached unprecedented levels.
The city began to see an increase in immigrants beginning in May, and just over 4,000 immigrants have arrived since then, officials said. Currently, there are nearly 17,000 people in the emergency shelter system, Jenkins said, including 8,800 children.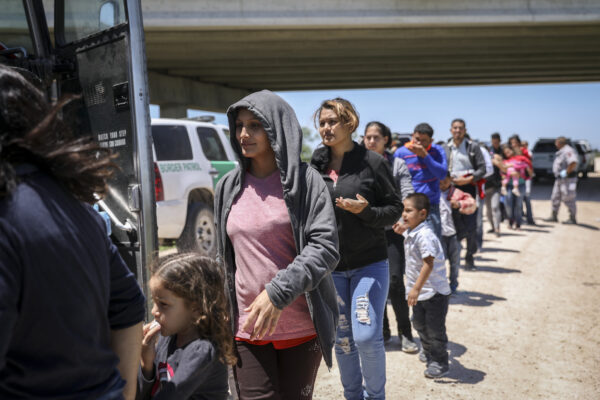 Taking Aim at Abbott
New York officials took aim at Texas Gov. Greg Abbott over the recent influx in illegal immigrants.
"What is new now is the systematic diversion of asylum seekers and immigrants to New York City by external forces, including by the disgusting, cruel, and cowardly actions of Texas Governor Greg Abbott, who is forcibly busing asylum seekers to the city," Immigration Affairs Commissioner Manuel Castro told the City Council.
Large amounts of documentation accompanying the immigrants have random or incorrect New York city addresses listed as the immigrant's address, Castro also said.
"How these addresses came to be included in the documents is yet to be fully determined," Castro said. "We continue to ask federal authorities to provide us with clarity on this matter."
He also claimed that large numbers of the immigrants arriving in the city had families in other cities and states, and didn't actually want to be in New York but had been "bused" there anyway.
The Aug. 9 emergency meeting came after Abbott announced the arrival of the first group of illegal immigrants who were bused to New York City from Texas, as part of the governor's response to what he calls "the Biden administration's open border policies overwhelming Texas communities."
"Because of President [Joe] Biden's continued refusal to acknowledge the crisis caused by his open border policies, the state of Texas has had to take unprecedented action to keep our communities safe," Abbott said in a statement.
"In addition to Washington, D.C., New York City is the ideal destination for these migrants, who can receive the abundance of city services and housing that Mayor Eric Adams has boasted about within the sanctuary city. I hope he follows through on his promise of welcoming all migrants with open arms so that our overrun and overwhelmed border towns can find relief."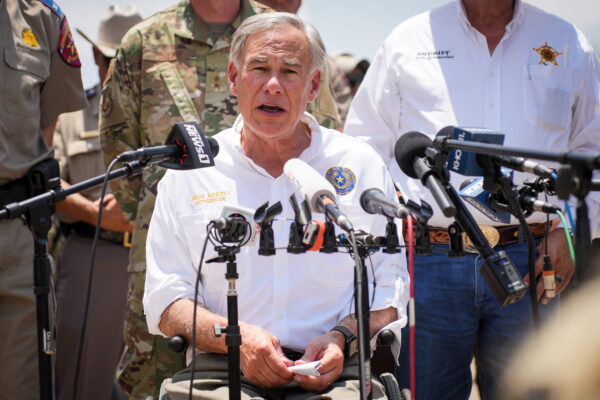 'We Are Going to Send the Right Message'
Adams announced an "emergency procurement declaration" on Aug. 1, which enables New York to quickly expand its shelter system.
However, Adams took aim at the Texas governor's handling of the influx of immigrants into Texas and the pressure it has put on the city, telling reporters on Aug. 9, "This is horrific when you think about what the governor is doing, the governor of Texas, after months of traveling across the border, placing them on the bus with no direction."
"When you think about this country, a country that has always been open to those who are fleeing persecution and other intolerable conditions, we've always welcomed that," Adams added. "This governor is not doing that in Texas, but we are going to send the right message, the right tone, of being here for these families."
However, during the hearing, Council member Lincoln Restler questioned whether the recent strain on the city's shelter system is actually owing to the increased number of immigrants or rather that the system is already overwhelmed because of the end of the state's eviction moratorium in the spring.
The eviction moratorium, which was put in place during the COVID pandemic, had prevented landlords from filing new eviction cases or proceeding with pending cases through January this year for tenants who signed a hardship declaration form.
"I have to say, it remains unclear to me whether the increase in the shelter census is being driven by the asylum-seekers or whether the increase in the shelter census is being attributed to some people needing assistance who are coming from abroad," Restler said. "And I really hope that we can get clearer data to understand what's happening. My strong suspicion is that we're experiencing an increase in the daily children census as a result of the eviction moratorium ending and the regular spike that we see in the summer months."
Council Speaker Adrienne Adams this week called on Adams's administration to provide accountability, transparency, and answers regarding New York's longstanding shelter issues and the recent uptick in immigrants.