Incumbent Republican Sen. Lisa Murkowski was declared the winner over Republican challenger Kelly Tshibaka as Alaska's lengthy and complex ranked-choice election process reached an unofficial conclusion on Nov. 23.
Murkowski, one of seven Senate Republicans who voted to convict former President Donald Trump after he was impeached, overcame a post-Election Day deficit to defeat Tshibaka, who was endorsed by the former president, according to results announced by the Alaska Division of Elections.
"I am honored that Alaskans—of all regions, backgrounds and party affiliations—have once again granted me their confidence to continue working with them and on their behalf in the U.S. Senate," Murkowski posted to Twitter after the results were announced. "I look forward to continuing the important work ahead of us."
Murkowski prevailed with 135,972 votes (53.69 percent) followed by Tshibaka at 117,299 votes (46.31 percent). Democrat Patricia Chesbro and Republican Buzz Kelley finished third and fourth respectively.
The outcomes of the 12 races were announced on KTOO 360TV, which is Alaska's public broadcasting network.
Alaska's election results will remain unofficial until they are certified. The target date for that task is Nov. 29, the Division of Elections said.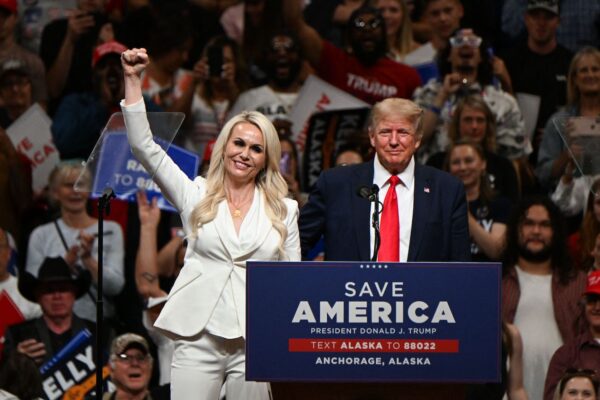 Though early voting started in Alaska on Oct. 24, winners for multiple races in the state were not announced until Nov. 23 because of the ranked-choice voting system.
Alaska voters approved ranked-choice elections in 2020. This election cycle marked its debut.
Under Alaska's ranked-choice format, there are nonpartisan open primaries, and voters cast ballots for one candidate, regardless of party affiliation. The top four finishers advance to the general election.
Then in the general election, voters rank the four candidates, from their top choice to their fourth option.
If no candidate surpasses 50 percent on first-choice votes, the election moves to a ranked-choice tabulation where the candidate with the fewest votes is removed and those votes are shifted to the second choice.
Tabulation continues until two candidates remain, and the person with the most votes wins.
On the morning of Nov. 18, with 95 percent of the ballots counted, Tshibaka was ahead with 104,898 votes (43.28 percent) compared to 104,470 (43.11 percent) for Murkowski.
The Alaska Division of Elections report that was released on the evening on Nov. 18 showed Murkowski with 112,519 votes (43.32 percent) and Tshibaka at 110,861 (42.68 percent). Chesbro followed with 26,874 votes (10.35 percent).
Kelley, who dropped out of the race in September and backed Tshibaka but still appeared on the ballot, occupied the fourth spot with 7,484 votes (2.88 percent).
Murkowski was projected to receive the majority of Chesbro's votes since she has more moderate views than Tshibaka and voted to impeach Trump for the Jan. 6, 2021, breach of the U.S. Capitol.
Murkowski also voted against Supreme Court Justice Brett Kavanaugh and was one of three Republicans who chose to confirm Supreme Court Justice Ketanji Brown Jackson in April 2022.
When the ranked-choice results were announced, and Chesbro was eliminated, 20,543 of her votes were reallocated to Murkowski while 2,209 were transferred to Tshibaka.
Trump won Alaska by 10 percentage points in the 2020 presidential election. In June 2021, he endorsed Tshibaka, the former director of Alaska's Department of Administration.
In a statement, Trump praised Tshibaka as "a fighter who stands for Alaska values and America First" and said that "Lisa Murkowski is bad for Alaska. Murkowski has got to go!"
Murkowski was bolstered by the Senate Leadership Fund, which is aligned with Senate Minority Leader Mitch McConnell (R-Ky.) and spent more than $5 million in Alaska supporting her and attacking Tshibaka.
The Murkowski campaign released a memo on Nov. 20 anticipating that their candidate would get at least 70 percent of the 26,874 votes cast for Chesbro, which would propel her to victory.
"Any remaining outstanding votes (absentee and early) will break favorably for Lisa Murkowski," Nate Adams, Murkowski's campaign manager, said in the memo. "When the ranked-choice process plays out on November 23rd and 2nd place votes are tallied, Lisa Murkowski will once again secure re-election."
Alaska Democratic Rep. Mary Peltola, who prevailed in a special election this summer that sent her to Congress, turned back former Republican Gov. Sarah Palin's comeback bid on Nov. 23.
Peltola received 136,893 votes (54.94 percent) compared to 112,255 (45.06 percent) for Palin.
Republican Gov. Mike Dunleavy was elected to a second four-year term, earning half of the first-choice votes. He defeated Democrat Les Gara and independent former Gov. Bill Walker.
Since Dunleavy received a majority of the first-choice votes, his was the only statewide race that did not advance to ranked-choice tabulation.

Sen. Dan Sullivan (R–Alaska) was reelected in 2020 under the state's former system where Republicans and Democrats competed in their respective primaries.
The ranked-choice process impacts both elections, Sullivan pointed out.
"People are starting to look nationally and say 'This could be the answer.' I think they need to be cautious about that," Sullivan said. "It's very confusing.
"Ninety-five percent of the people talking to me about our new ranked-choice voting system were saying how utterly confusing it was," Sullivan added. "That was in the primary, so there's some learning that goes on before in the general. But this idea that this is going to bolster confidence in the system, I think remains to be seen."
UPDATE: This article has been updated to include comment from Murkowski.