Movie Review: 'Winnie Mandela'
September 22, 2013 3:52 am Last Updated: September 22, 2013 3:52 am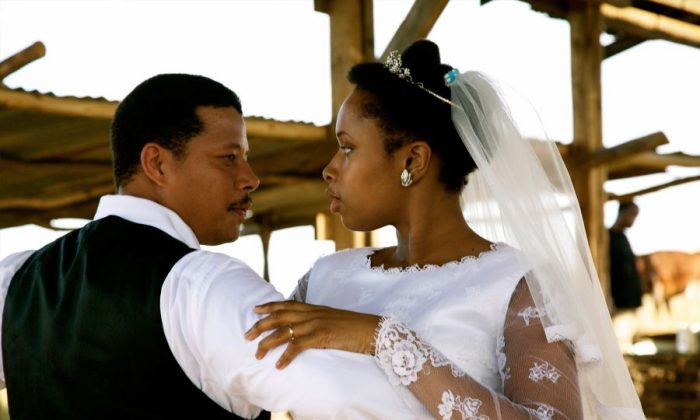 "Behind every great man is a great woman." Most agree Nelson Mandela was a great man. Was wife Winnie a great woman?
The saccharine hagiography that is "Winnie Mandela," starring Jennifer Hudson and Terrence Howard, desires to establish Nelson's controversial ex-wife Winnie as great.
It succeeds in that, somewhat, but boringly, which leaves the truth not served well.
Born the sixth girl in a row to a father who desperately wanted a son, young Winnie tries to be that boy. Appropriate, since her African name "Nomzamo" means "she who tries."
She excels at stick fighting, beating up boys, much to her father's annoyance. She recites perfect Shakespeare on demand for hostile inspectors at her father's village school, much to his delight.
As an older student in Johannesburg, Winnie sings in the choir, plays sports, and experiences vitriolic South African racism when publicly ordered by department store staff to take off a dress she's tried on while shopping with fellow students.
She meets lawyer and government-monitored activist Nelson Mandela. Flirting leads to their government-monitored wedding and honeymoon, where apartheid terrorist investigator Colonel de Vries (Elias Koteas) breaks into the Mandelas' hotel kitchen and lasciviously eats Winnie's carefully wrapped last piece of wedding cake.
Nelson Mandela incites a public passport burning, stating, "Ours is a struggle for justice, not domination." He gets life imprisonment.
While Nelson is breaking rocks in prison, Winnie fights on. They put her in solitary confinement for seven months to break her.
The best if unintentionally comedic scenes of the movie are of Winnie in lockdown, infuriating her guards by chatting with ants. In response to a guard screaming, "Who are you talking to?!" Winnie whispers to her fellow cellmate the ant, "Shhh…."
Winnie can't be broken. Freed, she goes back to fighting, noting, "They are killing the children," and "The time for peaceful protest is over."
She coins the phrase "Strike a woman and you strike a rock."
She deviates from Nelson's policy of nonviolence, a pendulum swing from Martin Luther King to Malcolm X, if you will, and begins an affair that breaks his heart. Some say the alleged affair was apartheid propaganda.
However, her conviction, stemming from the Mandela United Football Club's (her bodyguards) killing of a 14-year-old boy they suspected of ratting to the police, is true.
It is also fact that Winnie condoned "necklacing," an extremely brutal method of torture and execution.
With all this baggage, when Nelson Mandela becomes president after 27 years of imprisonment—can Winnie be his first lady of Africa?
This is mostly a "connect the dots" biography, ringed round with overly sentimental flute-piano-string music. It is bookended with a song, "Bleed for Love," sung heroically by (of course) "American Idol" winner herself—Jennifer Hudson.
Howard and Hudson do Nelson and Winnie passably, nailing about 70 percent of the black South African accent, but Terrance Howard's been in the acting game a lot longer than singer Hudson, and it shows.
The main Afrikaner antagonist played by Elias Koteas fares less well here, struggling to enliven a perfunctory stock villain.
"Winnie Mandela" is an aesthetically pretty, if boring film, but this is simply too uncritical a treatment of the subject matter.
Granted, this is a historic couple of great courage. They attempted to liberate apartheid South Africa, and one understands the desire to create a glowing portrayal.
Filmmaker Darrell J. Roodt may be forgiven. As he says in the press notes, "I wanted to focus on the beautiful and tragic love story of Nelson and Winnie Mandela, that was crushed by what history did to them."
However, Winnie Mandela's imprisonment and persecution, which she claimed only made her stronger, clearly twisted her from nonviolence to endorsing heinous forms of retribution and death.
Many interesting things might have been revealed in Winnie's high moral-stature beginnings and subsequent fall from grace.
How did Nelson survive 27 years and never abandon nonviolence? How and when, exactly, did Winnie turn the corner into darkness? Was it nature? Nurture? What were the degrees of each involved?
The more interesting film would have put that transformation under a microscope rather than trying to pack in biographical greatest hits signified mostly by costume changes every five minutes.
Behind a great man, was most certainly a woman in this case, but the extent of Winnie Mandela's greatness remains questionable. The greatness of "Winnie Mandela," the film, however, is not questionable. It is simply not great.
Winnie Mandela
Director: Darrell J. Roodt
Cast: Jennifer Hudson, Terrence Howard, Elias Koteas
Running Time: 1 hour, 47 minutes
Rating: R
2 stars
Currently showing at AMC Empire 25 and AMC Magic Johnson Harlem 9