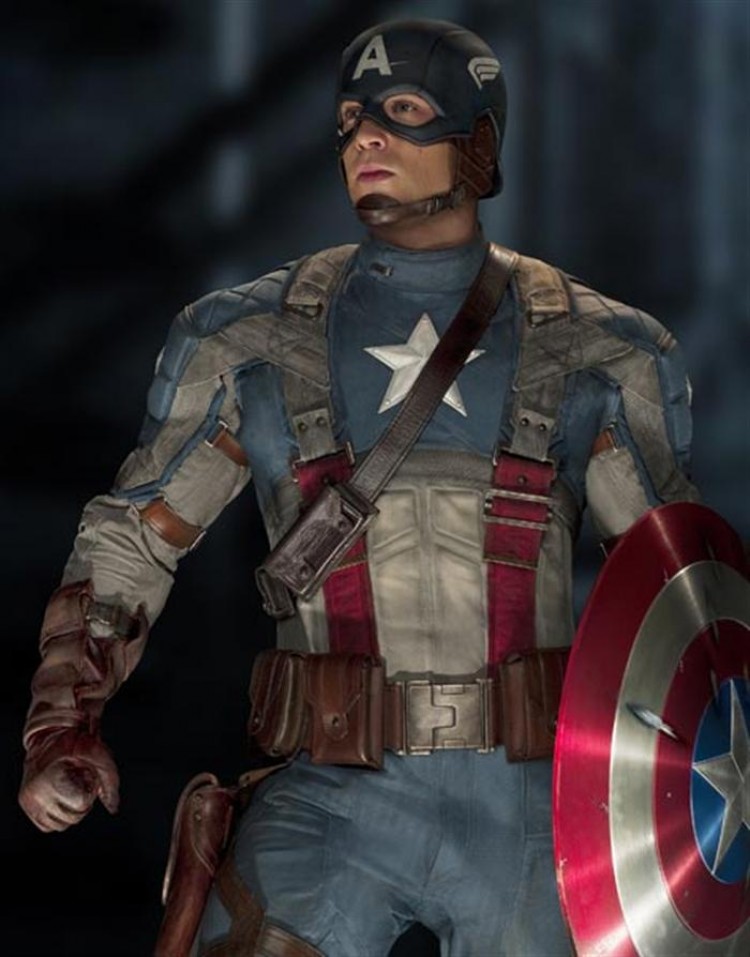 Captain America's helmet looks just like the one worn by the Navy SEALs, which is kind of timely and apropos for a movie about the world's first Avenger in light of the SEALs' Osama Bin Laden vengeance-coup.
Captain America is a well-crafted movie, if slow to start, but all of these superhero movies—Iron Man, The Hulk, Thor, and now Captain America—are all prequel franchise moons of the coming franchise planet of The Avengers, which will no doubt bring all of them together in endless combinations and permutations.
It's a bit of a shame that so many billions of dollars will be invested in—vengeance. "The Forgivers?" Anyone? No?
Vengeance perpetuates all of America's gang wars. The kids could USE a franchise called "The Forgivers." It would sell exactly no popcorn. Okay, never mind—vengeance it is! After all, evil—some folks say—is met with evil returns.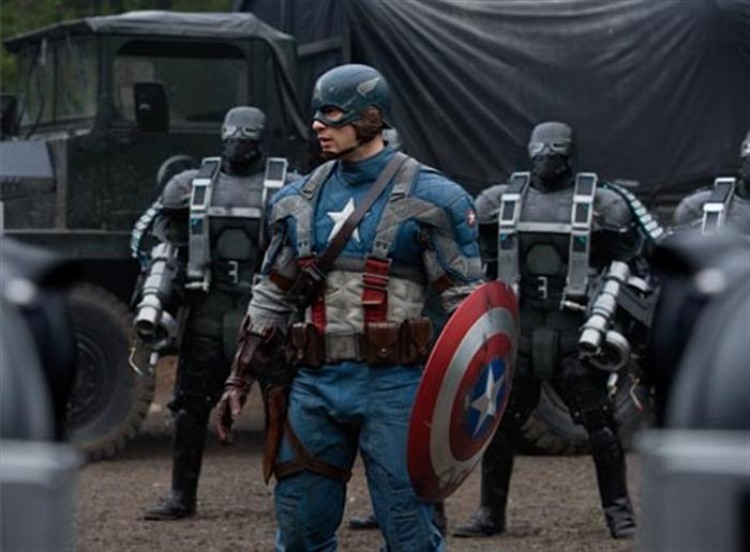 Anyway, America is at war in 1941. Steve Rogers (Chris Evans) is digitally enhanced to be too scrawny to be inducted into the army, but he shows a lot of heart and is thus selected to undergo a power-enhancing lab experiment conducted by an inventor named Stark. ("Jeopardy" question: Who might Iron Man's inventor's dad be?)
There's a good line in there, before the experiment, about his being perfect for the job since a weak man knows the value of strength and has compassion. He's not a perfect soldier—but a good man. Then, the standard, mega-serum-injecting, collective-fuses-blowing Hollywood lab experiment turns him into a supersoldier. Ta-da! Captain America (Chris Evans's normal buff movie-star size).
The villain is the mutinous Nazi (also injected with a superserum prototype) "The Red Skull," played by Hugo Weaving, with an admirable German accent. Stanley Tucci as a Jewish-German scientist/serum-mastermind also scores high in the good German accent department.
Peggy Carter (Hayley Atwell) is the love interest, often exasperated with her new hunky superhero boyfriend who has, due to his previous incarnation, zero understanding of women.
Tommy Lee Jones is—surprise, surprise—hilarious as a gruff, patronizing colonel, with his stock-in-trade sly self-deprecation.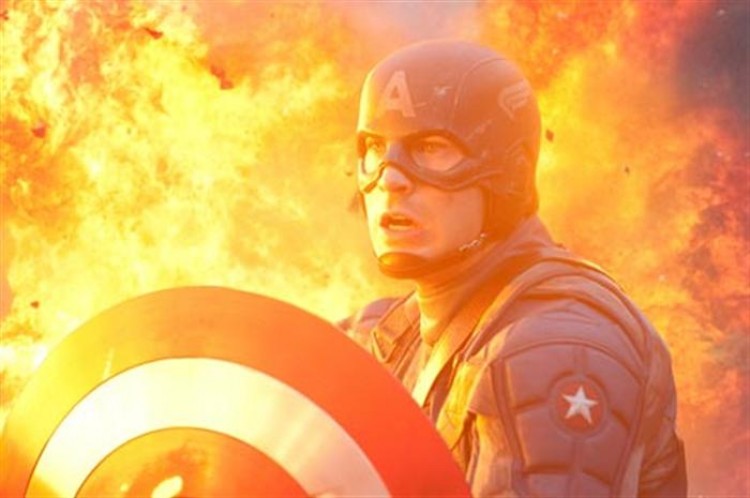 The movie's look is cohesive, and the final incarnation of the supercostume is gratifyingly retro-styled yet macho. There's a plethora of retro/futuristic gizmos, blasters, and gadgets.
Captain America looks cool and has cool moves. He flings his shield with bombast. He's superhuman, but much more relatably human than, say, The Hulk. There's also more than a little of Raiders of the Lost Ark here, with the time period, Nazis, and an elusive power-talisman. What's not to like?
The U.S. Special Forces profile has been on the rise in the news for some time now. With the Bin Laden takedown success, SEALs, Delta Force, Recon Marines, Army Rangers, Green Berets, and so on, have exploded their way into our collective consciousness as real-life superheroes. Perhaps it could also be said that the gathering superhero Avenger team is mirroring this growth, as the fictional movie version of U.S. Special Forces.
One quality that lies at the heart of those with the near-superhuman ability to forbear through these, the toughest military trainings in the world, is that it's not the posers, the blowhards, or the muscle-heads who make it. It's almost exclusively the soft-spoken, humble (but tough as nails!), good men who work mostly without recognition, behind the scenes. They are known for having exemplary character.
Captain America, of all the superheroes, would appear to get that part exactly right.