LVIV, Ukraine—Powerful explosions rocked Lviv, in western Ukraine, on March 26, creating plumes of thick black smoke and causing at least five injuries, according to Ukrainian officials, with the air attack occurring as U.S. President Joe Biden was on a state visit to neighboring Poland.
Maksym Kozytskyy, the governor of Lviv, confirmed "three powerful explosions" caused by what he said were two missile strikes at around 4:30 p.m. local time.
He said preliminary reports indicate five people were injured, and urged residents to remain calm and seek shelter.
The explosions sent smoke billowing into the sky in the northeastern part of Lviv and triggered air raid sirens, according to Epoch Times journalists, who couldn't immediately verify the cause.
Locals said that a large fuel storage depot had been struck, since the amount of smoke suggested that it was something with a massive amount of combustible material.
Lviv Mayor Andriy Sadovyy later confirmed that a fuel storage facility had been hit and that no residential buildings had been damaged.
Emergency crews responded to the scene as a fire burned and smoke billowed.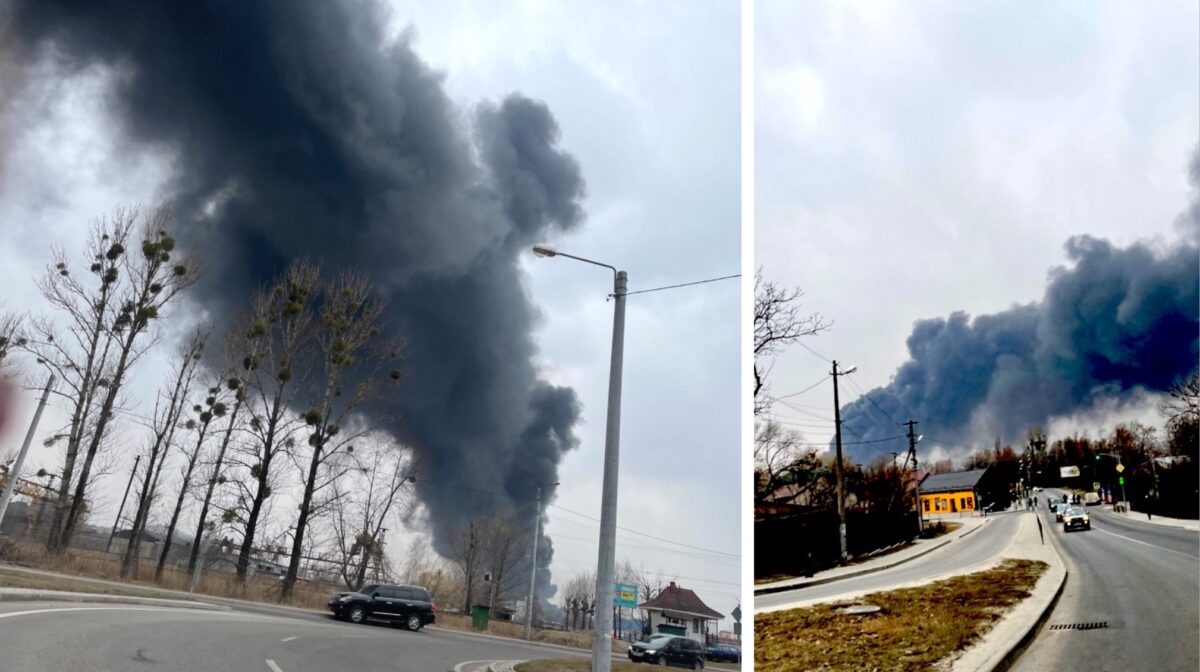 Ukrainian Member of Parliament Lesia Vasylenko said in a tweet that multiple Russian rockets hit a "big commodities supermarket" and that civilian casualties were likely.
Unconfirmed footage posted on social media showed what appeared to be a cruise missile in the air above Lviv.
Lviv is around 50 miles east of the border with Poland, where Biden is on a state visit to reassure NATO allies that the United States stands ready to defend any Russian attacks on NATO territory.
Biden met with Ukrainian Foreign Minister Dmytro Kuleba and Defense Minister Oleksii Reznikov in the Polish capital Warsaw on March 26, in his first face-to-face meeting with top Ukrainian officials since the start of the war.
"Your freedom is ours," Biden told Poland's President Andrzej Duda earlier, echoing one of that country's unofficial mottos. At the Presidential Palace in Warsaw, the two leaders spoke of their mutual respect and shared goals to end the Russian invasion of Ukraine.
Duda said, "Although times are very difficult, today Polish–American relations are flourishing."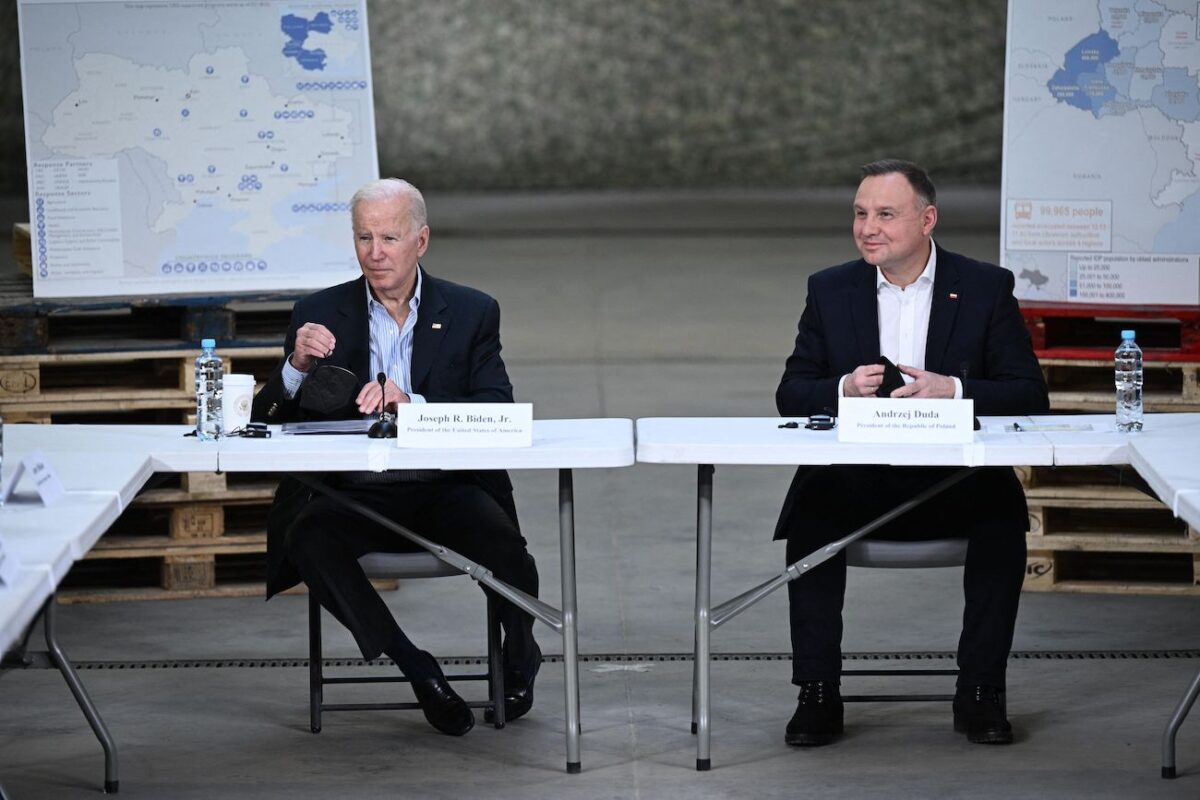 Biden called the "collective defense" agreement of NATO a "sacred commitment," and said the unity of the Western military alliance is of the utmost importance.
Before leaving Poland, Biden is scheduled to deliver an address expected to focus on the difficult path ahead, as U.S. and Western allies continue to assist Ukraine and prod Russia to halt its invasion.
More than 3.7 million people have fled Ukraine since the war began, and more than 2.2 million Ukrainians have crossed into Poland.
Intense fighting was reported in a number of locations in Ukraine on March 26, suggesting there would be no swift letup in the conflict.
The Associated Press contributed to this report.