The medical examiner who ruled George Floyd's death a homicide caused by law enforcement restraint last year told a courtroom on April 9 that Floyd's health history and intoxication contributed to the death.
Floyd, 46, suffered from "very severe underlying heart disease" that was a factor in the death, as was the toxicology findings that he had ingested fentanyl and methamphetamines, Dr. Andrew Baker, the Hennepin County medical examiner, testified at the trial of former Minneapolis police officer Derek Chauvin.
However, Baker stood by his earlier conclusion that the cause of death was "cardiopulmonary arrest complicating law enforcement subdual, restraint, and neck compression.
"He experienced a cardiopulmonary arrest in the context of law enforcement, subdual restraint, and neck compression. It was the stress of that interaction that tipped him over the edge given his underlying heart disease and his toxicological status," Baker said.
Cardiopulmonary arrest "is really just fancy medical lingo for the heart and the lungs stopped," he said.
Floyd died on May 25, 2020. Chauvin, 45, and three other officers had responded to a call about counterfeit money being used. Floyd resisted arrest and was restrained on the ground by three officers. Chauvin had his knee on Floyd's shoulder and neck area. All four officers were later fired. Chauvin is on trial for second-degree murder and two other charges, while the other former officers will go on trial for aiding and abetting murder later this year.
Prosecutors and defense lawyers on April 9 emphasized different aspects of Baker's findings, with prosecutors zeroing in on how Baker ruled the cause of death was law enforcement actions, while Eric Nelson, Chauvin's attorney, outlined how Floyd's health history and use of drugs were listed as contributing factors.
As jurors listened, Baker said that Floyd's enlarged heart needed more oxygen than normal to function, and that Floyd's heart was limited in its ability to provide more oxygen because of the narrowing of his coronary arteries.
"Now, in the context of an altercation with other people that involves things like physical restraint, that involves things like being held to the ground, that involves things like the pain that you would incur from having your cheek up against the asphalt and an abrasion on your shoulder, those events are going to cause stress hormones to pour out into your body, specifically things like adrenaline," he said.
"And what that adrenaline is going to do is it's going to ask your heart to beat faster, it's going to ask your body for more oxygen so that you can get through that altercation. And in my opinion, the law enforcement's subdual restraint and the neck compression was just more than Mr. Floyd could take by virtue of those heart conditions."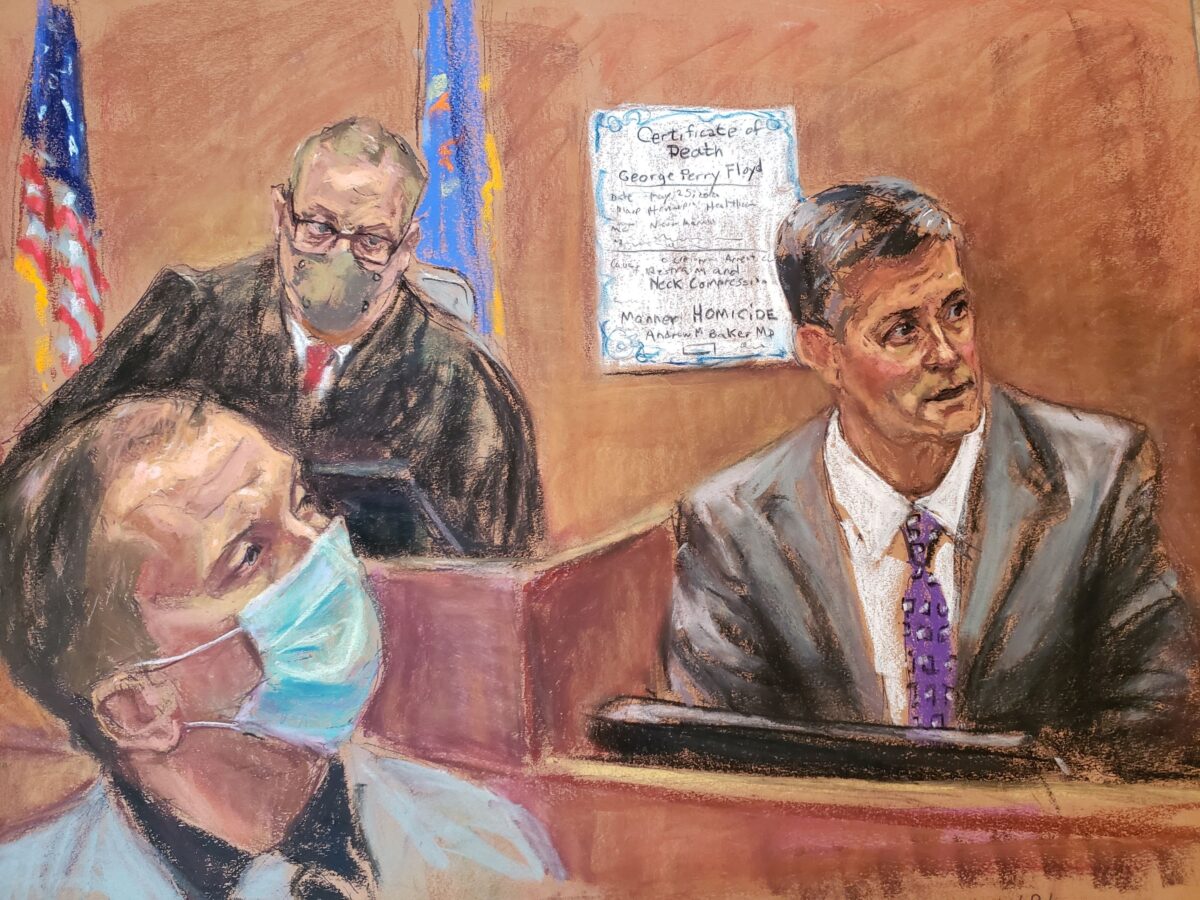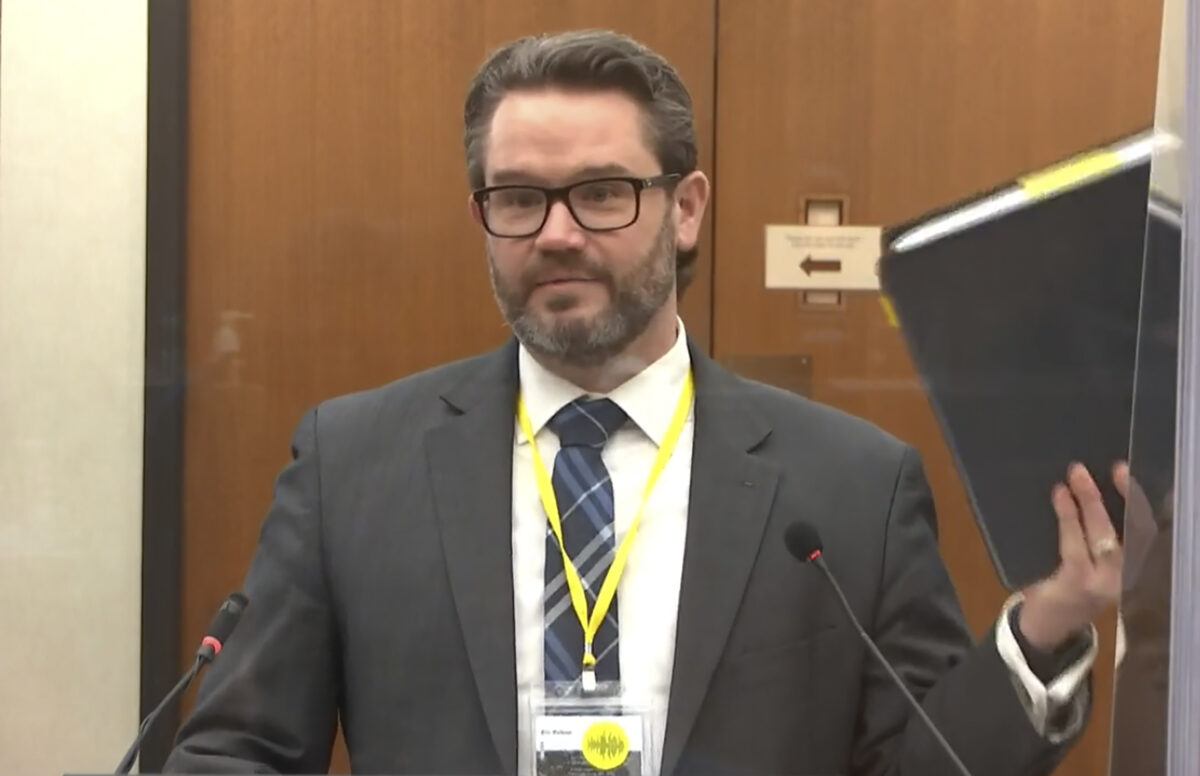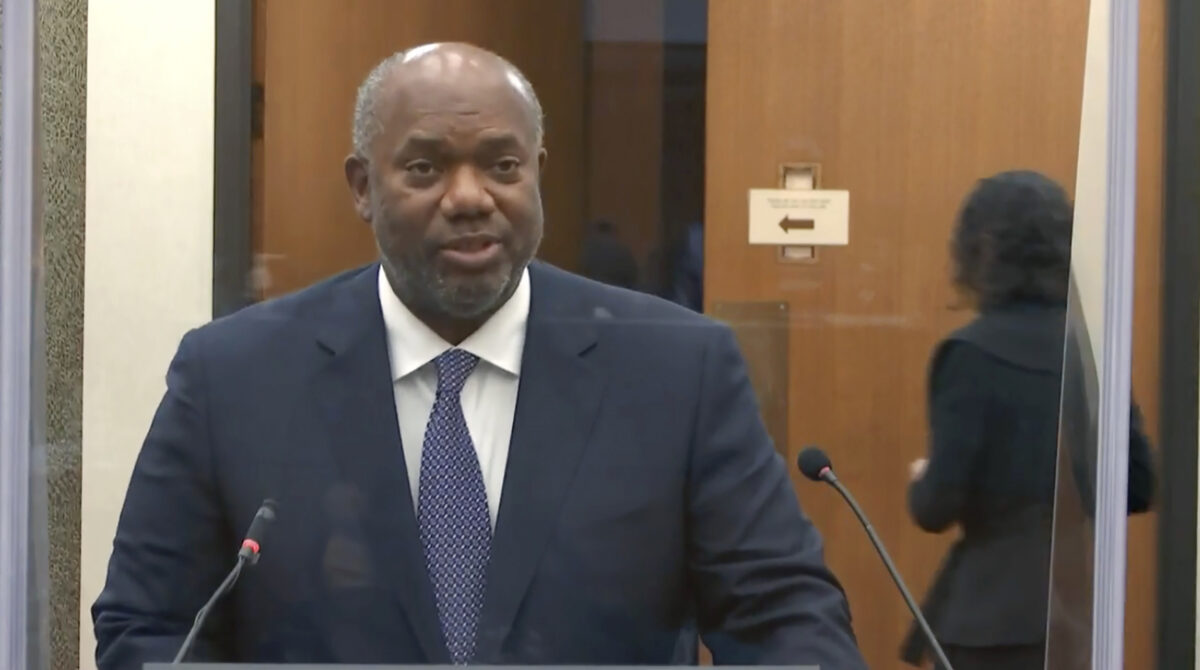 However, Baker under cross-examination acknowledged there was no bruising on Floyd's back or neck area from Chauvin's knee pressing down for approximately nine minutes and 29 seconds. He said he would have expected to see bruising because he thought Chauvin's knee was compressing Floyd's neck.
Baker also said that from watching videos of the arrest, he believed Chauvin's knee was primarily on the back or the side "or the area in between on Mr. Floyd's neck."
"It did not appear to me on the video that his knee would have been able to occlude the carotid artery. Even if it were, normal people have two carotid arteries and the unoccluded carotid artery would continue to supply blood to the brain," he said.
And he agreed that methamphetamines are a stimulant that increases the heart rate and the work of the heart, while fentanyl can slow breathing, resulting in low oxygen levels.
Jerry Blackwell, a lawyer working for Attorney General Keith Ellison's prosecution team, later sought to refocus the doctor on the cause of death.
"What today remains your opinion as to the cause of death for Mr. Floyd?" he asked.
"So my opinion remains unchanged. It's what I put on the death certificate last June. That's cardiopulmonary arrest, complicating law enforcement subdual restraint and neck compression," Baker responded. "That was my top line then. It would stay my top line now."
Drugs and health issues "are not direct causes of Mr. Floyd's death," he said. "They're contributing causes."