A manhunt is underway for a suspect who shot 10 people and injured six others in New York City on April 12, authorities say.
The suspect, described as a black male standing 5'5″, donned a gas mask on a subway as the train pulled into the 36th Street Station in the borough of Brooklyn, according to police officials.
The man then opened a canister, which filled the train with smoke.
Soon after, the man opened fire, striking people on the subway and on the platform.
The man has a "heavy build" and was wearing a green construction-type vest and a hooded sweatshirt, New York City Police Commissioner Keechant Sewell told reporters in a press conference outside the station.
It's not clear how many officers are involved in the manhunt.
New York Gov. Kathy Hochul, a Democrat, said she was committing "the full resources of our state" to fight what she called a "surge of crime," referencing the recent shooting of a teenage girl in the city.
She called the suspect in Tuesday's attack "cold-hearted and depraved of heart."
"This individual is still on the loose. This person is dangerous," Hochul said, adding that New Yorkers should be "vigilant and alert."
The New York Police Department said it had not released any pictures or video footage of the suspect.
New Yorkers with information or videos or photographs were encouraged to call CrimeStoppers or the NYPD.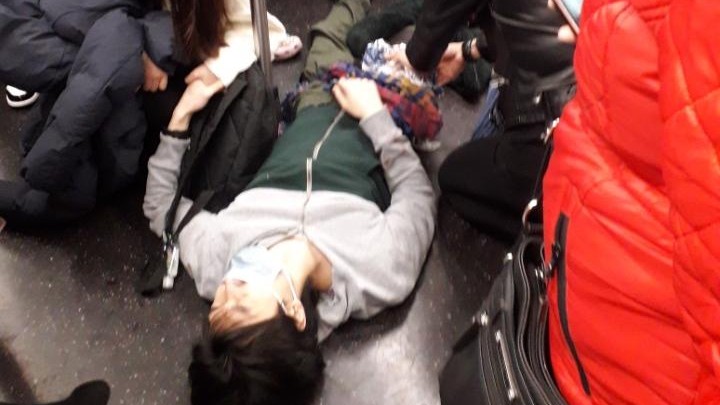 New York Mayor Eric Adams, a Democrat and former police officer, issued a video statement since he's quarantining following a recent positive COVID-19 test.
"We're praying for all New Yorkers who were injured or affected by today's attack," he said. "We will not allow New Yorkers to be terrorized even by a single individual. The NYPD is searching for the suspect at large, and we will find him."
Authorities do not know the motive of the suspect at this time and are "not ruling anything out," Sewell said.
The incident is not being investigated as an act of terrorism.
Of the injured, five were in critical but stable condition in local hospitals, authorities said. Some weren't struck by bullets but were injured by smoke inhalation or shrapnel, or were suffering from anxiety.
The Maimonides Medical Center, NYU Langone-Brooklyn, and NewYork-Presbyterian Brooklyn Methodist Hospital confirmed to news outlets that they are all treating patients from the attack.
President Joe Biden was briefed on the latest developments regarding the shooting and senior White House staff members were in contact with Adams and Sewell.