Los Angeles Mayor Eric Garcetti restored a pre-pandemic restriction of homeless encampments in public areas after the city council voted 13-2 to approve the ordinance. Councilmembers Mike Bonin and Nithya Raman were the two dissenting votes. 
The ordinance, restored during a July 28 council meeting, bans the homeless from "sitting, lying, or sleeping or storing, using, maintaining, or placing personal property" in the public right-of-way; this includes spaces within 500 feet of schools, parks and libraries, 500 feet from an overpass, freeway ramp, tunnel, bridge, or subway, and 5 feet from building entrances. It also gives city council members the ability to ban encampments in parts of their districts.  
"For them to continue to allow someone to live in an environment without running water, without toilets without trash service, when we know that the life expense expectancy for those on the street is 20 years less, when we know they're much more likely to be a victim of violent crime … How is it compassionate to allow that?" Councilmember Joe Buscaino said during the meeting. 
Councilmember Kevin de León said for months Los Angeles has watched the problem of homelessness "bloom into the worst humanitarian crisis the city has ever experienced." 
Resident Says Encampments Caused an 'Increase in Violence'
More than 66,000 unhoused people in Los Angeles County will be affected by the measure, according to the Los Angeles Homeless Services Authority (LAHSA) in 2020. LAHSA recorded a 12.7 percent increase in homeless numbers in 2020. 
Prior to the pandemic, Los Angeles Municipal Code (LAMC) Sec. 56.11 and Sec. 41.18 banned both encampments and personal property in most public spaces. The measures were rolled back in early 2020 as an attempt to mitigate the spread of COVID-19, according to officials.  
The lack of enforcement created an outcry among residents, particularly in Venice Beach, who said trash, needles, feces, pollution, fires, violence, and encampments were negatively impacting the community.  
"The interesting thing is that when COVID-19 happened, we were able to know that we had to stay indoors. But as we look right outside our windows, we saw this encampment grow to over 100 people," Venice resident Chie Lunn told The Epoch Times in a previous interview.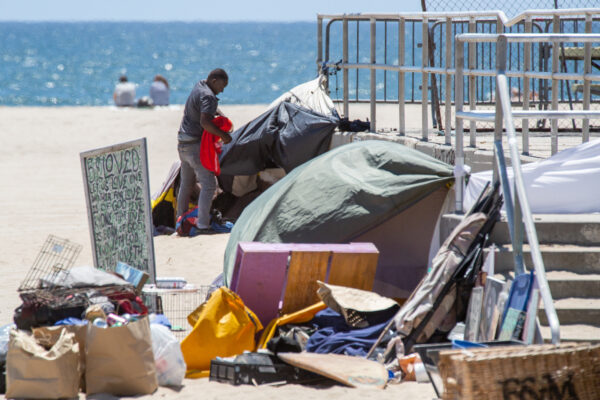 "And people come in and going daily throughout the night coming and going as we went on throughout COVID," she said. 
Lunn said the neighborhood saw an increase in RVs parked alongside parks and "an increase in violence." 
"And even our park was labeled by Mike Bonin and as a place for kids to go during COVID to feel safe and to get internet access, but yet at that very park we had three RVs exploding and drug use," she said. 
According to Los Angeles Police Department (LAPD) statistics provided to the Venice Neighborhood Council, data show that robberies have nearly tripled since the same time last year. Homeless-related robberies are up 260 percent, homeless-related assaults with a deadly weapon are up 118 percent, property crimes and area burglaries are up 85 percent, and grand theft auto is up 74 percent. 
Mixed Reactions from Angelenos 
The ordinance's supporters argue the measure will clear the sidewalks and public areas, ensuring people can access business and public transportation with ease. During a July 28 council meeting, dozens of residents called in to show their support or opposition. 
"There has to be a balance between a full heart for people that do not have homes, and also full hearts for our community and our sense of neighborhood and safety," one caller said. 
Councilmember Paul Krekorian, one of the authors of the code, said last month the ordinance "does not make homelessness illegal," but that it will protect the unhoused and users of public transportation from "being put into positions of interaction with automobiles, around loading docks, driveways and so forth. It guarantees access to our fire hydrants, entrances to buildings.''  
Krekorian's office did not respond to a request for comment by press deadline.  
Those who oppose the ordinance criticized the city council's approach to homelessness, with some saying politics has a disproportionate influence on homeless policies in Los Angeles. 
In a Twitter thread Wednesday, Raman said city council members who receive large amounts of homeless complaints will likely ban camping in most areas of their districts, moving the unhoused into other districts and low-income neighborhoods. Raman argued the council should focus on "real solutions," such as housing, outreach and services instead of "enacting harmful and illusory 'quick fixes.'"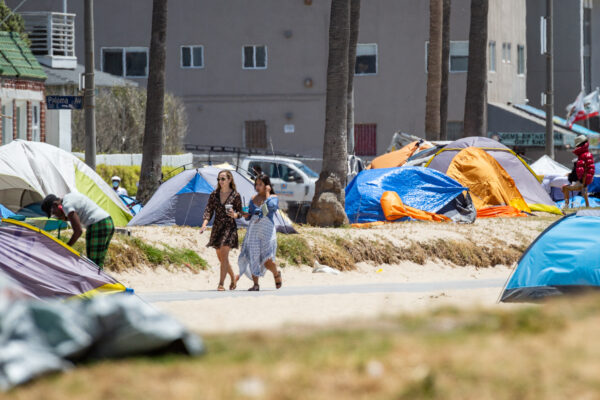 Both Raman, whose districts include Hollywood and Silverlake, and Bonin, whose district includes Venice Beach, are currently subjects of recall campaigns by residents. Organizers cite the officials' handling of the homelessness crisis as the main reason to hold a recall election. 
Others in opposition argued the approach to homelessness should be centered on housing rather than shelter.  When the council requested the city attorney to draft the ordinance on June 29, the council advised the city administrator's office to implement a 30-day Street Engagement Strategy to offer homeless people shelter, temporary housing, or permanent supportive housing. 
Bonin said in a previous meeting the ordinance shows people where they cannot sleep but does not show them where they are allowed to sleep; nor does it provide shelter or housing. Bonin shared his own experience being homeless, saying, "I cannot tell you how demoralizing and dehumanizing and defeating that experience is when you don't know where you're going to sleep."  
Daniel Conway of the human rights coalition LA Alliance said the focus on clearing public spaces is just one piece of the equation. LA Alliance, a group of stakeholders and residents, sued Los Angeles County last year requesting the county to house more than 66,000 unhoused people in the county.  
"The [city council] is convinced it's an unsolvable crisis, and it's reflected in the policies they enact," Conway told The Epoch Times.  
Conway also called on the county to step up on the issue, saying its lack of involvement was "embarrassing."
"We're missing a true partnership between county and city," Conway said.  
Both Raman's office and Bonin's office did not respond to a request for comment by press deadline.