Councilman Joe Buscaino introduced a resolution to ban homeless encampments in 11 areas of his district on Aug. 10. This comes after Los Angeles Mayor Eric Garcetti restored a pre-pandemic restriction of homeless encampments in public areas after the city council approved the ordinance last week; it also gives council members the ability to ban encampments in parts of their districts.
The ordinance is expected to go into effect on Sept. 3. The resolution was seconded by Councilman Paul Koretz.
"The Los Angeles City Council and the mayor promised residents that if they accepted solutions to homelessness, then the areas around these sites would be kept clean and free of encampments," Buscaino told The Epoch Times in an email.
This comes as city council members face increasing pressure from residents to clear public streets and sidewalks. Last month, Councilman Paul Krekorian said the ordinance will protect the unhoused and users of public transportation from "being put into positions of interaction with automobiles, around loading docks, driveways and so forth. It guarantees access to our fire hydrants, entrances to buildings.''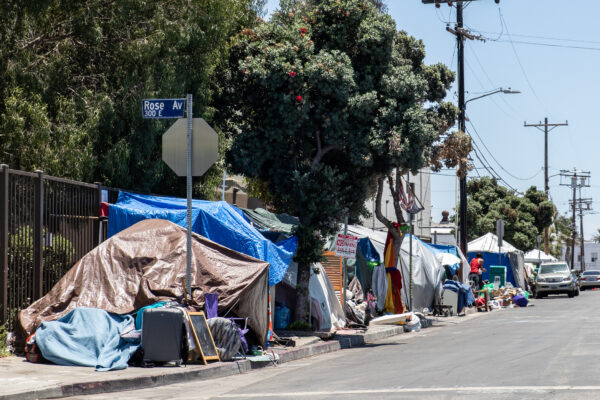 Buscaino said that it "should not have taken this long to fulfill that promise, but at least the Council is finally making progress towards balanced policies to keep our streets and sidewalks passable and safe."
Others, including councilmembers Mike Bonin and Nithya Raman, have recently criticized the city council's approach to homelessness, saying the emphasis should be on providing housing instead of clearing the streets.
Also on Aug. 10, the city council unanimously approved a motion to create 25,000 new housing units in the city by 2025. The motion is part of Councilman Kevin de León's "A Way Home" initiative, which seeks to create resources including permanent supportive housing, scattered-site housing, tiny homes, safe parking, and other resources.
De León said too many people have lost their lives on the street. A spokesperson for the Los Angeles County Department of Medical Examiner-Coroner told Crosstown that a total of 1,383 people experiencing homelessness died in Los Angeles County in 2020.
"Too many people have died on our streets and in our alleys. … Today we're making a significant decision that will begin to erase our city's most indelible mark of shame," de León said during the meeting. "The time for studying the crisis and hearing from experts, I believe, is over. Now is the time for action and delivering tangible results. Now is the time to get a roof over the heads of our unhoused neighbors and give them an opportunity to regain their lives and restore the pride of a great city."
Vicky Arenas of the nonprofit organization The People Concern and Andréa Johnson of LA Family Housing didn't respond to a request for comment by press deadline.