Lawyers for John Liu's Aide Say Finance Laws Too Complex
Lawyers for Jenny Hou argue Campaign Finance Board has too many rules
April 22, 2013 8:24 pm Last Updated: April 22, 2013 8:27 pm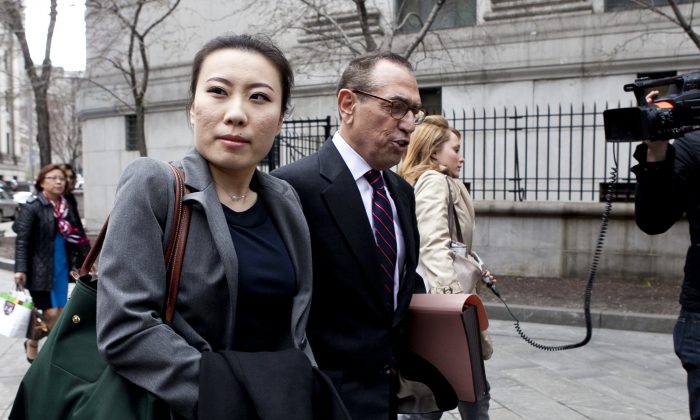 NEW YORK—The lawyers for Jia (Jenny) Hou went with the defense that the Campaign Finance Board has too many rules to follow and that Hou had trouble understanding them, during the trial last Thursday.
Hou, the former treasurer for the mayoral campaign of New York City comptroller John Liu, is standing trial alongside one of Liu's fundraisers, Xing Wu (Oliver) Pan. Both were arrested in 2011, and are being charged with trying to use straw donors to illegally obtain public matching funds for Liu's mayoral campaign. Two additional charges against Hou are for lying to an FBI agent and trying to hide evidence.
The first witness, Adam Schafenberg, a former Campaign Finance Board (CFB) worker who trained Hou on the laws she allegedly broke, was called to testify Thursday during the trial at the federal courthouse in Manhattan.
Training Verified
Prosecutors began by showing documents verifying that Hou attended a CFB compliance training given by Schafenberg on March 29, 2011, when he was still employed by the CFB. The PowerPoint presentation and reference materials used for the training were shown during the trial, while Schafenberg answered questions and, when requested, re-enacted the trainings he would normally give.
CFB documents displaying Hou's signature verified that Hou attended training on how to use CFB software to disclose sources of donations to Liu's campaign.
The prosecutors focused heavily on verifying that Hou attended the trainings, as Hou's defense is arguing that she did not fully understand campaign finance laws.
Hou graduated from Rutgers University shortly before taking a role in Liu's campaign. Schafenberg said the role of a treasurer is to maintain records, and that the treasurer and the candidate are the two people who "agree to be legally responsible for the campaign."
He noted that treasurers are free to resign at any time if they feel they cannot grasp the job, or if they feel overwhelmed.
At one point during the trial, Judge Richard Sullivan asked Schafenberg to speak slower so the person typing the court transcripts could keep up. Schafenberg said he often speaks at that speed, and Hou's defense used this point to allege that Schafenberg may have spoken too quickly for Hou to understand.
When one of Hou's lawyers, Jarold Lefcart, pressed him about speaking quickly, Schafenberg said, "I've trained 100 trainees. I've never had anyone say they didn't understand it."
Schafenberg said he paused three times during the two-hour session and that he also pauses to make sure people can keep up with him. He said Hou did not ask him to slow down. Records show that Hou was the only attendee at the training.
Schafenberg said Hou did not seem confused by the training and did nothing to indicate that she did not understand the material.
Handbook Intended as Reference
Lefcart then referenced the 119-page campaign finance handbook, which he argued contained too much information for campaign workers to follow.
Schafenberg said the handbook is intended as a reference guide if a campaign worker is unclear on something. He said, "We give it to them so they can refer to it to maintain compliance."
Schafenberg also said that campaigns are assigned liaisons from the CFB who the treasurers can call, visit, or email if they have questions or need help with anything regarding funds or proper disclosure.
"We really pride ourselves on customer service," Schafenberg said, noting that they often receive compliments on this from campaign workers.
Hou's attorneys say the evidence will show Hou's innocence. Prosecutors say they have evidence that will show Hou instructing a campaign volunteer to imitate the handwriting of donors to fool the CFB, offering to reimburse someone for campaign donations, reviewing fraudulent contribution forms, and hiding evidence, among other alleged crimes.
Sullivan estimated the trial will last approximately three weeks.