It's getting harder to find certain infant formulas at larger retail stores as they struggle to overcome supply chain issues amid an increase in demand.
"Product supply challenges are currently impacting most of the retail industry," CVS Health said in a statement to The Epoch Times.
"We're continuing to work with our national brand baby formula vendors to address this issue and we regret any inconvenience that our customers may be experiencing."
Walgreens issued a similar statement saying, "We continue to see greater demand for baby formula nationwide and as a result Walgreens has worked diligently with our suppliers to ensure we have enough supply to cover customer demand."
"There may, however, be temporary and/or isolated shortages of specific products. We refer you to the manufacturers for questions on supply of individual products," the company added.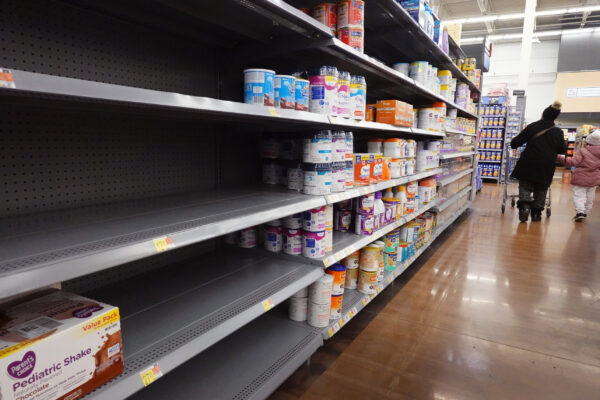 For customers looking for a specific baby formula, CVS said it is providing daily website updates with the latest available store inventory information.
Supply chain issues have been made worse by a countrywide rise in the theft of baby formulas.
The National Retail Foundation reported a 2020 survey of 61 retailers found that baby formula shoplifting has risen 60 percent since 2015, representing a net loss of about $720,000 for every $1 billion in sales.
Meanwhile, global retail giant Amazon said it is also facing baby formula supply challenges and is working to address the issue quickly.
"We know these products are of great importance to parents and caregivers, and are working closely with our selling partners to get them back in stock as quickly as possible," Amazon said in a statement to The Epoch Times.
Big-box retailer Costco is currently out of stock on at least two popular Similac baby formulas, including Similac Pro-Sensitive HMO Ready To Feed Infant Formula.
Claire Salter, a volunteer with Operation Give Back in Ohio, said the nonprofit began having difficulty procuring baby formula during the Christmas rush in 2021 as holiday shoppers were "scrambling from store to store" hoping to find their preferred brands.
The situation at Operation Give Back reached a critical level in January when the organization's food pantry had only seven cans of baby formula left on its shelves, Salter told The Epoch Times.
"I think everybody was grabbing them off the shelves. We tell them [now] to make sure they take what they need, but not to stock ahead. If I see them taking more than two [cans] I say, "Oh, let's move on'. We try to keep it to two if possible."
The organization currently serves between 300 to 400 adults and children.
Salter said she now makes sure to keep at least one can of baby formula at home for the youngest of her seven great-grandchildren, "until I know I can get more formula for her. That is as low [an amount] as we choose to go."
Operation Give Back has since been able to procure enough baby formula to meet the needs of families and although "we're watching it," Salter added.
According to industry analyst Future Market Insights, the infant formula market accounted for nearly $39 billion in sales in 2021 and it can expect to grow by 10.6 percent through 2026.
And while U.S. baby formula sales were up 18 percent in 2021, supplier Enfamil said in a statement it has "taken steps to ramp up production" and is currently shipping 50 percent more product "to address issues as fast as possible."
At St. Mary's Food Bank in Phoenix, Arizona, director of public relations Jerry Brown said baby formula is not in high demand.
However, Brown added items such as canned goods are in shorter supply—which is "more a matter of supply than shortage."
"We don't see a lot of baby formula," Brown told The Epoch Times.
In light of supply chain issues, the Infant Nutrition Council of America advises parents to obtain formula from a safe, reliable source and discuss feeding-related issues with a health care provider.