Australian Opposition Leader Anthony Albanese has pledged $440 million (US$316 million) to upgrade school facilities and improve student welfare if elected as prime minister.
In a pre-election speech to the National Press Club in Canberra on Jan 25., Albanese said the fund would provide upgrades to ventilation and create outdoor learning areas to make schools safer against COVID-19.
"These children have been among the most vulnerable during this pandemic and they deserve a government that prioritises their protection along with their education," he said.
The national Labor leader promised that every school would benefit in some way, with the funds to be distributed to "100 percent of its fair funding level."
It will also bring in more school counsellors, psychologists, and outdoor and sporting activities, he said.
"Education is fundamental and essential to the jobs, productivity and prosperity of the future," Albanese said. "And education is the biggest and most powerful weapon we have against disadvantage."
This adds onto Labor's previous $1.2 billion (US$840 million) tertiary education election promise of adding 465,000 free TAFE places and 20,000 new university places.
"Labor will always be better on health and education than our opponents," he said.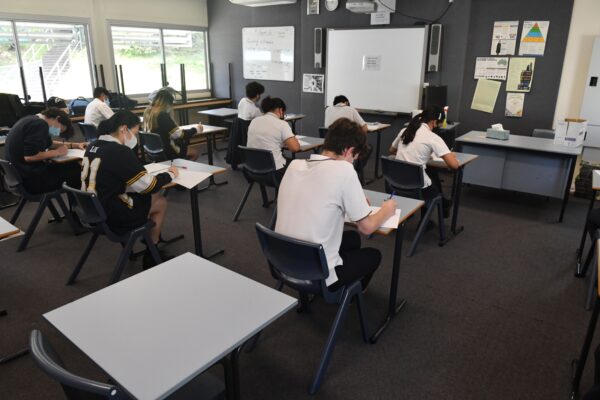 Albanese said Australians had been "magnificent" during the COVID-19 crisis and if he is elected, he will "reward these efforts."
"If I'm successful, the future we are working toward will be demonstrated to Australians by the end of Labor's first term," he said. "An Australia with rising living standards across the board, lifted by more secure work, better wages, stronger Medicare, and cheaper childcare."
Federation reform would be part of his government's agenda if elected, with Albanese promising greater cooperation between the Commonwealth and state governments.
"After decades of moving toward more national consistency—with technology helping us steadily overcome the distances on our vast continent—what we've seen in recent times is a reversal of that once inexorable trend," he said. "I will change that. I will work with all state and territory leaders, to advance Australia's common interest for the benefit of all."
He also pledged to use insights gained from the pandemic to strengthen Medicare, calling it a "proud Australian achievement," and fix the vulnerabilities in the public health system but he did not provide further details.
"Labor built Medicare," he said. "Labor has always fought for Medicare, and only Labor will protect Medicare," he said.
Albanese stopped short on discussing Labor's plans for taxation.
"No [tax] policy is our policy until we make it," he said. "It's not our policy until we announce something and we'll work all of those issues through."