LOS ANGELES—Children in Los Angeles may soon be required to wear masks outdoors, as well as an upgrade to surgical-grade or N95 respirator masks instead of using only cloth masks in schools.
On Dec. 29, an email was sent by a Los Angeles school superintendent to a parent and shared on Twitter.
"Given the COVID-19 Omicron surge, [Los Angeles County Department of Public Health] has indicated that school districts should anticipate updated and more restrictive health protocols when schools resume in January," the email read.
Though the revised protocols haven't yet been issued, they're expected to be announced in the coming days, according to the email.
The email said that the county health department is "highly likely" to officially require both outdoor and indoor masking for all school activities except when eating, and staff and students may need to upgrade their masks to either surgical grade or N95 masks because "cloth masks alone would not be sufficient."
According to the U.S. Food and Drug Administration's (FDA) website, which cites recommendations from the Centers for Disease Control and Prevention (CDC), cloth masks "may or may not meet any fluid barrier or filtration efficiency levels."
However, the same webpage said surgical masks "do not provide complete protection from germs and other contaminants because of the loose fit between the surface of the mask and your face," but are "meant to help block large-particle droplets, splashes, sprays, or splatter that may contain germs (viruses and bacteria), keeping it from reaching your mouth and nose."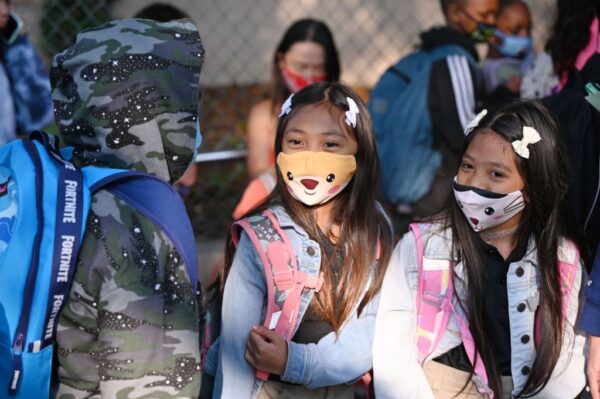 On the other hand, N95 respirator masks can "form a seal around the nose and mouth" and are "designed to achieve … very efficient filtration of airborne particles," according to the FDA.
In addition to the masking protocol, the county's health department is considering "more comprehensive testing regimens," though the email didn't elaborate on what those regimens might be.
Currently, all school employees are required to get weekly COVID-19 tests, and staff and students with vaccine exemptions must get tested twice a week.
Some parents raised concerns about the N95 respirator masks not fitting children's small faces and not achieving the desired effect.
Parent and community activist Scott Davison pointed out on Twitter that the FDA said N95 respirators cannot achieve a proper fit on children and thus "may not provide full protection."
The CDC's National Institute for Occupational Safety and Health (NIOSH) page also states that "NIOSH does not approve any type of respiratory protection for children."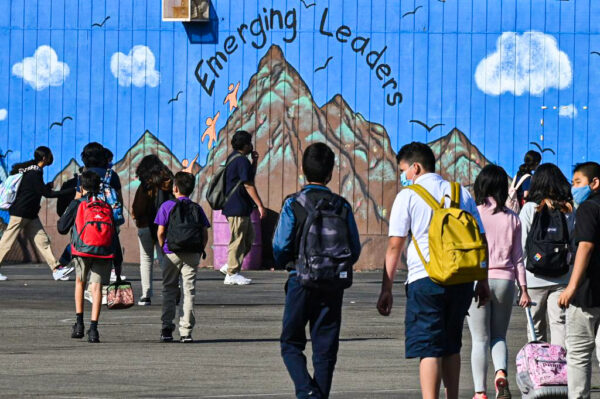 Sharon McKeeman, founder of parent advocacy group Let Them Breathe, told The Epoch Times that these mask evaluations reflect "what Let Them Breathe has been saying all along and what we have been litigating over—which is that cloth masks are not effective."
But the health department is "going in the wrong direction" asking children to wear N95 masks, which can "cause even more harm to students," McKeeman said. "Our lawsuit has documented the mental, emotional, social, physical, and academic detriments of wearing masks, and the more restrictive the mask that's worn, [the more harm it can cause]."
Let Them Breathe, which has more than 20,000 members across the nation, also filed a complaint in the San Diego County Superior Court in September regarding mask mandates for children.
The complaint states, "[Let Them Breathe] believes that masking students is unnecessary, ineffective, and harmful to their mental, physical, social, and emotional well-being," and the group is "concerned that mask requirements prevent children from engaging in a quality in-person education."
McKeeman said teachers are telling her group that children are having a hard time because they can't see their teachers' and classmates' faces.
"It's also very difficult for teachers to teach reading if students can't see how they're forming those phonetic sounds with their mouth," she said.
"We're hearing from parents and counselors and psychologists that students are feeling anxious and depressed because they're not having that positive reinforcement of smiles, and they're becoming withdrawn and antisocial. We're hearing from school administration that there's a lot more violent and destructive behavior at school, and that the psychiatrist and counselors we're speaking to are saying that it's a direct result of not being able to see other human's faces and [of] experiencing detachment."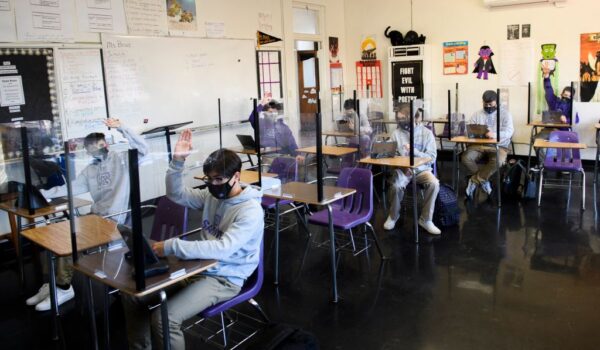 The groups' lawsuit gained a victory when their request for reconsideration was granted. The hearing is expected to take place on Jan 28.
The Los Angeles County Department of Public Health didn't respond to a request for comment by press time. Several parents of students in Los Angeles declined to comment for this article.