Beijing's move to resume outbound tourism on Jan. 8 amid a nationwide COVID-19 outbreak has sparked criticism among Japanese citizens. Some have condemned the move, calling it "irresponsible" and "immoral behavior."
All quarantine requirements for inbound travelers to China will end as soon as Jan. 8, China's National Health Commission said on Dec. 26. The cap on the number of international flights coming in and out of China will be scrapped, and outbound tourism, which plummeted to almost zero during the pandemic, will resume in "an orderly manner."
Within minutes after the announcement, searches for international flight tickets on Chinese online travel agencies and searches for visas to go abroad increased severalfold, with top destinations being Japan, South Korea, and Thailand.
The most searched destinations for outbound flights are mainly Bangkok, Tokyo, Seoul, Los Angeles, and Singapore, according to the state-run China Daily.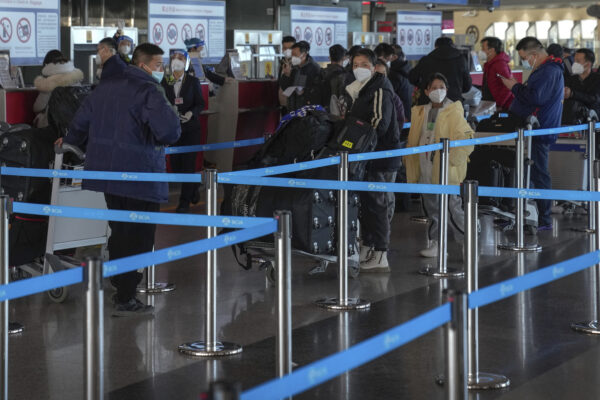 'Irresponsible'
Tokyo resident Mizobe Higashi told The Epoch Times on Dec. 31 that the Chinese Communist Party's (CCP) unchecked reopening of international travel was "terrible" and demonstrated "immoral behavior."
He said the move was similar to Beijing intentionally covering up information and allowing the virus to spread from Wuhan city to the rest world from late 2019 to early 2020.
Mizuki Amano, a calligraphy teacher from Japan's Saitama Prefecture, urged the Japanese government to "seal the border to protect the safety of Japanese citizens" and avoid potential "unimaginable consequences."
"There is an old Chinese saying: 'Do not do to others what you don't want to be done to you.' Why [intentionally] allow a massive number of people to travel abroad when a major outbreak is happening at home [in China]?" Mizuki told the publication on Dec. 31.
"The official words [of the CCP] cannot be trusted," he added.
In an interview with The Epoch Times on Dec. 31, Japanese political commentator Miyasita Kiyokawa called Beijing's attitude toward reopening China "irresponsible."
"The scary thing is mainly the [Chinese] rush to buy goods in targeted places [abroad] because the majority of products, [especially food and medicine], manufactured in mainland China are of poor quality due to the CCP's lax regulation," Miyasita said.
"And now the shortage of basic [over-the-counter] medicines will spread worldwide, as the Chinese panic-buy abroad. It could mirror the worldwide baby formula shortages in the past, where the Chinese mass-purchased them abroad due to not trusting the ones made in the country."
Miyasita believes that most people no longer trust the CCP due to its lack of transparency—especially when it initially concealed the first COVID outbreak in Wuhan in late 2019—and its questionable COVID narrative.
Japan Tightens Border Control for China Arrivals
Japan is one of the latest countries to tighten border controls for travelers who have visited mainland China, as Beijing removes cross-border traveling restrictions despite a COVID outbreak sweeping across the country.
Starting from midnight on Dec. 30, travelers from mainland China are required to present a negative COVID test result upon arrival, Japanese Prime Minister Fumio Kishida told reporters on Dec. 27, according to The Japan Times.
Visitors who test positive have to quarantine for seven days, and five days for those who are asymptomatic, Kishida said. The government would also limit airlines increasing flights to China, he added.
China's National Health Commission on Dec. 25 said it would no longer publish daily COVID cases or deaths after leaked data revealed that 428 million people contracted the disease in the first 20 days of December.
"Relevant COVID information will be published by the Chinese Center for Disease Control and Prevention for reference and research," the commission added, without explaining why it will no longer release data to the public.
"It is difficult to grasp the situation in China because the information on infections differs between the central and regional governments, as well as between the government and the private sector," Kishida said.
"People in Japan are getting worried because of that."
Kishida said the new curbs are not intended to stop international travel but to prevent a surge in infections in the country, and Japan would make efforts to smooth cross-border travel.