Jaguar Land Rover Canada has entered a brand ambassador partnership with Simu Liu, a Chinese-Canadian actor who stars in the CBC series Kim's Convenience and will appear in the upcoming Marvel superhero film Shang-Chi and the Legend of the Ten Rings.
The 30-year-old, who was born in Harbin and moved to Canada with his family when he was five years old, was raised in Mississauga, Ontario, and studied finance at the University of Western Ontario and the Ivey Business School. In addition to acting, Liu is also a stunt worker, writer, and filmmaker.
In the first phase of the partnership between Liu and Jaguar Land Rover Canada, a short clip has been released online showing Liu giving his parents the gift of a new Jaguar as a thanks for their support of his ambitions.
"My parents worked hard to ensure that I had every opportunity growing up," Liu said on Twitter alongside the clip. "To say 'thank you' and 'I love you', I surprised them with a Jaguar!"
This association kicks off as Jaguar Land Rover prepares for the upcoming return of the Defender, a product that will be one of the company's most important launches in recent memory according to John Lindo, director of marketing and public relations for Jaguar Land Rover Canada.
"Defender is a big deal," Lindo says. "The previous time it was in Canada it only sold a couple hundred units total, so we're really excited to launch this car. In rest of the world, it's really an icon. But in North America, we've got to show people what an icon it is."
Five Defender models will be available in Canada, some packaged with a 296 hp turbocharged four-cylinder engine while others come with a turbocharged inline six-cylinder engine with a mild hybrid system that produces 395 hp and 406 lb.-ft. of torque. A number of off-roading technologies are offered, including an adjustable terrain response selector, a twin-speed transfer box, and locking centre and rear differentials.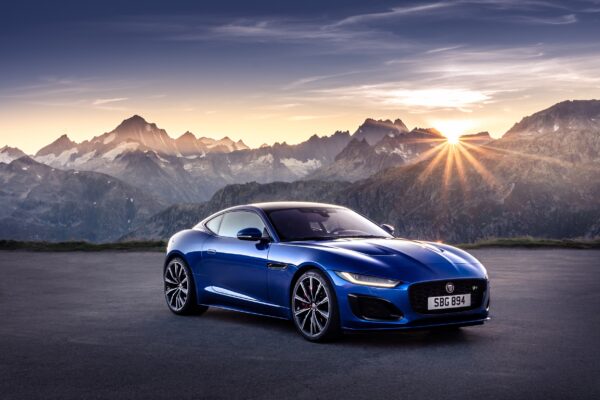 The launch edition will be the longer-wheelbase Defender 110, which has optional five-plus-two seating. The shorter-wheelbase Defender 90 will arrive before the end of 2020. Along with 170 individual accessories, four distinct accessory packs will be available: the Explorer Pack, with a lightweight roof rack, side-mounted gear carrier, wheel arch protectors, and a spare wheel cover; the Adventure Pack, which features an 6.5-litre portable rinse system with a pressurized water reservoir, a trunk-mounted air compressor, plus the gear carrier and a 6.3-gallon seat backpack; the Country Pack, which combines the rinsing system and wheel arch protectors with a bright rear scuff plate and a cargo space partition; and the Urban Pack, which adds to the visual appeal of the Defender with the rear scuff plate and spare wheel cover plus a front undershield and bright metal pedals.
"There's a ton of canine accessories for the cars," Lindo says. "There's also a deployable ladder. There's a tent that goes on the top.
"It's got to be tens of thousands, or hundreds of thousands of different variations you could get."
A new 24-piece collection of outdoor performance apparel and equipment, called the Land Rover Above and Beyond Collection, will be introduced alongside the vehicle and developed in collaboration with British outfitter Musto. A hybrid gilet-jacket, a belt with a tensile strength of over 13,000 lbs., and a selection of lifestyle packs mirroring those available on the Defender will be among the products featured.
Jaguar Land Rover kicked off the launch of the Defender with the new 4xFar music and adventure festival, hosted in Coachella Valley, California in January 2020. The weekend, which was open to the public, featured a combination of live music, food, and outdoor adventure experiences to give prospective customers an opportunity to sample the Defender on a purpose-built off-road course.
"It's a music festival lifestyle event where owners and clubs can go and live the Defender lifestyle for a couple of days," Lindo says.
Other marketing efforts in advance of the Defender's release include a prominent presence in the upcoming James Bond film No Time to Die, which will be released in April 2020, and a 2,573-piece LEGO Technic Land Rover Defender kit.
"We're really trying to make it the biggest launch we've ever done in North America," Lindo says.
Defender pricing in Canada starts at $65,300, and vehicles will begin arriving in dealerships in early spring.
Stephanie Wallcraft is a multiple award-winning automotive journalist based in Toronto and is President of the Automobile Journalists Association of Canada.