Hong Kong citizens' rights and freedoms must be respected, Italian Foreign Minister Luigi Di Maio said on Tuesday in Rome during talks with his Chinese counterpart.
Di Maio raised the issue of Hong Kong when meeting with Chinese Foreign Minister Wang Yi, who was beginning a visit to Europe that will also include the Netherlands, Norway, France, and Germany.
But the talks focused mainly on relaunching what Di Maio called the "strategic partnership from the economic and industrial view point."
Last year, Italy became the first major Western economy to sign on to China's controversial "Belt and Road" infrastructure plan despite concerns from the United States and the European Union. But the move has yielded little for Italy so far.

Lawmakers Support Hong Kong
The Italian government is facing domestic opposition over its close ties with the Chinese regime.
"Both Chambers of the Italian Parliament have clearly and repeatedly condemned the repressive actions by Beijing and Hong Kong authorities violating the rule of law, fundamental freedoms, and international agreements governing the Autonomous Region," 18 Italian lawmakers said on Tuesday in an open letter addressed to Di Maio.
"Italy has an obligation to uphold international agreements on human rights, including the Sino-British Joint Declaration of 1984 which guarantees the freedom of Hong Kong citizens.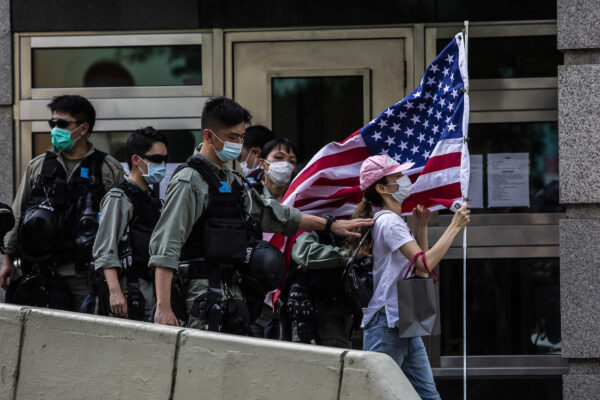 "Almost two months after the imposition of the National Security Law in Hong Kong, the situation is rapidly deteriorating, with serious implications for the fundamental rights and freedoms of Hong Kong citizens," said the lawmakers, who are from five different political parties.
The national security law, which went into effect on June 30, criminalizes individuals for any acts of subversion, secession, and collusion with foreign forces against the Chinese Communist Party (CCP) regime, with a maximum penalty of life imprisonment.
Nathan Law, a former Hong Kong legislator and pro-democracy activist now in exile in London, traveled to Rome on Tuesday and appealed to Di Maio to raise the Hong Kong issue in talks with his Chinese counterpart.

The Italian lawmakers said they "firmly stand with Nathan in his appeal to you and ask that the Italian Republic continues to be a voice in support of Hong Kong's freedoms, autonomy, and rule of law."
They also urged the Italian government to act as "a strong voice denouncing the atrocious crimes being committed against the Uyghurs and other ethnic and religious minorities in the country."
Huawei Brings 'Serious Danger'
The Chinese and Italian foreign ministers were expected to discuss the roll-out of new generation 5G technology in Italy and the potential involvement of Chinese telecom giant Huawei. But Di Maio made no reference to the company at the press conference.
Huawei has been banned by the United States, Australia, and the UK from their 5G networks. Italy has not imposed restrictions on the firm but it was excluded from a recent Telecom Italia tender to supply technology for a 5G network in Italy and Brazil.

Speaking in Rome on Tuesday, Nathan Law urged Western governments to be highly cautious in their business dealings with Beijing.
"The most powerful authoritarian regime in the world is posing a threat to democracies, including using measures of infiltration, including using the influence of their state enterprises like Huawei," he said.
"If infrastructure like telecommunications, harbors, or even the nuclear industry are controlled or are owned by Chinese companies then it will impose serious danger to the country."

Law was joined outside the Italian Foreign Ministry headquarter by Italian lawmakers Lucio Malan and Federico Mollicone, who were signatories to the open letter to Di Maio, as well as supporters of Tibet.
A group of practitioners of Falun Gong, a Chinese spiritual movement, held a rally nearby in protest against the CCP's persecution of the group, which has lasted over 21 years.
Reuters, Frank Fang, and Isabel van Brugen contributed to this report.