Faced with angry protests and school boycotts for three straight weeks, authorities in Inner Mongolia are trying a new tactic to pressure locals into complying with a proposal to limit Mongolian language teaching: by threatening to withhold eligibility for job awards, bank loans, and social security payments.
Since late August, ethnic Mongolians in Inner Mongolia have protested in front of local government offices or schools to oppose a new policy requiring classes in primary and middle schools to be taught in Mandarin Chinese and use standardized Chinese-language textbooks.
Ethnic Mongolians have a distinct language and culture from the Han Chinese ethnic majority who speak Mandarin.
The Epoch Times also obtained more internal government documents showing authorities' plans to suppress local protests and utilize "united front" groups to promote the policy.
Threats
Lianchao Han, a Chinese human rights lawyer who is currently a visiting fellow at U.S. think tank Hudson Institute, posted on his Twitter account a document issued by the Abag Banner government in Xilingol League, which detailed eight rules regarding the new policy. A "banner" is a county-level city in Inner Mongolia.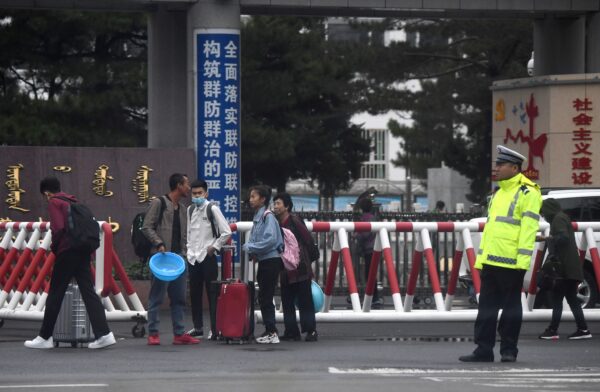 Since the language policy was announced in late August, thousands of students have walked out of classrooms in protest and refused to return.
In the document, which Han obtained from sources in China, the banner government told all township governments in the banner to ensure that at least 70 percent of primary and middle students are in school by inspection time, 5 p.m. on Sept. 14. Class schedules in China typically run from 8 a.m. to 6 p.m.
90 percent of students should be in school by 5 p.m. the following day. And 100 percent of students must be in school by 5 p.m. on Wednesday.
For the townships with the smallest proportion of students returning to school, the local mayors would be dismissed from their office. Other officials in the township government would face different kinds of punishment. The document did not provide details.
For teachers of classes in each grade with the small proportion of returning students, the instructors would not be eligible for any awards in the three years, nor salary increases.
For high school students who don't return to school by Sept. 16, the school should expel them immediately, the document stated. For primary or middle school students who don't return to school by Sept. 16, the school should count them as suspected dropouts, and file lawsuits against these students' parents or guardians, it added.
For those parents who are contractor employees of government organs, they will be dismissed.
Banks must stop approving any loans to them, and their social security payments must be terminated.
Furthermore, all government officials and staff members are forbidden from disclosing Chinese-language-education-related internal notices or documents to third parties. Otherwise, they would be detained and punished by law enforcement, according to the document.
Chinese netizens shared similar instructions released by the Hure Banner government in Tongliao city, Hexigten Banner government in Chifeng city, and the West Ujimqin Banner government and Sonid Right Banner in Xilingol League.
These documents first were posted by Chinese netizens from Inner Mongolia, and quickly shared on Twitter by overseas Chinese before they were removed by Chinese censors.
Systematic Control
The Epoch Times obtained an internal notice issued by the Alxa Left Banner government in Alxa League on Aug. 30, which stated the government will set up a special team to respond to local petitioners who opposed the language policy. In China, petitioners seek an audience with officials to resolve their grievances.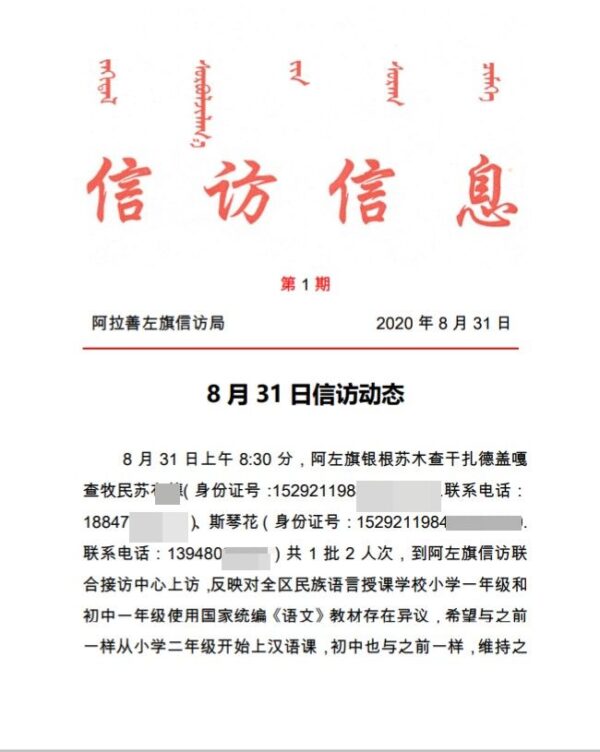 On Aug. 31, the banner government issued another document in which it listed the petitioners' names, IDs, and phone numbers. The document required that local officials educate the petitioners and inform the government leaders where the petitioners are from.
Other internal documents, dated Sept. 1 to Sept. 4, showed that officials in different banner governments visited local Tibetan Buddhist temples to ask lamas and monks to support the education policy. Most Mongols practice Tibetan Buddhism.
Authorities will also organize meetings with members of the local United Front—a government organ tasked with persuading citizens to support the Chinese regime's policies—to promote the policy.