Protests erupted across China's Inner Mongolia region with thousands of ethnic Mongols angry over the Chinese regime's new policy to require classes in primary and secondary schools be taught in Mandarin—the official dialect and language spoken by the majority Han ethnicity—and eventually phase out Mongolian as the language of instruction.
Such scenes unfolded in recent days: Dozens of students in blue-and-white uniforms broke through police barricades to boycott school as their parents cheered from the other side. Teachers went on strike, ignoring threats of losing their contract. Artists put on traditional clothing and played traditional instruments on the streets, singing songs in their native tongue. Hundreds signed a petition calling for the policy to be scrapped.
Inner Mongolia, home to millions of Mongols, is one of six regions the Chinese regime has targeted for standardizing school curricula, with new rules coming into effect on Sept. 1.
An Aug. 28 announcement from the Inner Mongolia government stated that textbooks will "reflect the will of the [Chinese Communist] Party" and become a "key medium for addressing the fundamental issue of who and how to nurture people."
Cultural Erosion
For decades, China's ruling Communist Party has issued policies such as bilingual education to bring ethnic minorities, especially Tibetans and Uyghurs, further under its political control.
While officials said that they'll phase in the measure over three years and that it will only affect three school subjects—literature, politics, and history—locals fear that the change would enable authorities to gradually erase their language, and along with it, their unique cultural identity.
Bajnaa (alias) from the Xilingol League saw this in her own child, who attended a Mandarin-dominant school in the early years. Now in college, her child can understand and speak some basic Mongolian, but struggles with reading and writing.
"Without the mother tongue, our ethnicity will become nonexistent," small-business owner Bayrmaa (alias) from Hulunbuir city, who is fluent in both Mandarin and Mongolian, told The Epoch Times. Studying Mongolian in Mandarin-oriented curricula would effectively render it a second language, impeding children's understanding of their own history and culture, she said.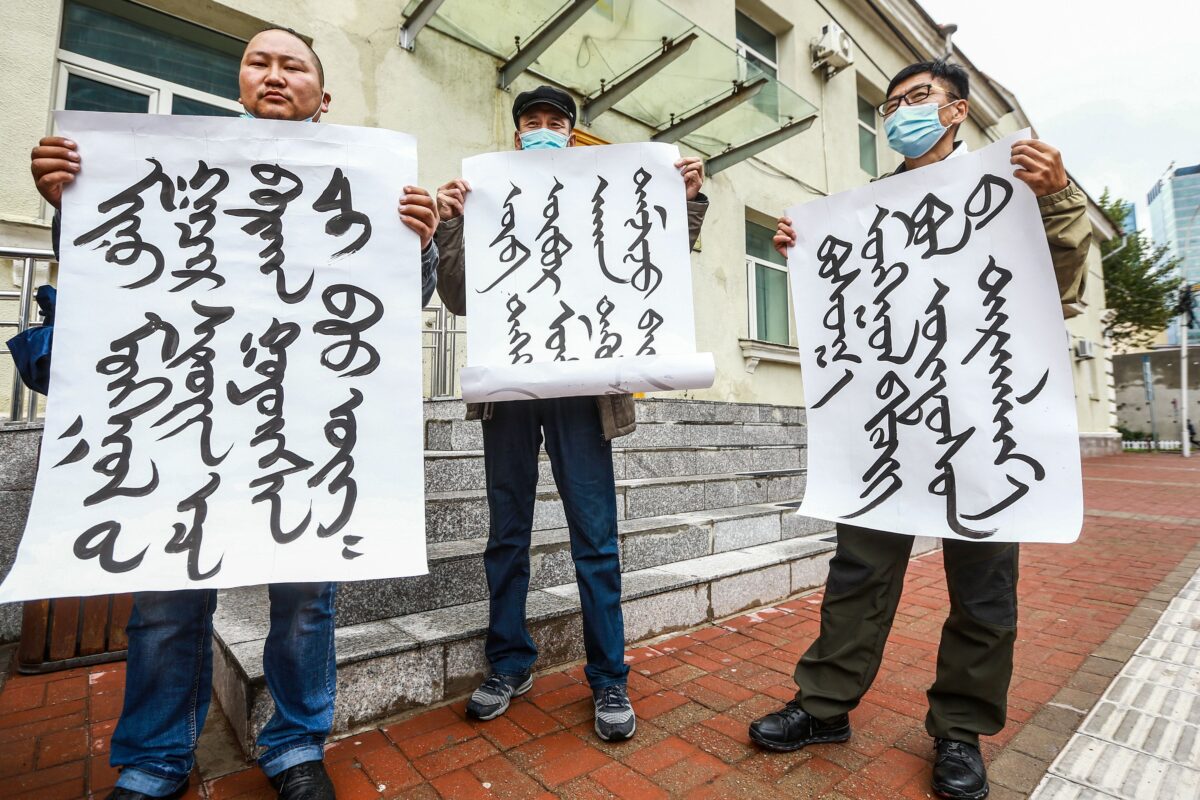 She broke into tears as she pondered whether the Mongol community could survive through the continuous cultural erosion. "What would become of our children?"
'Mongolians Until Death'
Across the region, parents have been taking their kids home from school, saying they would not bring them back until the government responds to their requests. Some Mongolian teachers have resigned.
Videos shared on the internet showed Mongolian students shouting: "Mongolian is our mother language. We are Mongolians until death!" In another, a young girl declared that she'd rather "herd my cattle than go to a Chinese school."
Onon (alias), a student in Xinlingo League who's working toward a Ph.D. in the Mongolian language, said that most schools in the area—from kindergartens to high schools—have postponed opening for a week.
"The attitude that we maintain is to not send our kids back, nor break the law," she said in an interview. "We will try to preserve our language and culture, whatever the cost."
Learning about Mongolian history has made her more proud of her culture. "Mongolian script is the only kind in the world that is written vertically," she said.
Hundreds have been arrested or placed under home surveillance for their activism, according to the New York-based Southern Mongolian Human Rights Information Center. Social media posts in China discussing the new education policy or expressing support for the Mongolian language also disappeared quickly after they emerged. Some also sustained injuries during scuffles with local police. Still, many seemed determined to keep up their fight.
Ms. Ulaantuyaa, a teacher from the Zaruud Banner, spent at least 11 hours at a police station. After she was released, she confronted plainclothes officers, who told her she was not "promoting positive energy" about bilingual education in her social media posts.
"What is positive energy?" The teacher retorted. "Protecting our mother language is [promoting] 'positive energy.'"
Anaraa (alias), from Horqin Left Middle Banner, recently joined around 200 parents who gathered in front of the Shebotu No.1 Elementary School. He was there to bring his nephew home after the school refused to let students leave. He and a few others held a banner reading, "We are Mongolians. We want to learn Mongolian." The police had arrested at least three, but later released them, he told The Epoch Times.
"If this policy is carried out, within 10 years, our Mongolian ethnicity will exist in name only," he said.
Unless the government can communicate a reassuring policy to the public, sporadic protests will likely go on and students won't return to class, Bajnaa said, noting that Mongolian families could opt for home-schooling instead.
"Those in their 40s or 50s all have sufficient education to homeschool their kids. It shouldn't be a problem in one or two years," she said, adding that new college graduates could also become private tutors.