Hong Kong saw the largest mass arrest in months as authorities sought to thwart pro-democracy protests planned for Mother's Day.
Hong Kong police arrested around 230 protesters on May 10, aged 12 and 65, on offenses including unlawful assembly, assaulting police, and failing to provide proof of identity, according to a police statement. Another 19 people were fined for violating a health regulation that prohibits public gatherings of more than eight people.
Mass demonstrations, sparked by fears of Beijing's growing influence in the city, erupted last June. While the protests quieted down amid the virus outbreak, protesters braced for a comeback this weekend, after recent arrests of pro-democracy activists and Beijing's renewed interference in local politics.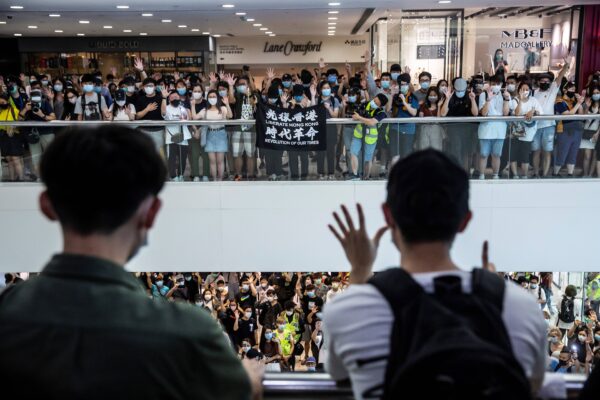 Hundreds gathered in shopping malls across the city on Sunday afternoon to chant slogans and sing protest songs after police refused to grant permission for a Mother's Day march, citing new regulations prohibiting public gatherings in order to prevent the spread of COVID-19.
Riot police soon appeared to disperse crowds.
The police used pepper spray inside a shopping mall to disperse protesters who refused to leave and surrounded the officers, according to the police statement.
Among those arrested was Democratic Party lawmaker Roy Kwong, who was pushed to the ground by riot police. One officer pressed his knee against Kwong's head, according to social media footage from the scenes. Kwong, who was charged with disorderly conduct, was one of 18 people hospitalized on Monday for injuries from Sunday, Hong Kong's Hospital Authority said.
Gary, a resident in the Tsim Sha Tsui neighborhood, said he saw what was happening on television and stepped outside his apartment building to check on the situation. He said the government's actions have made people angry, forcing them to protest on the streets.
Having been to several mass protests in 2019, he said he had deep respect for the young protesters' persistence and civil manner. "They had sacrificed their career for Hong Kong and for our society, to fight for the justice that Hong Kong otherwise might not have," he said in an interview.
Jenny, a protester, said that she saw many mothers participating in the Sunday protests. They "are caring for the next generation," she said, adding that her Christian faith provided her the courage to stand up. "I have to speak the truth and let the world know."
The police's rough and at times violent handling of protesters, which invited international scrutiny last year, has prompted a fresh torrent of complaints after Sunday's events.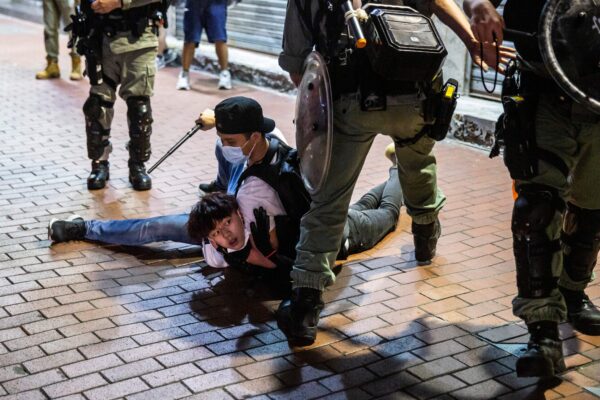 A middle-aged protester in Tsim Sha Tsui said that the police threatened to beat him up while checking his identity. "He didn't provoke the police, but just asked the people in the front to watch out," his friend told The Epoch Times.
As protests continued into the night in the Mong Kok area, police fired pepper rounds at press members and conducted stop and search operations on journalists at the scene.
A reporter from local newspaper Apple Daily collapsed after she was pulled away by a police officer and placed in a chokehold for about 20 seconds, according to the outlet.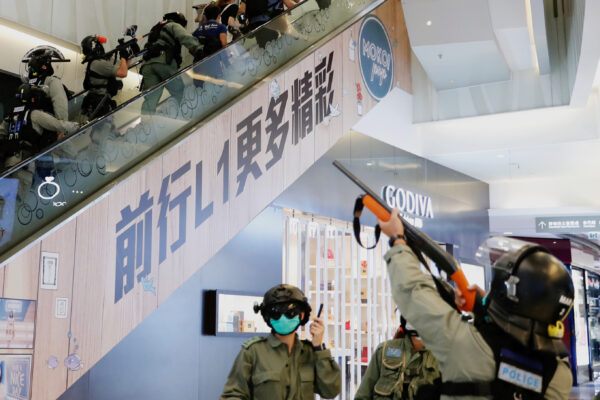 TMHK, a citizen journalist broadcaster, said officers forced its photographer to kneel down for over an hour and pinned him down to the ground by the neck. He was detained there as pepper spray liquid from the police's firing of weapons seeped onto the ground.
The Hong Kong Journalists Association, along with half a dozen other local media associations, issued a joint statement on May 11 condemning the police for "attacking" and "humiliating" reporters.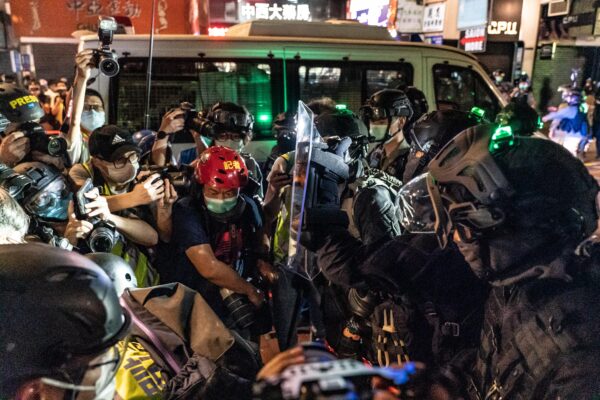 "Toward the end of last year, the police force last year had changed its motto into 'serving Hong Kong with honor, duty, and loyalty' … but their behavior over the past year and what had transpired last night have completely run counter to these stated values," it said.
Shelly, who was holding a protest banner on Canton Road, a major thoroughfare, criticized the government for suppressing people's assembly rights in the name of fighting the outbreak.
She had "come out because of her love for Hong Kong," she told The Epoch Times. "I thought that when one more citizen steps out, it's a bit safer for the students [young protesters]," she said.
Mr. Chen, who was visiting from Beijing, watched the protests unfold. He said Hongkongers are unlikely to give up their efforts. "Remember why the older generations came to Hong Kong? They all came here to escape the Chinese Communist Party [after the Party's takeover of China in 1949]," he said.
The Hong Kong edition of The Epoch Times contributed to this report.
A previous version of the article misstated the date of the arrests. The arrests occurred on May 10. The Epoch Times regrets the error.