While pandemic fears have triggered instances of discrimination against Chinese people around the world, inside China, it's the people of Hubei Province who feel the sting of stigma.
On March 27, workers from Hubei, China's outbreak ground zero that recently lifted lockdown measures, found themselves shunned at the border with neighboring Jiangxi Province.
At a checkpoint on a bridge near the border, Jiangxi police barred entry to Hubei residents and clashed with their Hubei counterparts who tried to ask for clarification.
Amid the scuffles, at least one Hubei officer was pinned to the ground and another was grabbed by the throat, according to a leaked police report. One video captured by locals showed police slamming ballistic shields on the heads of officers from the other side in the melee.
The outraged crowd staged a mass protest from 8 a.m. to late afternoon, shouting "Go Hubei!" and stomping on police cars, with throngs of people filling almost the entire length of the bridge at one point.
On the same day, Chinese media reported the resignation of two vice Jiangxi governors, without detailing the reasons.
Hubei, home to around 60 million, removed travel restrictions in regions outside its capital Wuhan City on March 25, allowing cross-border traveling for anyone who possesses a "green code" to certify that they are in good health.
But elsewhere in the country, hostility and discrimination toward Hubei residents fueled by fears over the virus have been on the rise. Migrant workers from Hubei have found it difficult to shake off this stigma as they return to work in other regions of China.
"We are quarantined and bullied once we go out," Xu, a worker from Hubei's Huangmei County who went to the protest, described their challenge to The Epoch Times.
A dozen migrant workers that Xu knows had tried unsuccessfully to obtain work. "Once the word Hubei was mentioned, they were immediately turned down," Xu said.
Stuck and Unwanted
Across the country, people with links to Hubei have found themselves no longer welcome at hotels, on buses, and at former workplaces, whether or not they have recently traveled to the virus epicenter.
Zhang, a resident of Xi'an, capital of northwestern Shaanxi Province, was unable to board the shuttle bus to the airport because he carried a Hubei identification card, even though he has never been back to Hubei since settling in Xi'an over 20 years ago.
"What kind of rule is this?" Zhang recalled asking the driver, who said he was "not in charge of this matter" and asked him to call the airport. After rounds of calls to no avail, the driver suggested that he hail a taxi.
"We received a heads up from the superiors, and I can't provide anything else to you," the driver told Zhang when he asked for justification.
Zhang, who was accompanying his daughter to the airport, eventually gave up, fearing that the airport might quarantine him, and thus he might even be prevented from going back home.
"It's not a huge deal if we lose some money," he said, referring to the airline tickets for his daughter, who had planned to report back to work in a Guangzhou foreign trading firm but is now stuck at home.
"She studied here from primary school through high school … and attended college here, she doesn't even know what Hubei is like," he said. The only time she went back to Hubei was six years ago for a college entrance examination.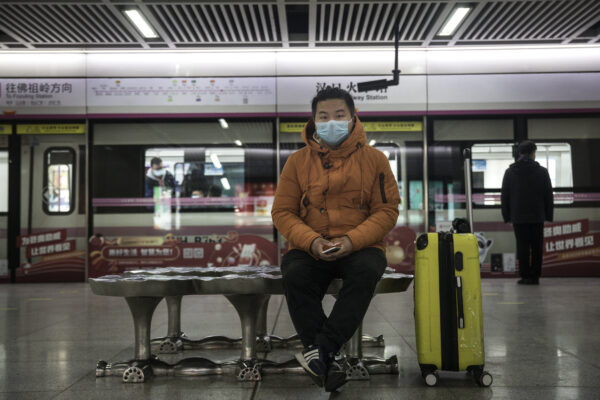 'They Couldn't Care Less'
Shuai Renbing, a migrant worker from Hubei, is facing a similar situation in Beijing.
"No matter if it's my boss or the police, when they see one of us, it's like they saw a ghost," he said.
Recently unemployed and facing surging food prices, he has struggled to make ends meet for his three-person family. Even napa cabbages, known as one of the cheapest vegetables in northern China, cost four times as before, he said.
"Except for maintaining social stability … I really don't know what they [the regime] care about," he said.
Later on Friday, a crowd of several hundred from Hubei gathered at Jiangxi's Jiujiang bridge police station near the border bridge to demand a formal apology.
To some Hubei natives, the Jiangxi governors' resignation was a small victory, but for others, it didn't resolve the root issue.
"No one dared to acknowledge mistakes during this outbreak. [The Chinese regime] is indebted to the people of Hubei," Huang, from Hubei, told The Epoch Times. "They couldn't care less about whether people live or die, and whether they have enough to eat and drink."
Xu said that all they wanted was a bit more care and peace of mind.
"We commoners have no money now," Xu said. "Every day we don't have work, we risk starving."