Hotel Erects Wall For Hu's Pre-G20 Canada Visit
June 24, 2010 5:26 pm Last Updated: October 1, 2015 7:47 pm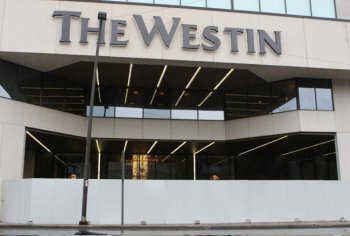 OTTAWA—Call it the Great Wall of the Chinese Delegation. The Westin Hotel in Ottawa has erected a roughly eight-foot high cream-coloured, wooden wall in front of its main entrance on Colonel By Drive for the "safety and quiet enjoyment" of visiting Chinese leader Hu Jintao and his delegation, says the hotel's General Manager John Jarvis.
"When you have a head of state, there is a very heightened level of security," Jarvis said, adding that the hotel paid for the wall, but that it was part of a package for the Chinese delegation, one of the largest the hotel has ever had.
The wall conceals the hotel's drop-off and lobby areas from the space across the street where protesters concerned with human rights abuses in China were expected to gather.
The wall was not there the last time Hu visited Canada in 2005. But this time, the embassy is making a larger effort to ensure Hu is only exposed to flag-waving Chinese nationals, not protesters.
In a speech delivered Friday at the Chinese Embassy in Ottawa to students on Chinese state-funded scholarships, an embassy official said this time authorities in Beijing had set a "high requirement" for Hu's visit.
"In 2005, when President Hu visited, there were a lot [of protests]," says Liu Shaohua, the embassy's first secretary of education in a recording obtained by The Epoch Times. "The Canadian side did not cooperate with us. Inside China, there was furor."
This time, Liu says, the Chinese side "negotiated sternly" and were able to gain "guarantees" from the Canadian side on "some parts."
"Some parts cannot be guaranteed because this country is particular about so-called freedom," Liu says.
Dimitri Soudas, communications director for the Canadian prime minister, declined to comment on the tape recording, noting he wasn't familiar with it and hadn't heard it. He also did not say whether Canada had taken any steps to ensure Hu was not met with protesters on this trip.
Hu is visiting Ottawa Wednesday through Friday ahead of the G-20 summit in Toronto this weekend.
As early as 2 a.m. Wednesday morning, hundreds of pro-Beijing greeters had already arrived outside Hu's hotel, long before the communist leader arrived.
On Thursday, when Hu arrived on Parliament Hill for a photo op with Prime Minister Stephen Harper, his car took a route past the half of the hill blocked off for red-flag-waving Chinese students and others. On the other side, where he was unlikely to see them, were Falun Gong practitioners, Tibetans, and Taiwanese concerned about human rights in China.
As Liu explained on the tape, the embassy was covering "all expenses" for what he estimated would be 3,000 Chinese who would welcome Hu during his three-day visit to Ottawa. Many of the students were bused in from other cities in eastern Canada. Some students, including those Liu addressed at the embassy Friday, were told their attendance at the welcome rallies was mandatory.
The goal of the large pro-Beijing contingent, Liu explained, was to overshadow the protesters from groups like Falun Gong as well as Tibetans, Uyghurs, and democracy activists.
"This is a battle that relates to defending the reputation of our motherland," Liu said.