Thousands gathered for a rally in Hong Kong on Wednesday evening urging G20 countries to pressure the Hong Kong and Chinese government to completely withdraw a controversial extradition bill, before the international summit is set to take place in Osaka, Japan this weekend.
Crowds of black-clad Hongkongers filled Edinburgh Place, a public square, and spilled to nearby roads, with swarms of people pouring in continuously from Admiralty, packing the central business district as far as the eye could see.
Police chose to keep a low profile at the rally. Most people sat on the ground without the helmets or masks sported by earlier protesters, many holding banners that read "Free Hong Kong" and "Democracy Now."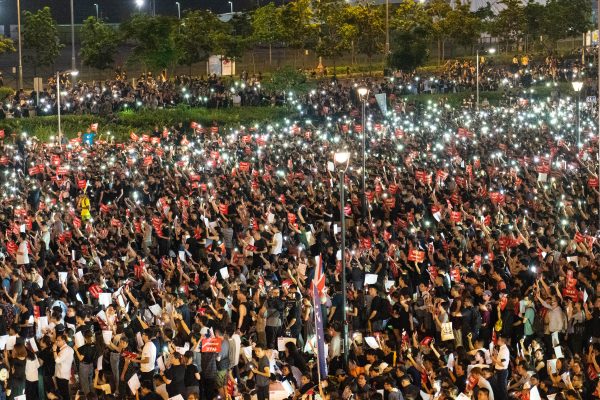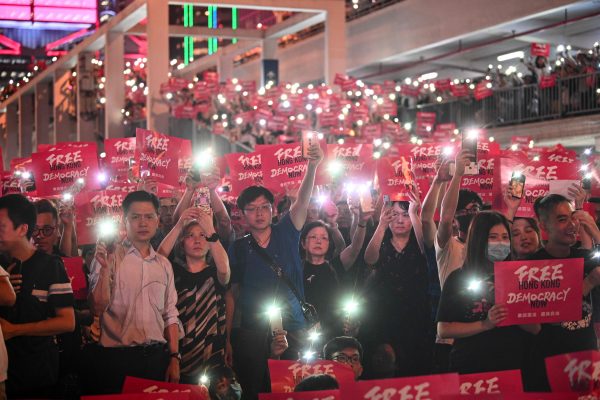 The "G20 Free Hong Kong Rally," organized by the Civil Human Rights Front (CHRF), the group behind two earlier marches attended by millions, called on world leaders to question China at the upcoming summit regarding its continuous encroachment on democracy and human rights in Hong Kong since the territory reverted from British to Chinese rule in 1997.
The group also called on foreign countries to support their demand that the extradition bill be scrapped. If passed, it would allow mainland China to seek extradition of anyone wanted by the Chinese regime. Hongkongers fear that this would permit China's opaque judicial system to charge dissidents with impunity.
In recent weeks, locals have held massive protests. After widespread public outcry, the city's top official announced that the bill would be indefinitely suspended.
"[The bill] will crack down the last defense to freedom and safety," CHRF said in a manifesto written for the rally, insisting on the bill's full withdrawal. Rally volunteers also read the document in nine other languages, including Japanese, Indonesian, Spanish, and German, in a bid to appeal to international audiences.
Meanwhile, a top Chinese Foreign Ministry official said on Monday that Beijing would "not allow" the Hong Kong topic to be brought up during G-20 meetings, claiming that foreign countries "have no right to interfere in Chinese domestic affairs."
CHRF responded on Monday by calling the official's remarks "ridiculous," adding that the stern refusal revealed the regime's "cowardness in confronting pressure from around the world."
Lee Cheuk Yan, a former Hong Kong legislator and pro-democracy activist, spoke at the Wednesday rally about the importance of the international community's support for the protests.
Lee was among a group of Hong Kong activists who traveled to Washington in May to call attention to the extradition bill, including by testifying at a Congressional hearing about Hong Kong's future.
He said that the record protest turnout has shown the world that "We [the Hong Kong people] are at the frontlines of the fight between authoritarianism as represented by the Chinese Communist Party, versus democracy, rule of law, and justice," Lee said.
Nathan Law, founding chairman of the local political party Demosisto, also highlighted that the U.S. government's strong criticisms of the bill contributed to its demise.
Following Hong Kong police using tear gas, rubber bullets, and other weapons to disperse crowds of protesters on June 12, causing over 80 civilians to be injured, U.S. lawmakers reintroduced the Hong Kong Human Rights and Democracy Act, which requires an annual assessment of whether the city is sufficiently autonomous from mainland China to warrant its special trading privileges.
The U.S. bill "reaffirms U.S. commitment to democracy, human rights, and the rule of law at a time when these freedoms and Hong Kong's autonomy are being eroded," lawmakers said in a press release.
Speakers at the rally also thanked international media outlets for their extensive coverage, which they said helped raise awareness about Hongkongers' demands.
They also reiterated previous demands that Hong Kong authorities hold local police accountable for the use of force on June 12; release all protesters arrested from the June 12 demonstrations; and retract previous police characterizations of the protests as "riots."
After the rally ended around 10 p.m. local time, thousands of people headed to the city's police headquarters to continue protesting, for the second time since last Friday.
CHRF is currently gearing up for an annual grand march on Monday, July 1, which is also the 22nd anniversary of Hong Kong's handover to Chinese rule.
Jimmy Sham, convenor at CHRF, predicted that there will be a dramatic surge in turnout compared to last year, given the public's dissatisfaction with the controversial bill.