Nearly 2 million Hong Kongers dressed in black flooded the city's streets on June 16, calling for the government to withdraw a controversial extradition bill and for the city's leader to resign.
The march was the largest demonstration in the city's history, according to organizers, who said almost 2 million people attended—representing almost 29 percent of the population.
Police, however, said the demonstration reached 338,000 at its peak.
The peaceful demonstration came one week after 1.03 million marched against the proposed legislation that would allow people to be transferred to mainland China for trial, and days after police clashed with protesters outside the city's legislature, leaving at least 80 civilians injured.
Hong Kong's leader, Chief Executive Carrie Lam, apologized on the night of June 16, saying she would accept criticism for the handling of the draft law. Lam, however, didn't respond to protesters' demands that the bill be withdrawn or that she resign.
Earlier on June 15, Lam announced the bill would be suspended indefinitely—but not withdrawn—in a dramatic about-face amid growing calls by opponents for her to step down.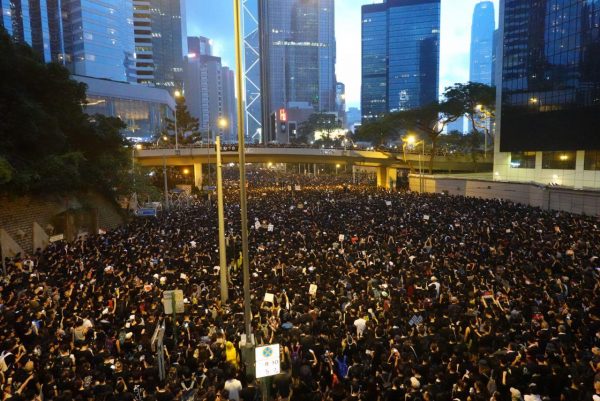 Apology Rejected
Lam's June 16 statement marked the first time the government has apologized for its actions.
"The chief executive admits that large-scale confrontation and conflict took place in Hong Kong society due to the inadequacy of the government's work, causing many residents to be disappointed and saddened," the government said in a statement. "The chief executive apologizes to the public, and promises that [she] will accept criticism in the most sincere and humble way."
Opponents of the bill, however, weren't satisfied with the apology.
"People will not accept it [unless] there is a clear withdrawal of the bill," pro-democracy lawmaker Au Nok-hin told the Hong Kong Free Press.
Civil Human Rights Front (CHRF), the parade's organizer, in a Facebook post, rejected Lam's apology, saying her promise to continue serving Hong Kong's citizens is a "total insult" and an attempt to "[fool] the people who took to the street."
CHRF also announced another "three suspensions" rally for June 17, encouraging people to halt work, classes, and markets to demand a full withdrawal of the bill.
In addition, the group called for the release of arrested protesters, for police and Lam to retract their description of the June 12 protest as a "riot," and for Lam's resignation.
"Should the government refuse to respond, only more Hong Kongers will strike tomorrow," HRCF wrote in the statement. "2 million + 1 citizens will take to the street, until their voices are heard."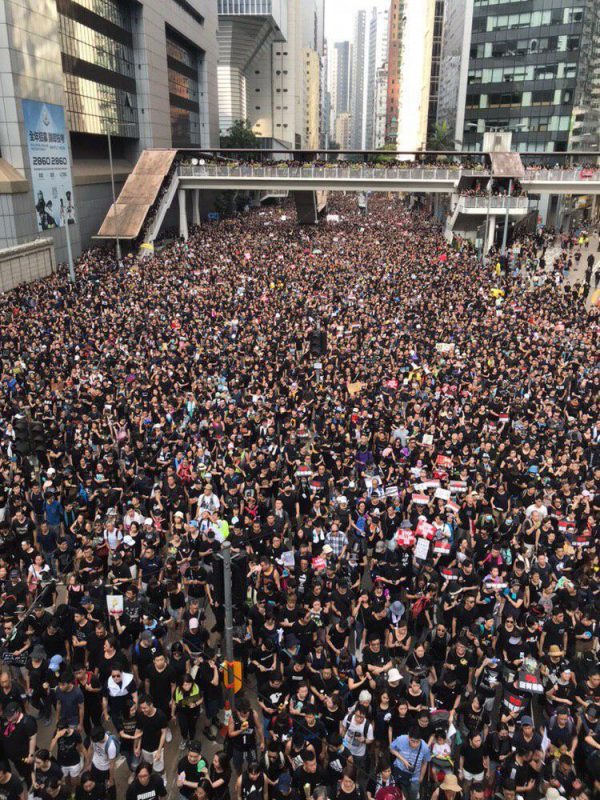 Calls for Lam to Step Down
The million-plus Hongkongers marched from Victoria Park to Admiralty, over 1.9 miles, in a parade that started at 3 p.m. local time and officially ended at around 11 p.m.
Some carried white carnation flowers and others held banners saying, "Do not shoot, we are Hongkonger"—an appeal to police who fired rubber bullets and tear gas at protesters on June 12, injuring 81 people.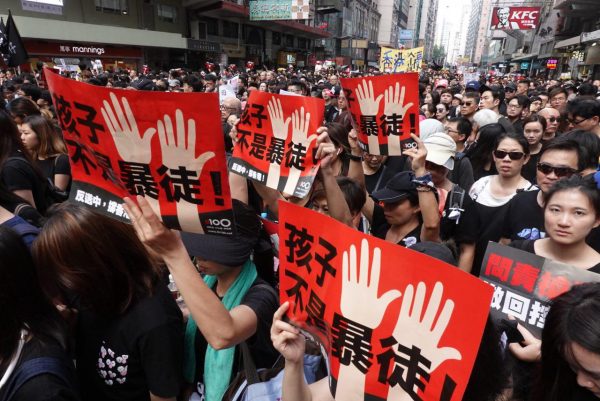 The protesters formed a sea of black along roads, walkways, and train stations across Hong Kong's financial center to vent their frustration and anger at Lam.
"I'm too angry to speak because Carrie Lam didn't listen to us, 1 million Hongkongers," a protester surnamed Yau told the Hong Kong bureau of The Epoch Times, referring to the previous mass protest on June 9.
Yau, who attended the march with her husband and 6-year-old twin sons, said she was protesting in part for her children.
"I don't want my children to have no freedom in Hong Kong. As a Hong Konger, I feel very distressed [about what's happening]," she said.
Another protester surnamed Mak, who attended the rally with his wife and 14-year-old daughter, said his 20-year-old son was among the students who faced tear gas and rubber bullets from police on June 12.
"Hong Kong is our hometown, and we take care of our home," Mak said. "The extradition bill will impact our free speech. Without free speech, we lose our right to monitor [authorities], and Hong Kong will continue to sink."
"In mainland China, people don't have protection because there's no rule of law," Mak's wife added. "The students' efforts [during the protests] were not only for themselves, both for all Hongkongers."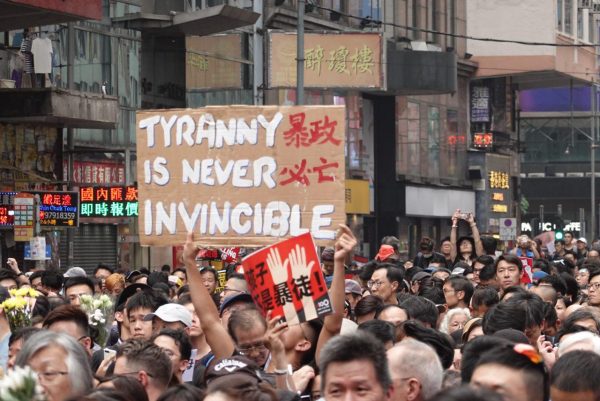 Loud cheers rang out when activists called for Lam's resignation and the cry "step down" echoed through the streets. Protesters also chanted "pursue the black police," angry at the tactics used by police earlier in the week.
Earlier at a press conference on June 15, Lam sidestepped questions over whether she should quit.
When a reporter pointedly asked Lam why she wouldn't step down after the massive public protests and police violence, she responded: "I have been a public servant for nearly 40 years. I take it as my pride, and I still have a lot of work for Hong Kong that I hope to do."
International Response
The protests have plunged Hong Kong into political crisis, heaping pressure on Lam's administration and her official backers in Beijing.
Opponents say the planned extradition law would allow people to be transferred to mainland China on trumped-up charges, given that the regime doesn't observe the rule of law. That, critics say, would threaten Hong Kong's autonomy and its reputation as an international financial hub.
The city was handed over to Chinese rule from UK control in 1997 under the express guarantee that it would retain its freedoms and autonomy, including freedom of speech, free press, and an independent judiciary—a policy known as "one country, two systems."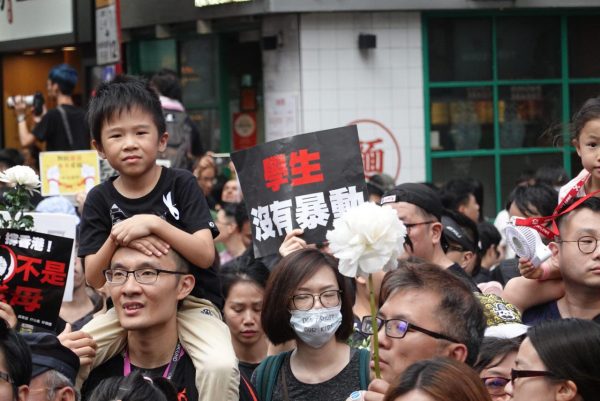 Critics say that guarantee has gone unfulfilled, citing a range of developments indicating Beijing's growing encroachment into the city's autonomy. These include Beijing being behind the disappearances of five Hong Kong-based booksellers who published literature critical of the Chinese communist leaders, the jailing of democracy activists, and opposition lawmakers being disqualified from public office.
U.S. Secretary of State Mike Pompeo said June 16 that President Donald Trump would raise the issue of Hong Kong human rights at a potential meeting with Chinese leader Xi Jinping at the G-20 summit in Japan later this month.
Pompeo said in an interview with "Fox News Sunday" that he's sure the protests would be among the issues that Trump and Xi will discuss.
"We're watching the people of Hong Kong speak about the things they value, and we'll see what Lam's decision is in the coming days and weeks," Pompeo said.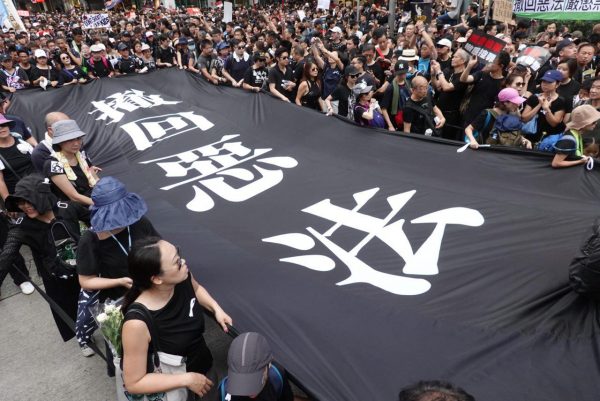 Last week, U.S. lawmakers introduced legislation that would require the State Department to review each year whether Hong Kong should continue to receive special trading privileges currently granted to it under the U.S. Hong Kong Policy Act of 1992.
On the self-ruled island of Taiwan, which the Chinese regime claims as part of its territory, about 5,000 people rallied outside the parliament building in Taipei with banners saying "No China extradition law" and "Taiwan supports Hong Kong."
Activist investor David Webb, in a newsletter on June 16, said if Lam was a stock, he would recommend "shorting" her, with a target price of zero.
"Call it the Carrie trade. She has irrevocably lost the public's trust," Webb said. "Her minders in Beijing, while expressing public support for now, have clearly lined her up for the chop."
Reuters contributed to this report.