Thousands of masked Hongkongers were back on the streets on Oct. 5 in a show of defiance against the government's new ban on face coverings during the ongoing protests against Beijing's encroachment.
The international financial hub came to a temporary halt after the railway operator MTR Corporation suspended all train services on Saturday. Dozens of shopping malls and shops also closed business early for the day.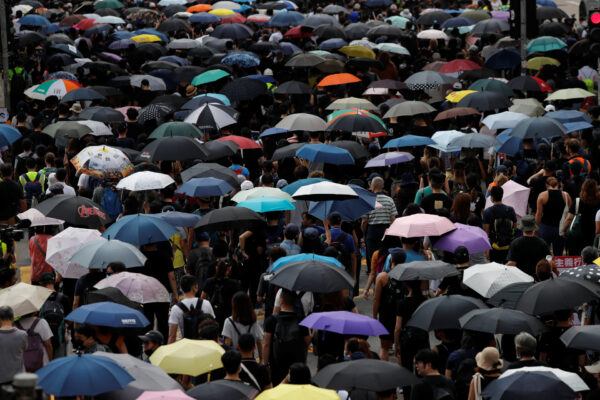 Shielded under umbrellas and masks, the demonstrators marched out from Causeway Bay to Central business district in the early afternoon to resist the new law, which made it illegal for anyone to wear face covering at demonstrations and public gatherings.
The government announced the ban on Oct. 4 which was invoked under a rarely-used emergency law.
Spontaneous small protests also popped up in elsewhere across the city, with many holding hands to form a human chain.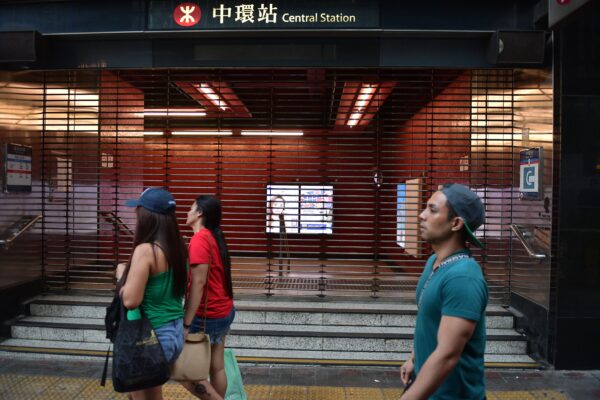 Resist
"Actually I have fears," a protester wearing a light turquoise colored surgical mask and a white cloth around his forehead told the Hong Kong bureau of The Epoch Times.
"[But] if you are afraid of everything and afraid of being arrested, then we won't be able to achieve our goal of safeguarding Hong Kong," he said.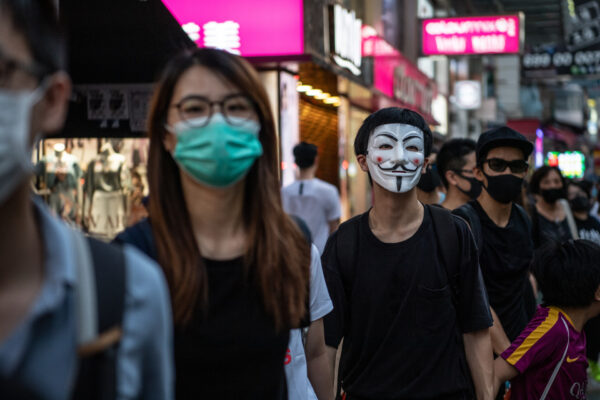 The demonstrator who didn't give his name said that this is the first time in nearly 4 months of protests that he has put on a mask. He also held a handmade sign that read: "I covered up my face, please arrest me."
"I cover up my face not because I'm scared to have my identity exposed, but to show that this law is not reasonable," he said. "We shouldn't surrender."
The crowd consisted of a mix of families, young protesters, and occasional western faces. They chanted a range of slogans including "free Hong Kong," "covering face is not a crime," and "resist, resist."
The masked protesters also carried a long yellow banner emblazoned with the words: "May glory return to Hong Kong."
Several of them, like the previous protester, said that the new law heightened their fears that the city would become indistinguishable from the communist-ruled mainland, where there is no rule of law.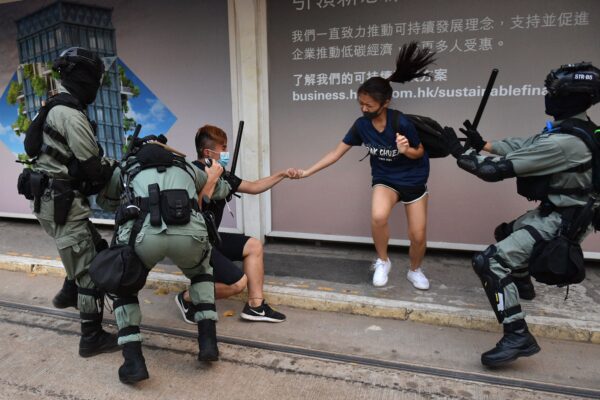 'Basic Freedom'
"I think it's the basic freedom for us to decide what to wear and when to wear it," a protester who identified herself as Tonia told the publication's sister media NTD.
She said she was proud of Hongkongers for "gather[ing] all the resources to resist and say no to the totalitarian regime," which was depriving their fundamental freedoms.
On Oct. 4, a 14-year-old was shot in the leg by an off-duty police officer, marking the second wounding from a police shooting since mass protests began in June.
Another protester, an Australian who was raised in Hong Kong, said that she felt angry and upset about what had happened the previous day.
"The government is not listening to people," she told the Hong Kong bureau of The Epoch Times.
"When I was a little girl I [thought] that police are there to protect citizens and residents, and we see now that that is not the case," she said, adding that many of her Western friends in Hong Kong also support the movement.
Riot police deployed water cannon and tear gas in multiple districts at nightfall.
Over 2,000 have been arrested in relation to the protests since June. Police have also pressed charges against more than 400 of them, including the teenage protester shot on Oct. 4.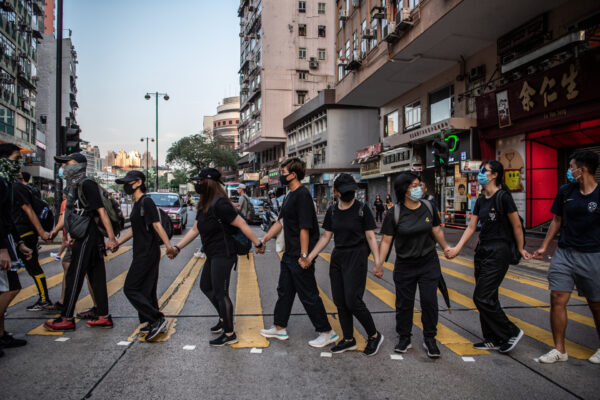 Broader Concerns
At least 24 lawmakers from the local Democratic Party filed a lawsuit with the city's High Court challenging the ban. A High Court judge on Oct. 4 turned down an emergency request to halt the ban, but a full hearing is due to be held later.
"This anti-mask law … is a weapon of mass destruction," pro-democracy legislator Claudia Mo said during an Oct. 5 press conference. With the emergency ordinance, "she [Hong Kong Chief Executive Carrie Lam] could do anything, this is an umbrella law."
Officials and human rights groups from other parts of the world also spoke out against the face mask ban, expressing concerns it could escalate the existing tensions.
Human Rights Watch criticized the ban, saying it was a "disproportionate restriction on peaceful assembly rights."
"Hong Kong authorities should be upholding rights, not undermining them," Maya Wang, a China researcher at Human Rights Watch, said in an Oct. 4 statement.
She said that the regulation is a sign that "the government is willing to go even further to violate rights to quell the protests."