As protests in Hong Kong continue over a controversial extradition bill, there has been much speculation over embattled leader Carrie Lam's grip on power—particularly as to whether her backers in Beijing still trust her.
According to a July 14 article in the Financial Times, Lam has offered to resign, but Beijing is rejected her offer. The report cited two unnamed sources with direct knowledge of the situation.
"[Lam] has to stay [in her position] to clean up the mess she created," one source told the Financial Times. "No one else can clean up the mess and no one else wants the job."
Public discontent against Lam's pro-Beijing government has been building since it first proposed the controversial extradition bill in February. If passed, the bill would allow people of any nationality to be extradited to mainland China from Hong Kong, and then subjected to trials in courts controlled by the Chinese Communist Party.
That discontent finally boiled over into a massive protest on June 9, when 1.06 million people took to the streets, demanding that Lam withdraw the bill and step down from the position of chief executive. There have been several protests since then, including two separate marches on July 14 that attracted more than 115,000 participants.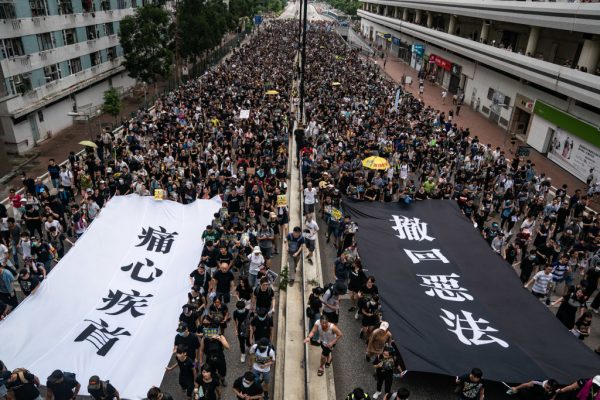 Debate for the second reading of the bill was suspended on June 12 after hundreds of thousands of protesters surrounded Hong Kong's legislative council building in Admiralty, effectively preventing councillors from entering. Lam announced that the bill was indefinitely suspended on June 15.
On July 9, Lam called a press conference, saying that the bill was effectively "dead," but she refused to withdraw it.
On top of anger directed at Lam's for her refusal to fully withdraw the bill, protesters have denounced the excessive use of force by police, including the firing of rubber bullets and tear gas, against peaceful protesters and journalists covering the protests.
Media organizations have also expressed their concerns about press freedom in the city, while mothers of young protesters staged rallies holding placards such as "Don't Shoot Our Kids."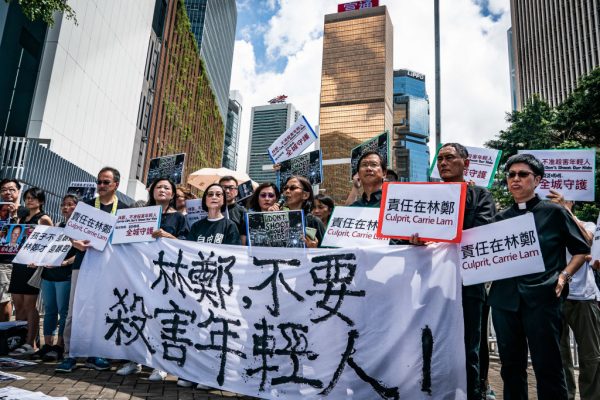 While protesters were calling for Lam to resign during protests in June, they began voicing a new demand in July—universal suffrage for members of the Legislative Council (LegCo), including the position of chief executive.
When the Financial Times reached out to Lam about her attempt to resign, her office stated: "The chief executive has made it clear in public that she remains committed to serving the people of Hong Kong."
At around 10 p.m. local time on June 14, Eric Chan Kwok-ki, director of the Chief Executive's Office, told Hong Kong media HK01 that Lam has not tried to resign and any reporting to the contrary was "absolutely false."
However, HK01, citing its own unnamed sources, said that Lam offered her resignation letter to Beijing following the July 1 march, after which some young protesters broke in the LegCo after smashing its glass doors with a metal trolley and poles.
In response to Lam's offer to resign, Beijing gave a "stern" response, saying that the situation in Hong Kong "would be even harder to turn around" if she were to resign, according to HK01.
On July 11, Wang Zhimin, director of the Liaison Office of the People's Government in Hong Kong, said Beijing "firmly supports" Lam and her government at a pro-Beijing event in Hong Kong, according to Reuters.
Sonny Lo, a Hong Kong-based political scientist and commentator, told Reuters that the situation was "complex" when it came to resigning.
"You can't just quit when you like and walk away when it comes to dealing with Beijing," Lo said, adding that Beijing had to "weigh domestic and regional risks and find a replacement" if Lam were to resign.
Lo stated that he believed Beijing would want "Lam to at least repair some of the damage caused by the extradition bill fiasco before leaving to help any successor." But he added that Beijing would "certainly want her gone" before the next LegCo elections in September next year.
There have been precedents in Hong Kong for top leaders stepping down following public protests.
In March 2005, former Hong Kong leader Tung Chee-hwa resigned in the middle of his second term, following criticism from Beijing over his poor governance and a massive protest of 500,000 people against an anti-subversion bill in 2003. Many believed the bill would lead to suppression of civil freedoms by Beijing.
Lam's predecessor, Leung Chun-ying chose not to run for re-election after his first term ended in 2017, following a massive protest known as the Umbrella Movement, when protesters camped out on the streets of Hong Kong's main business district in Central for nearly 3 months in 2014.