Hong Kong journalists are facing new challenges as the city's press freedoms have been hit hard by an unprecedented level of interference from Beijing, according to a report by the Hong Kong Journalists Association (HKJA).
The past 12 months have been one of Hong Kong's "worst years" in terms of freedom of press and expression since the city reverted from British to Chinese rule in 1997, the HKJA said in its annual report released on July 7. It highlighted as a particularly egregious example recent police attacks against journalists while covering anti-extradition bill protests.
Under the "one country, two systems" principle, China promised that rights nonexistent on the mainland, including freedom of assembly, a free press, and an independent judicial system, would be preserved in Hong Kong.
But the report by HKJA, the oldest established trade union for practicing journalists in Hong Kong, documented how Beijing has chipped away at such freedoms since 1997.
Beijing's Long Arm
The report made use of a July 2017 speech given by Chinese leader Xi Jinping to illustrate how Beijing's censorship rules are influencing Hong Kong: "any attempt to endanger China's sovereignty and security, challenge the power of the central government," and to "use Hong Kong to carry out infiltration and sabotage the mainland" would "cross the red line and is absolutely impermissible," Xi had said.
The report analyzed incidents in the past 12 months that infringed upon Hong Kong's freedom of press and expression, including the denial of Financial Times editor Victor Mallet's work visa by the Hong Kong government in October 2018. The move was widely perceived to be tacit punishment from Beijing, as it came after Mallet hosted a panel that featured a local activist who vouches for Hong Kong's formal independence from the mainland.
Chris Yeung, HKJA chairman, wrote in the report that such pressure from Beijing has impacted how Hong Kong journalists and media executives handle topics that the Chinese regime considers politically sensitive.
"To avoid confronting those unwelcome difficult situations, some journalists and media executives may practice self-censorship," Yeung wrote, adding that the controversial extradition bill, if passed, would make the problem worse.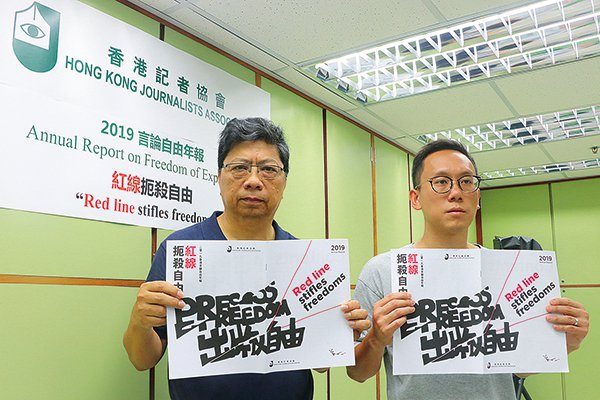 The bill, first proposed in February, would allow any country, including mainland China, to seek extradition of criminal suspects. In recent weeks, it has sparked some of the largest protests in the city's history, with opponents worried that given the Chinese regime's opaque legal system and notorious persecution of dissidents, it would allow Beijing to punish its critics with impunity.
HKJA echoed those concerns, writing in the report that it would be "a sword hanging over the heads of everyone." In particular, the bill would "not only threaten the safety of journalists but also cause a chilling effect on freedom of expression in Hong Kong," HKJA concluded.
The association also cited in its report a May 2019 poll conducted by the University of Hong Kong, where more than 1,000 members of the public gave the city's freedom of press an overall score of 5.81, on a scale of 1 to 10—a record low since the questions were first asked in August 1997.
Respondents also gave historic low rankings for freedom of speech, publication, and association, which scored 6.20, 5.76 and 5.38, respectively.
Advocacy group Reporters Without Borders also noted how "Beijing's baleful influence" has led to a decline of press freedom in Hong Kong, in its annual Press Freedom Index. Hong Kong's ranking has plummeted from 18 in 2002 to 73 this year.
Police Violence
The HKJA also highlighted incidences of police using force or harassing reporters to hinder them from covering anti-extradition-bill protests.
The association interviewed dozens of journalists who were at the scene during protests from June 10 to 14, who said police used excessive force against them, including by firing tear gas at close range, damaging reporters' equipment with batons, and pushing or chasing reporters.
"The number and severity of those cases have raised a question of whether police officers have deliberately targeted at reporters and, if so, why," the report stated. "There are concerns that people's right to know will be jeopardized if reporters are not given easy and safe access to the places where news are unfolding."
Most recently, during clashes between police and demonstrators in the Mong Kok neighborhood on the evening of July 7, officers repeatedly shoved away journalists who were at the scene.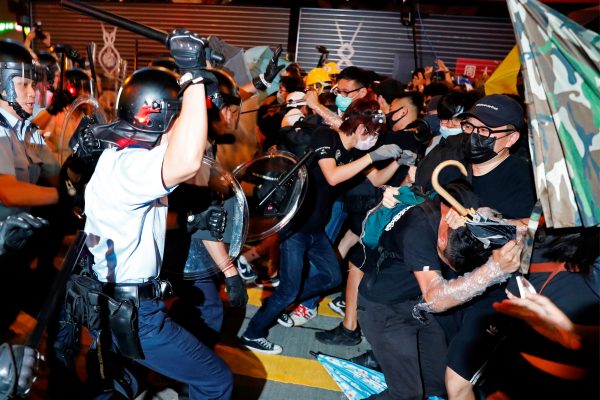 On July 8, HKJA and the Hong Kong Press Photographers Association filed a joint statement accusing police of assaulting journalists during the melee.
The police pushed forward with riot shields, yelled at reporters, and assaulted those on the frontline, according to the statement, even though journalists had already identified themselves by displaying their press cards and started retreating to cooperate with police action.
The groups said such acts to obstruct reporting were "a serious violation of press freedom," and called on the police to "address the abuse of police power, respect the reporting rights, safeguard the freedom of the press and the public's right to know."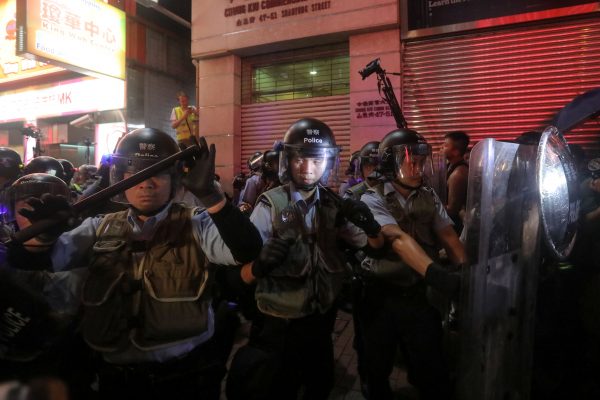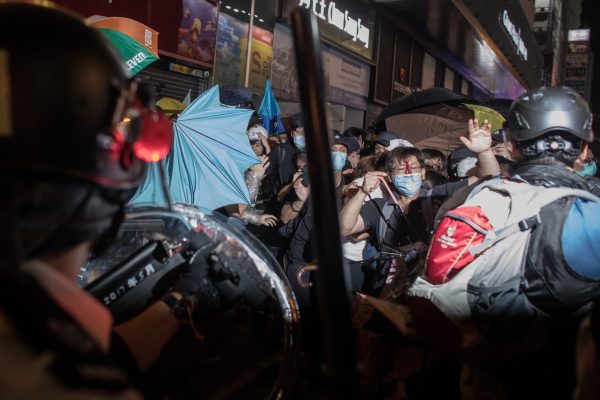 The Hong Kong police responded in a July 8 statement to clashes on the previous day, discouraging the public from "[obstructing] its operations by any means or they might be liable to the offence of obstructing police officers."
The force added that it respected press freedom, but urged media practitioners to "avoid keeping 'zero distance' with Police's cordon lines when Police are conducting dispersal action."
Previously on June 17, the HKJA had filed a complaint to the Independent Police Complaints Council (IPCC), the city police's internal watchdog, over 27 cases of alleged violence or harassment against reporters covering extradition bill protests on June 10 and 12.