An Ohio grandmother died from injuries she suffered while sledding with her grandchildren.
Janet Ann Barr, 64, died on Feb. 2, a day after she was severely injured near her home in Dublin.
Barr, a pharmacist and the mother-in-law of Craig Krenzel, quarterback of Ohio State University's 2002 National Championship team, fell and hit her head, according to an initial report conveyed to 911 dispatchers, reported The Columbus Dispatch.
An obituary stated that she died "after a sled riding accident with her grandchildren" but did not specify how exactly the accident happened, nor where it took place.
Barr was at Krenzel's residence and rushed her to OhioHealth Dublin Medical Hospital, but she died a day later.
According to the obituary, Barr was loved by many, with her family writing, "All who knew her often commented on the genuine, honest, giving, and loving way she lived."
"Se was an avid reader, swimmer, loved the ocean and the beach, and gardening. Barr was often referred to as the dog whisperer. She loved all dogs and they loved her—at first sight," her family wrote.
"Known as GaGa by her grandchildren she was especially involved in their lives—their games, school events, playing at the beach, teaching them to swim, baking cookies, and making pierogies. She loved caring for them. But they knew to look out for her 'back hand.'"
Barr was survived by her husband Joe, who she met in high school and married just after graduating from college, their two daughters, and five grandchildren.
A viewing was scheduled for Feb. 7 and a funeral slated for Feb. 8.
People responding to the death on Facebook remembered Barr.
Janet Ann Barr, the mother-in-law of former Ohio State quarterback Craig Krenzel, was fatally injured in a sled-riding accident that occurred when the 64-year-old retired pharmacist was with her grandchildren.
"I only knew her as I was a customer at the pharmacy she worked at but she was always so kind and extremely helpful. When she retired, she told me that she was going to grab life and live it to it's fullest. Spending time with family was number one," one user said.
"So sorry for your loss I worked with her for years she was a caring wonderful lady loved her children so much prayers for the family," said another.
"Tragic loss. Her dear grandchildren were just having fun with Grandma," said another.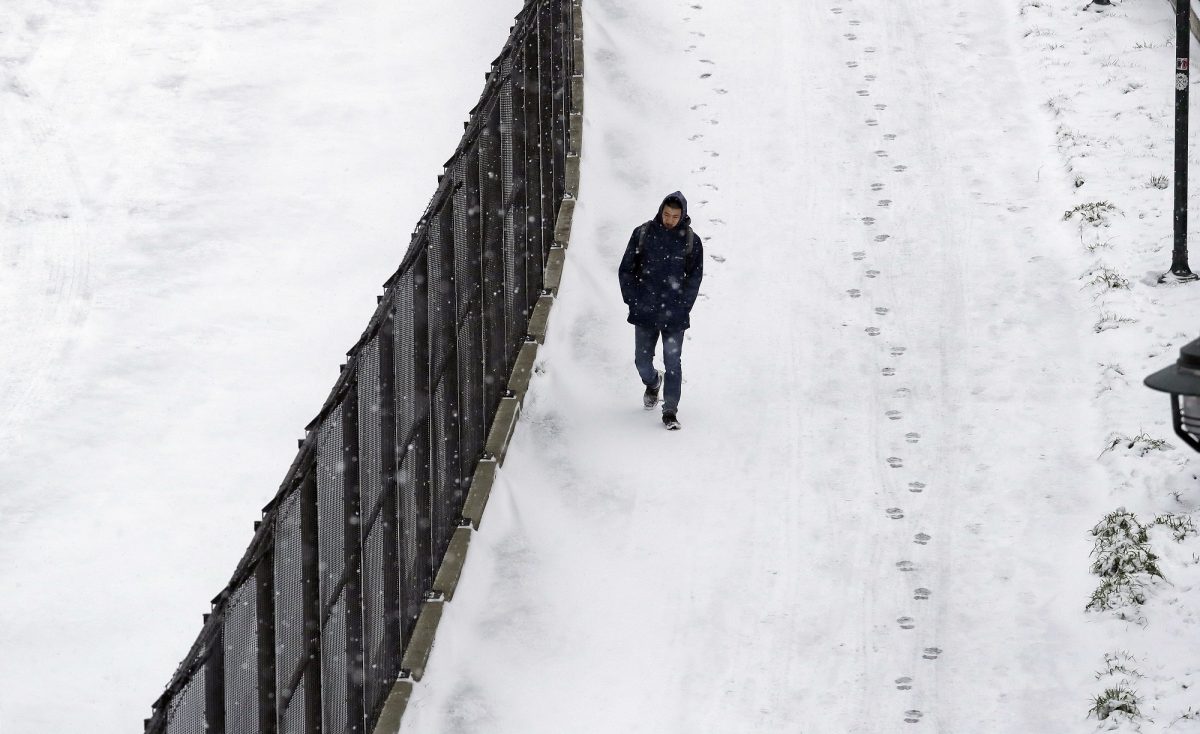 Rare Snow Falls on Seattle
Winter weather pounded a swath of the West on Feb. 4, closing schools, delaying flights, and turning streets into sledding hills in coastal cities like Seattle that rarely get much snow.
Parts of California and Montana braced for the threat of mudslides and avalanches this week, while the Midwest warmed up from a dangerous blast of cold last week that is linked to at least 30 deaths in several states.
The Pacific Northwest's first major winter snowstorm hit western Washington hardest, closing numerous schools in Seattle and nearby cities, canceling ferry service, and causing car crashes but no major injuries.
Some areas north and east of Seattle got 8 to 10 inches of snow. Temperatures were expected to be 15 degrees below normal this week, with lows in the teens, the National Weather Service said.
More than 200 flights at Seattle-Tacoma International Airport were canceled and over 450 delayed.
Chris Allahyar of Edgewood, Washington, told Seattle news station KOMO-TV that he was trying to make a flight but his car got stuck on an icy road.
"Everything was fine until I got off the freeway and everything turned to ice. Couldn't even make it off the road. I'm just stuck right now," Allahyar said. "I really underestimated the temperature."
Communities on the northern Oregon coast got several inches of snow, and it was falling steadily in Portland, Oregon. A cold spell in Portland was expected to last for about 10 days, with overnight temperatures dipping well below freezing and more snow later in the week.
The storm system lingering over the Northwest has sent waves of snow into the Northern Rocky Mountains, where it mixed with a blast of frigid arctic air and gusting winds to create hazardous driving conditions and dangerous wind chills 40 degrees below zero and lower.
The cold closed or delayed schools. Much of western and northern Montana will likely see subzero temperatures until at least Wednesday, weather service meteorologist Cody Moldan said.
"We're kind of stuck in a cold pattern," Moldan said.
The Associated Press contributed to this report.
From NTD News