It started out as a terrible story of cruelty and neglect but ended happily with an orphan finding a family. In Kansas City, Missouri, three years ago, a pit bull was horribly abandoned by the side of the road. So far, nothing about the story is that unusual. Unfortunately, thousands of dogs are left like this every day across the country. But this time was different.
It just so happened that the heavily wooded spot on Brooklyn Avenue where the dog was dumped had a hidden camera on it. That made all the difference.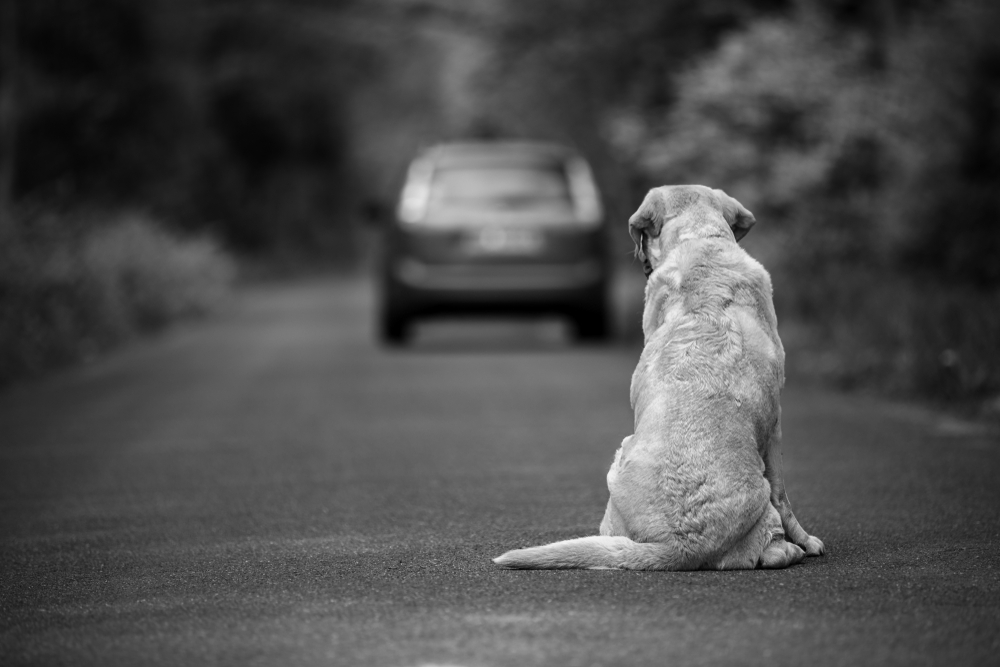 The Kansas City code enforcement department was sick and tired of people dumping trash illegally in the spot, and Officer Alan Ashurst had a camera installed to catch violators in the act and make sure they were fined for littering. But while he was reviewing the footage for that day, what he saw shocked him to the core.
A man drove up in a SUV, opened the door, and booted a dog out onto the pavement before driving away. "When I saw the pictures, I went into a little rage blackout," Ashurst told WDAF in Kansas City. While Ashurst wasn't sure about being able to find the dog, he definitely wanted to get the owner. "I was focused on who this guy was, and who would do this kind of thing."
They managed to track down the owner, William Frank Lee, who was charged for abandonment as well as for neglecting to have the pit bull neutered in accordance with Kansas City ordinances.
Mojave's story is a sad one, but we are working hard to ensure his story has a happy ending. He was discovered by a…

由 KC Pet Project 发布于 2015年12月30日周三
With the help of the footage, a Kansas City animal control team, including Officer Eron Dawkins, managed to track down the dog, named Mojave, to another part of town. Dawkins emphasized to WDAF how lucky they were to have the footage. "It's not too often that we deal with cases like this where we have good photographs that give us a head start."
After they found Mojave, the next task was to find him a home where he would be treated well. The KC Pet Project stepped in to assist. They have multiple shelter locations and take in too many abandoned dogs, especially pit bulls like Mojave.
As KC Pet Project manager Lisa Fugate told WDAF, "we would love to see more prosecutions. Unfortunately, we see animals abandoned a lot." With Mojave's sweet personality though, it wasn't hard at all for people to see that this guy deserved a great home.
Wow, that was quick! Mojave wasn't at our Zona Rosa location 30 minutes before this fun couple came in, met him, and…

由 KC Pet Project 发布于 2015年12月30日周三
Only 30 minutes after placing him at their shelter, Danielle Culvert and her boyfriend came in, fell in love with him, and asked if they could adopt. Even better, they did all this without knowing Mojave's story. While it was all a bit of a whirlwind for Mojave, after the terrible life he had come from, it must have been a wonderful transition.
Here's hoping that the next time negligent animal owners in Kansas City or elsewhere think about ditching their animals in the trash, they will think again.
Life has changed pretty fast for Mojave, who has gone from being dumped on the street to taken in by a new family in the…