Bereft Scotsman David O'Connor has put out a serious and heartfelt warning to fellow dog owners after losing his beautiful springer spaniel, Bell. O'Connor lost his 9-month-old pup alarmingly quickly after she was exposed to a deadly and completely unexpected predator. Blue-green algae.
Bell was doing what all excited puppies from Dingwall in the Highlands do; gleefully playing by the River Conon. The water level was low and the banks were dry. She was seduced by the unusual blue-green color of the algae and licked it, but it turned out to be fatal.
Despite fervent attempts to save her at the family's veterinary surgery, Bell died within 30 minutes of consuming the killer algae. The algae usually grows in the stagnant water of lochs and reservoirs, but unseasonably high temperatures in the summer of 2018 caused the level of water in the River Conon to decrease. Algae collected and coated the banks.
It didn't take O'Connor long to realize that the puppy was becoming "dramatically sick," and by the time the pair reached the veterinary clinic, there was nothing to be done for poor Bell. The former chief superintendent for Police Scotland sprang into pragmatic mode and quickly posted a shocking but imperative warning to other dog owners on Facebook.
"Warning to all dog owners," he wrote beside a picture of his spaniel, gone way before her time. "We lost our pup today after she ate some blue-green algae at the river Conon. The falling river and hot weather has created a danger which sadly we were not aware of."
"All dog owners please be aware," he continued, sagely, "as this is such a tragedy for Bell and our family."
Usually, the family's river walks were enjoyable but uneventful, O'Connor shared. But on that fateful day, as his son and puppy returned home from their walk, the dog was already exhibiting signs of extreme sickness. "We took her round to the vets within five minutes," O'Connor continued, "and then she died. The whole episode from start to finish took about 30 minutes."
Bell's vet, Iain Muir of Dingwall Veterinary Practice, added his own Facebook warning to bolster the visibility of O'Connor's message. "We had a young spaniel in the surgery today which less than half an hour earlier had been romping around on a walk with his owners," Muir wrote. "Now, despite the frantic attempts of vets and nurses to save [her she] lay dead on the clinic table."
"That's how dangerous blue-green algae is."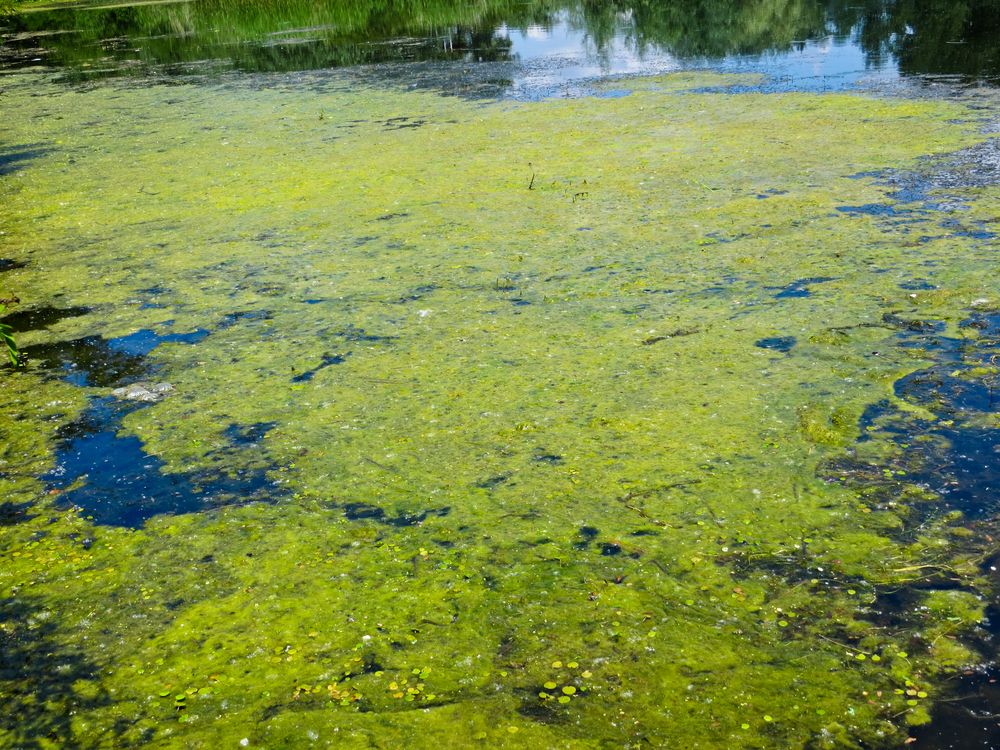 Muir reiterated how unfortunate (and unusual) this poisoning was; ordinarily, the banks of the river were covered, he said. "However, with rivers drying in the drought, flows are sluggish," he wrote, "and the river banks are getting coated in algae as the river level drops."
The Blue Cross published their own comprehensive guide to blue-green algae, explaining first and foremost that "blue-green algae is a term used to describe a group of bacteria, called cyanobacteria. The bacteria cannot be seen with the naked eye," they clarify, "unless they clump together. When this happens, blue-green algae can look like green flakes, greenish bundles or brown dots in a pond, lake or stream."
Some blue-green algae are not toxic. But some, as Bell and her family found out to their great distress, are. They may even be fatal. Muir's parting advice to pet owners? Be cautious, and "don't let past experience make you complacent."
In memory of Bell and for the safety of beloved pups everywhere, be sure to share this message with all of the dog owners you know.