Diaoyu Islands Incident Used to Distract from Domestic Pressures
September 21, 2010 2:57 pm Last Updated: October 28, 2016 5:22 pm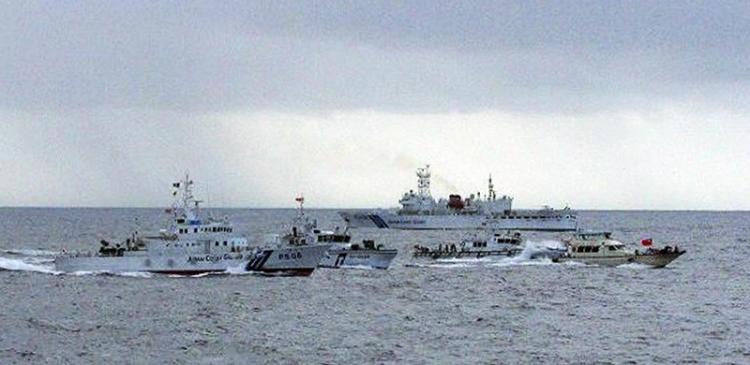 The collision of a Chinese fishing trawler and two Japanese patrol vessels in the disputed waters of the Diaoyu Islands caused a stir between the two major Asian nations. While top officials from both sides have made strong statements over the issue, analysts have suggested that Beijing's response is a ploy—commonly used —meant to divert attention from domestic pressures.
In a Sept. 12 statement, the Chinese Foreign Ministry said it strongly opposed any Japanese investigation, and regarded Japan's actions as "illegal, ineffective and fruitless." State Councillor Dai Bingguo and Foreign Minister Yang Jiechi summoned Japanese Ambassador Uichiro Niwa, urging Japan to make the "wise political decision."
The Chinese language Voice of America (VOA) interprets China's action as an important policy change.
Mitsubishi Research Center director Dr. Yang Zhongmei, a China expert living in Japan, told VOA that China's reaction regarding the friction over Diaoyu Islands was significantly stronger than any previous issues pertaining to the area in dispute.
Other China experts considered that the Chinese regime's rhetoric was concerned more with taking the focus off of internal problems than attempting to resolve an international issue.
Dr. Sun Yanjun, an op-ed writer on China issues for The Epoch Times, emphasized the crucial role the South China Sea currently holds in international affairs. "The South China Sea is the important link between the Pacific Ocean and the Atlantic Ocean, and an important economic channel between Northeast Asia and Southeast Asia… However, in the Diaoyu Islands incident, the Chinese regime took a harsher stand, because it has other motives."
He argues that at the same time the anniversary of the beginning of Japanese aggression toward China approaches (referring to the second Sino-Japanese war beginning in the 1930s), the regime is facing a multitude of domestic crises. "It wants to use the friction with Japan to create an intensified political atmosphere in order to divert the public's attention from domestic crises," Sun said.
China analyst and commentator Li Tianxiao, in an interview with the The Epoch Times, gave a similar analysis.
"The Chinese regime is facing a massive withdrawal of citizens from the communist party and affiliated organs, as well as dealing with widespread corruption," he said.
"To cope with the crises, besides restating its promise of political reform, it has been looking for opportunities to rekindle patriotism. The communist party has worked hard to mingle the concepts of Party and China in its 60 year's rule, and thus hoping patriotism would help the party to maintain its rule," he added.
"This is the fundamental reason for the regime's actions when dealing with the South Korea-U.S. military exercises and the Diaoyu Islands incident," Li said.