New York City Mayor and 2020 Democratic presidential contender Bill de Blasio said that he would ban semi-automatic rifles if he were elected president, but that his bodyguards could keep their rifles.
De Blasio, who said this week he'd end his longshot bid unless he qualifies for the October debates, said during an appearance on Fox News that he's not sure how he'd enact the ban.
"You have said that you're for mandatory buybacks of semi-automatic rifles," Tucker Carlson, the Fox host, said to de Blasio on Sept. 5. "There are tens of millions of these rifles in circulation now, and presumably some large number of people won't feel like selling them to the government. What do you do with those people?"
"We've got to end the availability of assault weapons in this country, so I think if there was a ban on assault weapons and there was a buyback program, the vast majority of people, I think, would do the smart thing and they would sell them back," de Blasio responded. "I don't have a specific answer for you, but I think it's a good question."
Carlson said that a federal ban, which many believe would lead to forced seizures of weapons, could lead to violence from those who refused to give over their guns. He asked de Blasio how he would enforce the ban among those who didn't want to hand over the firearms.
"I'm being honest with you, I think anyone in public life should say, you know, when we think we have an answer or whether it's something we still have to work out," de Blasio said. "What I know is this: we cannot have assault weapons in our society—we've seen the devastating impact, they need to be banned. And that means by definition you don't leave millions and millions of them out there."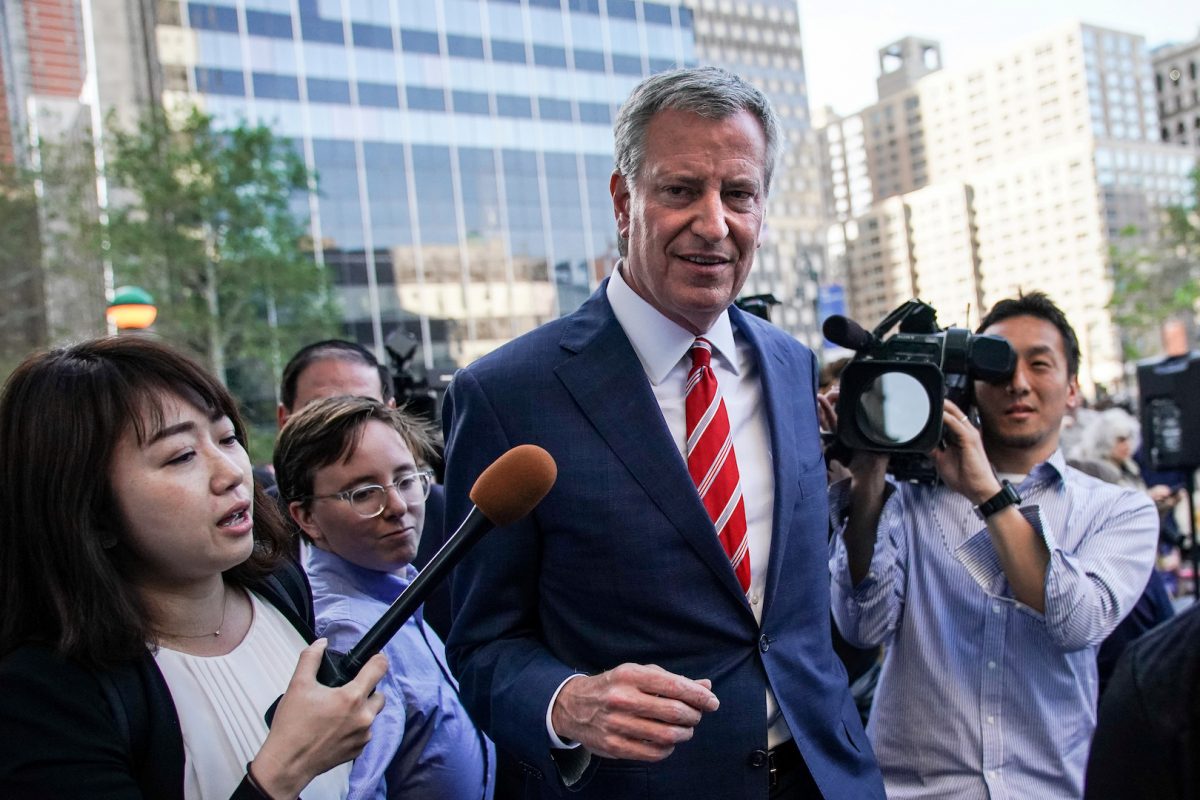 "The buyback's the obvious approach," he added. "How we deal with someone who doesn't want to participate in the buyback, that's something we have to resolve going forward."
De Blasio said such a ban would not violate the Second Amendment, in his opinion.
Carlson then asked if de Blasio's security detail would be allowed to carry semi-automatic rifles. De Blasio said they wouldn't be subject to the hypothetical ban.
"They're sworn law enforcement officers. Sworn law enforcement officers who are here to protect all of us," he said about the bodyguards. "Someone who serves in public service for a limited period of time, and in the society that we're living in, and I hate to say it, but public servants are vulnerable to violence in a different way. Our law enforcement officers are there to protect all of us."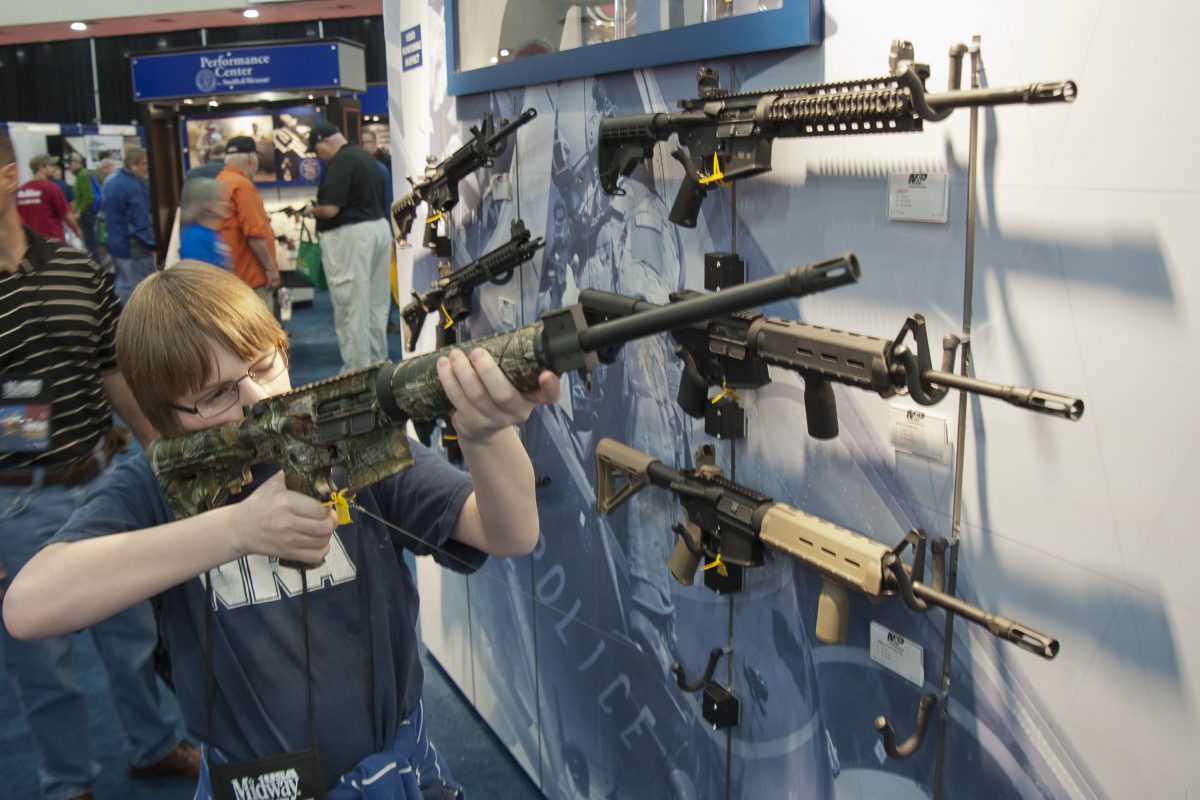 Other 2020 Contenders Propose Bans
Other 2020 candidates have proposed gun bans and confiscation.
Sen. Kamala Harris (D-Calif.) said that she was willing to send police officers to people's homes to confiscate firearms banned through so-called red flag laws or other avenues.
"When I was attorney general [of California], and we put resources into allowing law enforcement to actually knock on the doors of people who were on two lists—a list where they had been found by a court to be a danger to themselves and others," she told the Washington Examiner.
"They were on a list where they were precluded and prohibited from owning a gun because of a conviction that prohibited that ownership. Those lists were combined and then we sent law enforcement out to take those guns, because, listen, we have to deal with this on all levels, but we have to do this with a sense of urgency."
Former Vice President Joe Biden said during an appearance on CNN last month that, if he were elected, he would push for a "national buyback programs" to get assault weapons "off the street." He didn't specify what he meant by assault weapons.
Biden was asked by host Anderson Cooper about people worrying Biden would be coming for their guns.
"Bingo! You're right, if you have an assault weapon," Biden responded, before adding: "The fact of the matter is [assault weapons] should be illegal. Period. The Second Amendment doesn't say you can't restrict the kinds of weapons people can own. You can't buy a bazooka. You can't have a flame-thrower."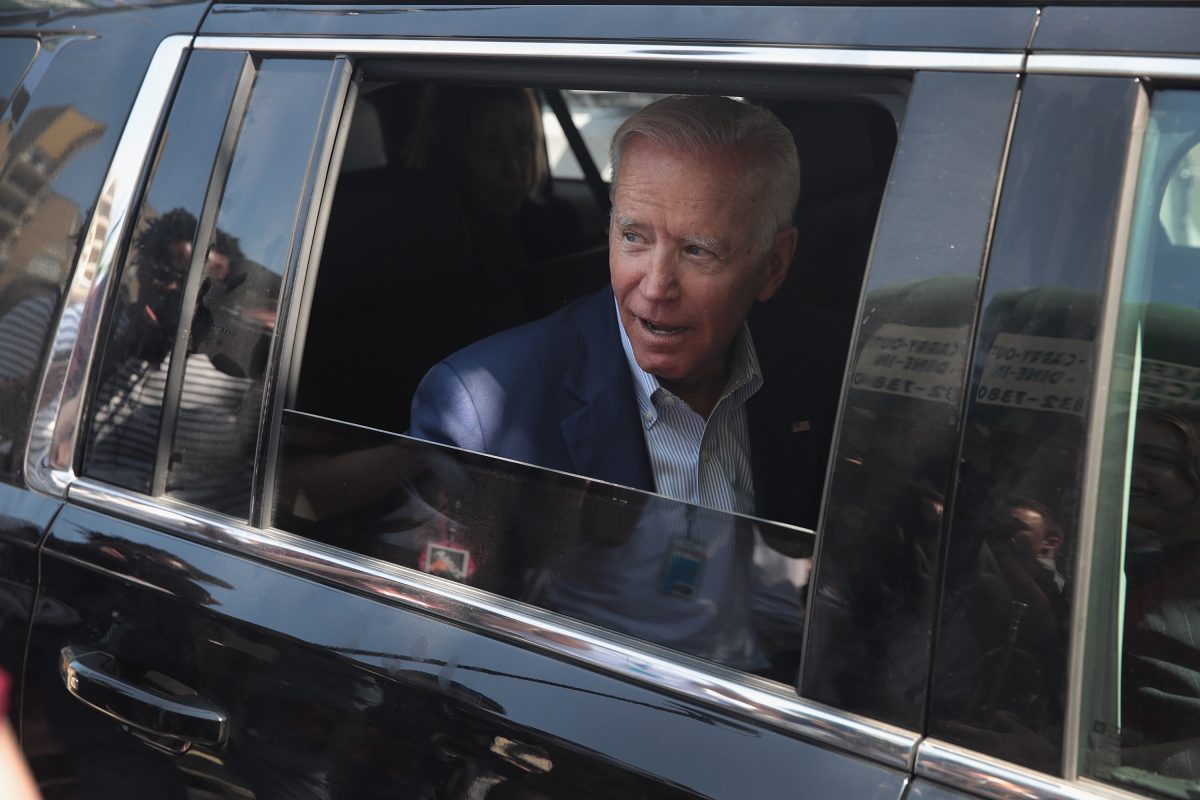 He said that the program would not involve sending law enforcement to people's homes. "That's not walking into their home, knocking on their doors, going through their gun cabinets, et cetera," he said. He later said that magazines that can hold more than one bullet should be banned.
Sen. Cory Booker (D-N.J.) said earlier this year assault weapons should be banned and the government should buy back such weapons from gun owners. Sen. Bernie Sanders (I-Vt.) has voted in favor of a nationwide ban of such weapons, as well as a ban on high-capacity magazines and for expanded background checks.
Former Texas Rep. Robert "Beto" O'Rourke endorsed an Australian-style program that would require people to sell their guns to the government.
"I'm open to them right now as a candidate—absolutely has to be part of the conversation," O'Rourke said in a podcast interview, reported The Federalist.
At the end of the day, if it's going to save lives, if it's going to prevent the kind of tragedies that we saw in El Paso, or Gilroy, or Dayton, or this weekend in Chicago, or all over this country on a daily basis, then let's move forward and do it."
Australia confiscated about 650,000 guns during the mandatory buyback program in the 1990s after a mass shooting there.
South Bend, Indiana Mayor Pete Buttigieg wrote in an action plan that he would "ban assault weapons and high-capacity magazines."
Sen. Elizabeth Warren (D-Mass.) said in her own action plan that she would push for a federal assault weapons ban, ban high-capacity magazines, and prohibit some gun accessories. She would also prohibit people with restraining orders, who have been convicted of a hate crime, or who have been convicted of stalking from owning a gun.