Conor McGregor has spoken out for the first time since his submission defeat at the hands of Khabib Nurmagomedov at UFC 229 in Nevada, a fight that was immediately followed by a brutal ringside brawl.
The Irish fighter tweeted: "Good knock. Looking forward to the rematch."
Good knock. Looking forward to the rematch.

— Conor McGregor (@TheNotoriousMMA) October 7, 2018
Chaos erupted after Nurmagomedov jumped the octagon fence and pursued McGregor's jiu-jitsu coach, Dillon Danis, sparking a violent, all-in melee.
Fistfights broke out between fans, which continued in the lobby of the T-Mobile Arena in Las Vegas on Oct. 6.
"This is absolutely the craziest moment I have seen in all my years calling fights," declared UFC color commentator Joe Rogan.
Moments after the Russian fighter jumped the fence, McGregor tried to scale the octagon in apparent eagerness to jump into the ringside brawl, but he was pulled back inside the octagon.
Seconds later, one of Nurmagomedov's teammates leapt into the octagon. Footage posted on social media appears to show McGregor trying to strike a member of Nurmagomedov's entourage as he was perched on the fence.
You started the second fight. Don't cry when you got hit back. pic.twitter.com/LmfiMzGsHi

— Charezar (@Dullaki) October 7, 2018
A red-shirted team member of Nurmagomedov then jumped the fence and landed several blows on McGregor before security intervened.
"A lot of bad stuff that shouldn't have happened," White said of the brawl at a post-fight press conference on, according to Fox Sports. "Khabib jumped over the cage going after one of Conor's guys, who I guess was talking trash to him, and all hell broke loose."
Three members of Nurmagomedov's entourage were arrested following the fight, but McGregor decided not to press charges.
UPDATE: They've been released by cops because McGregor refused to press charges, per Dana White pic.twitter.com/nsy6tWIFGR

— Bleacher Report (@BleacherReport) October 7, 2018
White also revealed Nurmagomedov's share of the purse—believed to be around $2 million—is being withheld by the Nevada State Athletics Commission, the body that sanctioned the fight.
The Russian fighter could also be stripped of his UFC lightweight title, or even face suspension from the UFC.
DANA WHITE REFUSES TO GIVE KHABIB NURMAGOMEDOV THE UFC CHAMPIONSHIP. #UFC229 pic.twitter.com/Pf2pIcbeoS

— GIF Skull (@GIFSkull) October 7, 2018
"We'll see," UFC chief Dana White said during a post-fight press conference. "The NSAC is going to hand down some type of fine or suspension, we'll see. I don't know. If he gets suspended, it depends how long it is but yeah he will probably get stripped if it's a long suspension."
Nurmagomedov also issued a brief statement during the press conference.
"First of all, I want to say sorry to Nevada Athletic Commission and second to Vegas. I know this is not my best side. I'm a human being. But I don't understand how people can talk about how I jump on the cage. He talked about my religion, he talked about my country, he talked about my father," he said, without answering any questions before leaving.
Given McGregor's tweet, however, and the continued animosity between the two fighters, the ground appears set for a lucrative rematch.
Fourth-Round Neck Crank Clinches the Win
Nurmagomedov ended McGregor's attempt to win back the title when he sealed a brutal submission victory with a neck crank in the fourth round.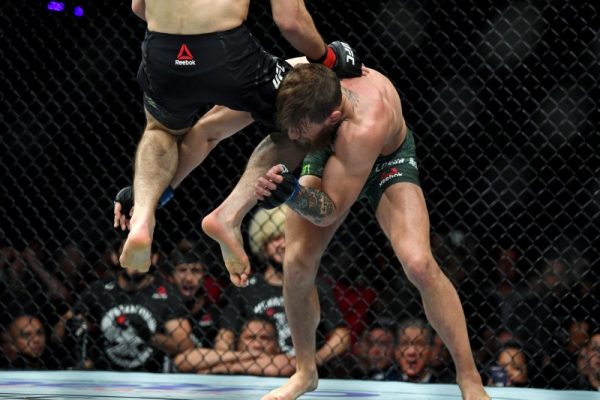 The fight had been highlighted by bad blood between both camps, with McGregor pleading guilty in July as part of a deal with prosecutors to resolve charges over an April melee in which he attacked a bus the Russian was traveling on.
McGregor, making a comeback to the octagon after nearly two years away, looked dangerous in the early striking exchanges, but as expected, Nurmagomedov quickly took the fight to the ground. During the second round, Nurmagomedov even dropped McGregor with an overhand right hand.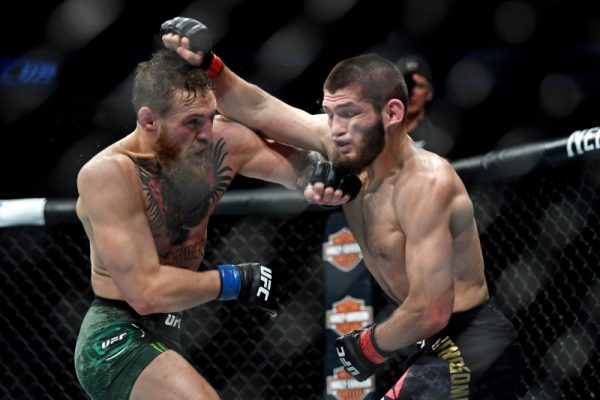 The Russian smothered the Irishman with his grappling skills throughout the fight.
In the fourth round, Nurmagomedov applied a devastating neck crank after securing a dominant position on McGregor's back, ending the fight at 3:03 after McGregor tapped out.
Nurmagomedov's victory stretched his professional record to 27-0 and handed the Irishman his second defeat in the UFC.
Reuters contributed to this report.